ADC Noise

cgracey
Posts: 13,931
No matter what mode I put the ADC in, for a 16-bit conversion, I get noise in the ~5 LSBs.
I output this noise onto a DAC, so I could look at it. It is not just hash, but a continuous noisy function. It wanders up and down. Not sure what causes it or if it can be remedied.
Here is a scope shot of it. I calculate that the peak-to-peak amplitude of this noise is ~1.6mV, or 3.3V / power(2, 16-5).
The noise amplitude stays about the same, no matter what frequency I run the chip at.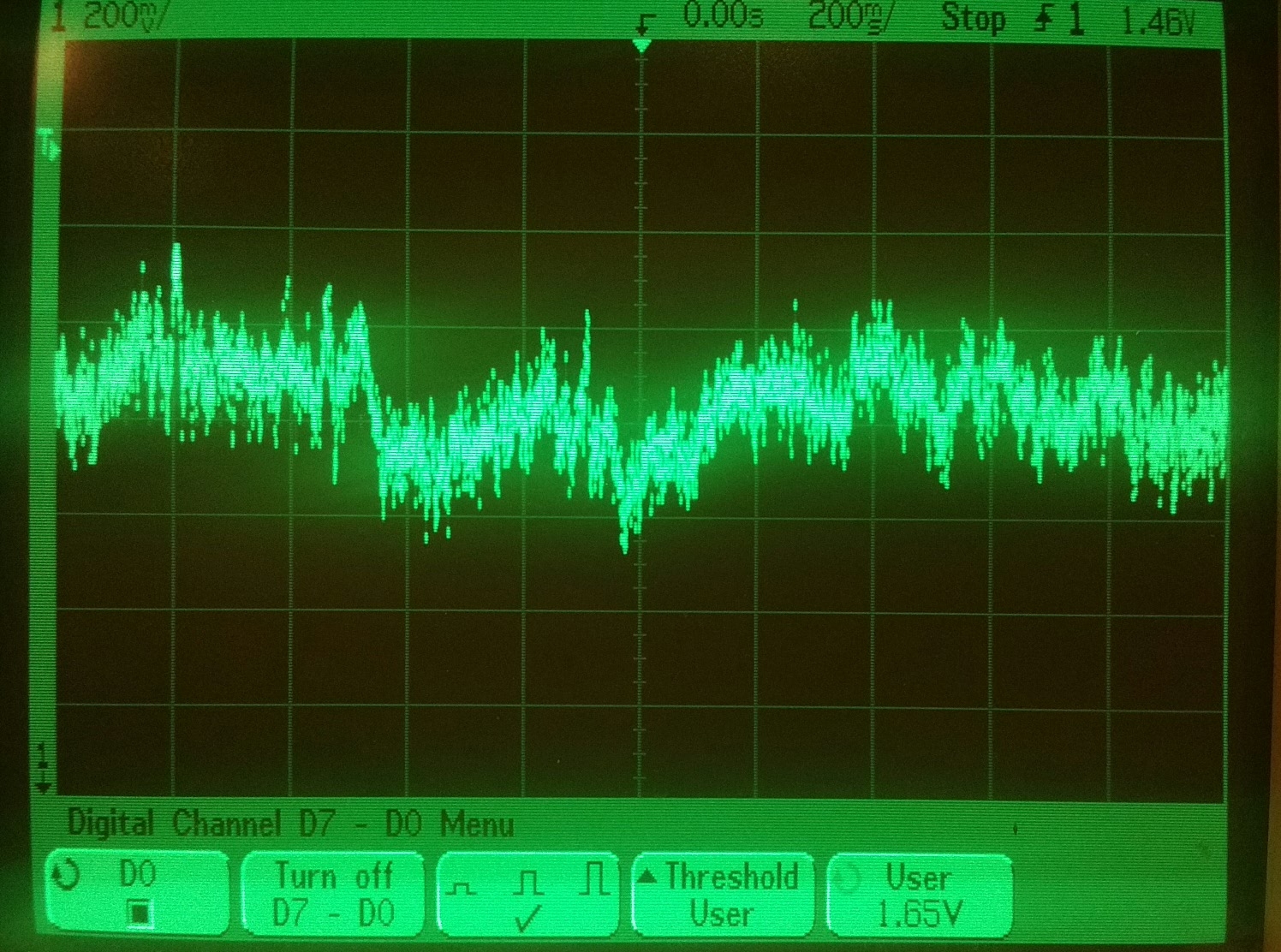 Here is my program:
' 16-bit analog to digital

con	p =	0

dat	org

	hubset	##%1_000001_0000011000_1111_10_00	'enable crystal+PLL, stay in 20MHz+ mode
	waitx	##20_000_000/100			'wait ~10ms for crystal+PLL to stabilize
	hubset	##%1_000001_0000011000_1111_10_11	'now switch to PLL running at 250MHz

'	bmask	dirb,#15

	rep	#2,#16
	wrpin	softmod,i
	add	i,#1

	wrpin	##%100000_0000000_00_01111_0,#p	'adc on
	wxpin	##$FFFF,#p
	wypin	#0,#p
	dirh	#p				'enable counter

	setse1	#%01<<6+p			'se1 triggers on adc sample

loop	waitse1					'wait adc sample
	rdpin	i,#p				'get adc sample
'	setword	outb,i,#0			'output it to P47..P32
	setbyte	dacmod,i,#1			'output lower byte of sample to P31 DAC
	wrpin	dacmod,#31
	drvl	#31
	jmp	#loop				'loop

i	long	32

softmod	long	%0000_100001001_00_00000_0
dacmod	long	%10100_00000000_00_00000_0