New SD mode P2 accessory board

rogloh
Posts: 5,033
I've been meaning to make this for a while but finally the boards arrived today.
This PCB should hopefully allow some experiments with micro SD cards in full SD transfer mode on a P2 accessory board with the P2-EVAL etc.
I've got the SDIO and other controls mapped to P2 pins as follows. Whether or not this pin mapping is optimal is still TBD. I expect it should be possible to also use a card in SPI mode as well if the correct P2/SD pins are mapped to the SD driver.
Pin offset - SD signal
P0-P3 - DAT0-DAT3
P4 CMD
P5 CLK
P6 ACTIVITY LED
P7 !CARD DETECT/POWER_DOWN
Power to the SD card can be controlled by a FET for card reset purposes. The board defaults to power on if a card is present, but it can be shutdown if P7 is optionally driven high. Used as an input, P7 will also read high if no card is detected by the hardware, and low if a card is present. The card power state is indicated by a dedicated power LED. A general purpose IO pin P6 can also drive a separate activity LED (active low). The LEDs shine up through holes on the board.
Here are a couple of pictures of the assembled board that I hand soldered this afternoon. It included some nasty 0603 and SOT363 parts but I think I managed to connect it up ok, time will tell. This board is rather small at 20.5x28.5mm. The card reader socket is of the higher quality push-pull latching type with a built in card detect switch that my circuit also uses.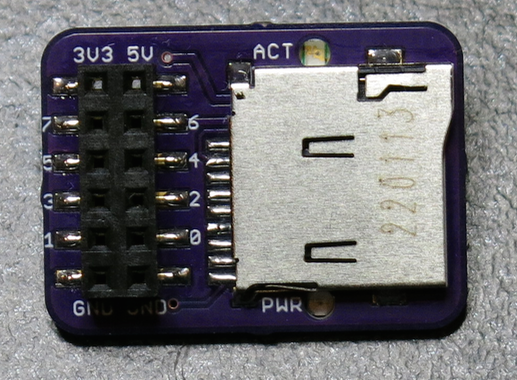 A partial schematic (which I created after the fact, LOL) is also included below as well as the rendered pictures of the PCB layout. I still might have to tweak some component values if the LEDs are too dim/bright or if I get poor data performance. I just picked 33 ohm series resistance and 22k pull ups for now. The PFET choice was just something I had available in my parts bin. It's only a little one so I doubled it up by paralleling both devices in the package and it can carry up to 400mA now (800mA pulse), not that an SD card should need that much current.
I'll probably verify that the basic HW is functional or not in the next few days, but when I have a spare lazy weekend sometime I'll try to see what I can do in SD mode.