Propeller 2 Live Forum - Open learning and support (topics, speakers and registration!)

Ken Gracey
Posts: 7,381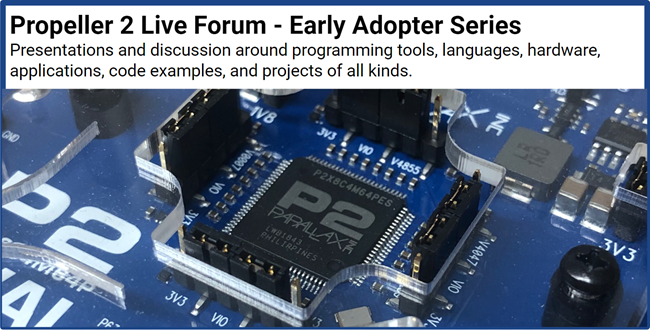 PROPELLER 2 LIVE FORUM REGISTRATION LINKS
You can find upcoming events on our event page:
https://parallax.com/category/events/
Or by going to parallax.com>Community>Events and then selecting the "Propeller 1 & 2 events" tab.
UPCOMING
Propeller Live Forum
December 13th 2023 at 1:00 pm Pacific
Details & Registration Link
PROPELLER 2 LIVE FORUM ZOOM RECORDINGS
You can find recordings of past events under the same events page on our website, by just clicking on the tab "Past Events" and scrolling down to the event you are looking for (we have multiple pages there).
Or if you prefer to search through YouTube, we will continue to post the finished video links to the Parallax Inc YouTube Channel - they're under the
Propeller Live Forum Playlist
and easy to find.
We invite you to present!
Now accepting presentation commitments! If you'd like to present, simply e-mail support@parallax.com with your topic summary and preferred month/date to be a presenter. We try to schedule the forum on a Wednesday, either the second or third week of each month. Start time is usually 1pm PST, but let us know if we need to accommodate for your different time-zone. We're using the Zoom Meeting format so anybody can share screen, video, and use a chat. It'll be a live meeting each time.
The recommended length is 1hr (+-15 mins) including discussion.
This very first forum post will be updated with relevant information, so there will be no need to read all the subsequent posts if you're looking for topics and links. However, I invite everybody to use this thread to comment and share ideas about what kinds of topics are of interest.
The P2 Live Forum is now open!
Ken Gracey