Something rather strange in Pulse/Cycle Smartpin mode output

rogloh
Posts: 5,049
I've encountered some weird Smartpin behavior and I don't quite understand it. Really hoping it is not a P2 HW bug in the REV B chip. Maybe I'm doing something wrong or not following when it is meant to trigger.
I can't get a reliable start of the pulse output mode once I trigger it. It seems to do strange things with values of WXPIN=3 and higher once it is triggered, and also it offsets its starting output pulse by another P2 clock with each increasing values after 4. The change from X=3 to X=4 looks weird too as it seems to lose a couple of offset clocks in the process. I've hacked up a test program that can be used to display a reference clock pattern on one clock output P2 pin along with the pulse output on another P2 pin and triggered by a serial keypress so you can see it happen on a scope/logic analyser. I'm running slow at 3.33MHz to help with this. I was also wondering if I was resetting things correctly each iteration or if not everything resets fully when the Smartpin is floated low.
A simple test program to see this behaviour is attached (runs with fastspin/flexgui etc). You can customise the two P2 output pins if you'd like. With the serial console you can press a digit from 1-9 to set the X value for the WXPIN parameter directly, then hit space to start the pulse output with that WXPIN value and see it on a scope with the reference clock pulses to trigger on. You can also press , . characters to decrease or increase X and < > characters to decrease/increase the Y value used (for WYPIN), though for this test I just leave Y at 1 which is its default. You can also uncomment the two PASM lines to get a single high pulse at the start of the pulse sequence (the compare value in the high word is then set as one less than the low word of the WXPIN value) and also see it moving along as you increase X - it also has the strange behavior at X=2,3,4 etc.
Do other people see this on their device setups? Am I doing something wrong in the code preventing it to work correctly?
Below are my scope grabs for each increasing value of X (With WYPIN set as #1 here). Yellow is the Pulse Smartpin and Cyan is the reference clock pulse train (generated around the same time in the code). From X=5 and higher things stabilise and the clock moves by one P2 clock each time it increases (not sure why), as well as it's total duration (which I do expect).
WXPIN param = 1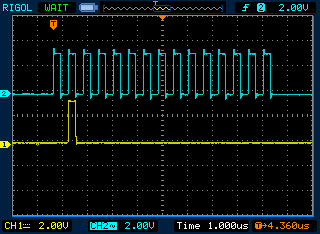 WXPIN param = 2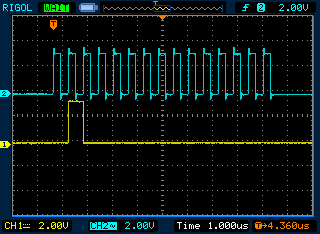 WXPIN param = 3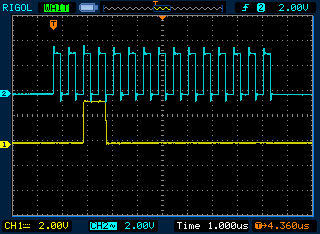 WXPIN param = 4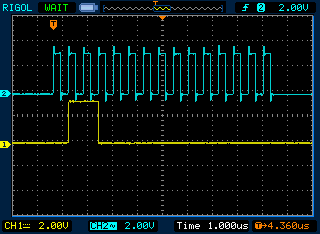 WXPIN param = 5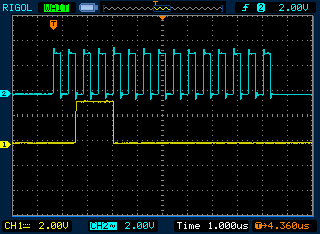 Sample test code below. Hopefully your serial port still works at this low P2 clock rate (my MAC did). If not you might just need to slow down the baud rate.
Roger
CON

   CLK3_3MHz  = %1_001001_0000110001_1110_10_00 '(20MHz/10) * 50/30 = 3.3   MHz
   CLK200MHz  = %1_000100_0000110001_1111_10_00 '(20MHz/5)  * 50/1  = 200   MHz


  _clkmode = CLK3_3MHz ' setup a slow clock for testing
  _clkfreq = 3_333_333
'  _clkmode = CLK200MHz ' setup a full speed clock
'  _clkfreq = 200000000


   baud = 230_400
   rx_pin = 63
   tx_pin = 62
   pulsepin = 42
   clkpin = 40


OBJ
    ser: "SmartSerial"

PUB start
    ' setup some default startup clock - use slowest clock for logic analyzer 
    clkset(_clkmode, _clkfreq) 
    coginit(cogid, test, @teststack)

PUB test | id, x, y, c
    ser.start(rx_pin, tx_pin, 0, baud)

    id := cognew(@testcode, @mbox1)

    waitcnt(cnt + _clkfreq)

    x := 1  
    y := 1
    ser.printf("COG %d spawned\nX=%d, Y=%d\n",id, x,y) 
 
    repeat 
        c:=ser.rx
        if c == " "
            ser.printf("Triggering Smartpin Pulse Output (X=%d, Y=%d) ... ",x,y)
            ser.printf("result = 0x%x\n", send(x,y))
        else
           if c > "0" AND c =< "9"
              x:=c-48
           elseif c == ">"
              y++
           elseif c == "."
              x++
           elseif c == "<"
              if y > 1
                 y--
           elseif c == ","
              if x > 1
                 x--
           ser.printf("X=%d Y=%d\n", x, y)
 


PUB send(a,b)
    long[@mbox2] := b
    long[@mbox1] := a
    repeat until long[@mbox1]==0
    return long[@mbox2]



DAT 
        orgh

mbox1       long 0
mbox2       long 0
teststack   long 0[100]

'-------PASM COG testing code-----

testcode     
                org

                fltl    #pulsepin
                fltl    #clkpin
                wrpin   #%1_00101_0, #clkpin  ' set clkpin into Smartpin transition output mode
                wxpin   #1, #clkpin           ' transition delay = 1 P2 clock
                drvh    #clkpin               ' prepare a clock reference output

wait            rdlong  data, ptra            ' poll mailbox
                tjz     data, #wait
                rdlong  data2, ptra[1]        ' read second param
    
                fltl    #pulsepin             ' reset smartpin
                wrpin   #%1_00100_0,#pulsepin ' configure RWDS smartpin for pulse output

'               setword data, data, #1        ' these 2 lines can be enabled to get single high pulse
'               sub     data, ##$10000

                wxpin   data, #pulsepin       ' set the X timing parameter
                wypin   #0, #pulsepin         ' clear the Y timing parameter to be sure it won't trigger
                drvl    #pulsepin             ' enable RWDS smartpin
    
                wypin   #30, #clkpin          ' show some reference clocks for triggering scope/logic analyzer
                wypin   data2, #pulsepin      ' now set the Y timing parameter to start the pulse output

                waitx   #100                  ' wait for the test to complete/settle
                fltl    #pulsepin             ' reset smartpin

                wrlong  #0, ptra[1]           ' return a value if needed for testing etc
                wrlong  #0, ptra              ' clear mailbox
                jmp     #wait                 ' repeat                            

data  long 0
data2 long 0