P2D2 with P2-revB - taking orders!

Peter Jakacki
Posts: 10,193
I know there are quite a few people interested in getting their hands on a P2D2 with the new RevB silicon. I'm waiting for my P2 chips and so I will probably make these up next week to ship.
Please use this thread to place your tentative order, even if you have asked me before, just to be sure. Ask any questions you want that have to do with P2D2 and the options.
To cut down on shipping costs, some may decide to band together and place the one order.
The main options I have at the moment are 8MB SPI RAM (in place of 1MB SPI FLASH) and RTC with that tiny ultracap for backup. A larger through-hole supercap can also be fitted if need be.
I find the Si5351 clock gen makes it versatile too and this defaults to 25MHz at power-up. It's a pity that the eval board uses 20MHz, whereas the 25MHz crystals are 10ppm and cheap.
Also, I really like the low-profile socket headers that I use as this helps make the module more rugged in that it doesn't have pins that get bent and the module can be plugged into cheap pin headers. For me this connector would be standard but they won't be mounted unless specified.
Even though P2D2 now comes with onboard USB serial, you can still override this from the serial coms header or direct. This is handy if you decide to add Bluetooth serial (like I do).
STANDARD UNIT (Updated Nov 8 )
* 16MB Flash
* 2A switcher
* EFM8UB3 USB serial and ancillary functions including internal DTR reset pulses.
* Si5351 clock gen with 20MHz P2 clock (loads the Si5351 at powerup)
* RTC + 11mF cap
Price $70 USD
P2D2
Includes:
* P2 revB
* 1MB Flash
* USB serial
* Reset switch and LEDs
* Si5351 clock gen,
* microSD socket (of course)
* RV-3028-C7 RTC + supercap
Configurations and Options:
* Heatsink PCB (loose - not fitted - limited quantity but free)
* 8MB SPIRAM
* Preloaded 16GB or 64GB SanDisk Ultra A1 (TAQOZ RELOADED + various media files)
* Flip-side reset switch, LEDs, and microSD socket (when plugged in flipped although my dev board has reset and leds etc)
* Serial coms pin header (Prop-plug compatible)
I will post up some more details and board photos shortly along with some pricing information. While I am trying to keep the price down I also need to make enough margins to make more boards etc.
EDIT: I will release details soon of the dev board that the P2D2 can plug into as well. You can then order this with the P2D2 as a kit.
I have attached the schematic for the r3 production version
but the photo is still of my prototype r2 with incomplete test connectors etc
EDIT: Nov 8 - first r3 test unit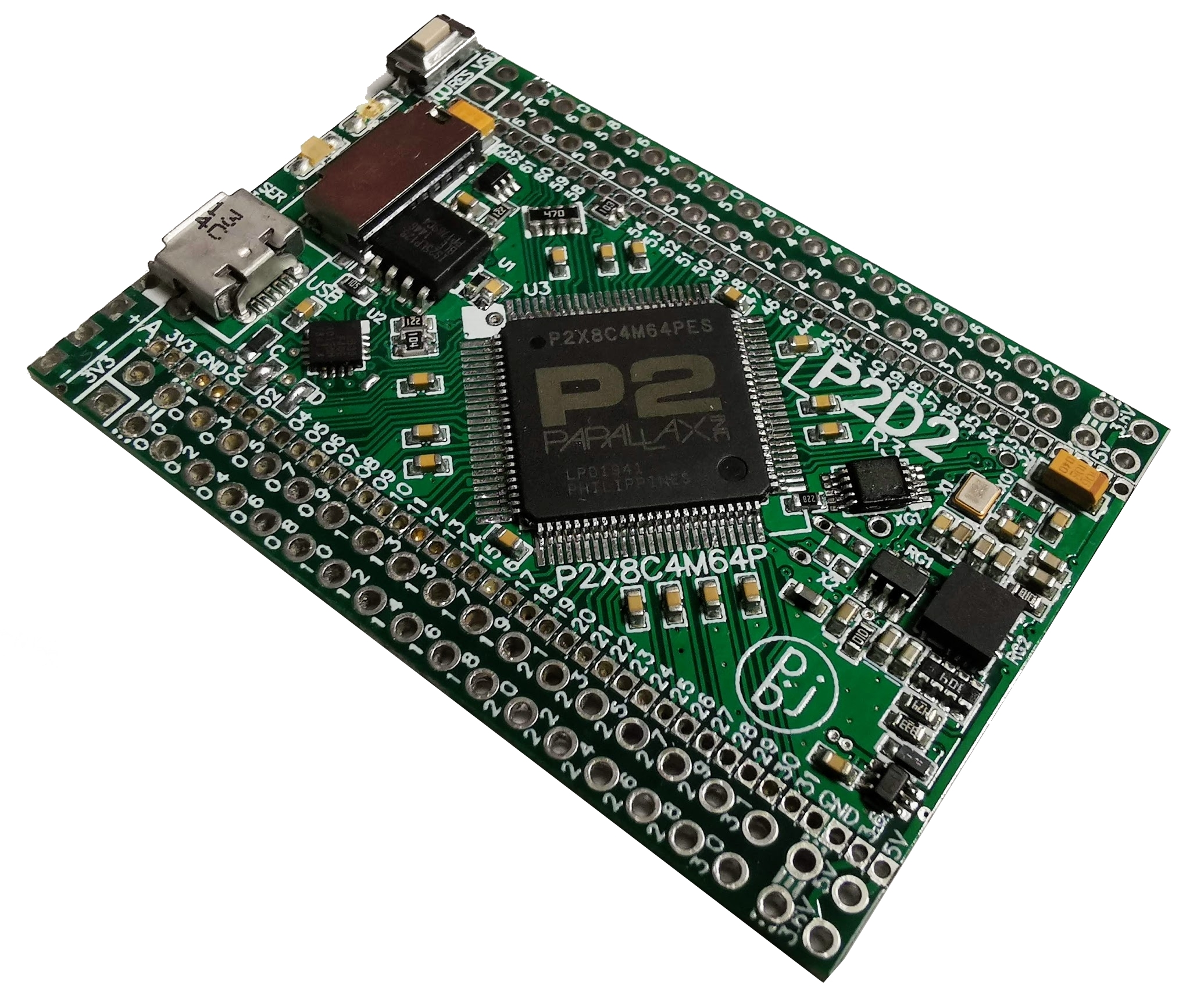 Dimensions: