A New CNC Build - 3D Printer - El Cheapo

idbruce
Posts: 6,197
Hello Everyone
The time has come to exit my low profile and start a new CNC build. This time the project and goal will be a low cost, but high quality 3D printer. Over the last several years, many of you have heard me talking about making my own inexpensive linear actuators, and over the last several years, I have dabbled with this concept, with several successes and many failures. I currently have a new design for my linear actuators and I plan to attempt building a 3D printer with this new design. In fact, I will be purchasing most of my raw materials and hardware on Monday, when my latest bank deposit clears. Every attempt will be made to make this project a retail quality prototype, with custom cabinetry and a large build volume area. For the most part, I have a pretty good idea of what I want to build or least a good enough idea to start, but there are still a few areas that I must figure out.
** Please note that the new design of linear actuators have not yet been tested, so this project may fail miserably

Here are some of the specs:
Build Volume Area: X - 12", Y - 12", Z - 18"
No. of Extruders: 1
Filament Size: 1.75 mm
Arrangement of the Stages:
X will be mounted to the top of the cabinetry.
Y will be mounted to X.
Z will be mounted to the left side of the cabinetry
*As the build progresses, the Z stage and build platform will lower.
** The image below should give you an overall idea of the arrangement.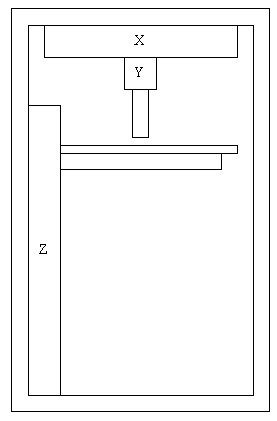 In all reality, I would like more than one extruder, but I believe I will already be pushing these actuators to their limits.
Anyhow, this thread will be about 3D printers, filament extruders, electronics, and software. I will provide photos and video when possible. For those of you who are unfamiliar with me or my work, the following link should give you a little clue.
http://forums.parallax.com/showthread.php/129612-My-Current-Prop-Based-CNC-Photos
EDIT: I forgot to mention that the X and Y stages will be belt driven, and the Z stage will be screw driven.