LoRa Robot - Rock Crawler Edition
xanadu
Posts: 3,347
Hello fellow Forumistas! I am back with another four wheeled robot build. This time with somewhat realistic goals!
Features:
Redcat Racing Everest 1:10 Scale RC Rock Crawler
LoRa Radio 915mhz (Heltec ESP32 with OLED) DIY 915mhz antenna
5.8ghz video and audio link
Ultra-low lux camera
Propeller 1
SK6812W LEDs
Expanded PCV platform
Portable Control Station, video link and LoRa link over USB to any computer
I chose the RC crawler https://www.redcatracing.com/products/everest-10-1-10-scale-crawler-2-4ghz because it is slow and can handle terrain well. There is an easy conversion kit to four-wheel steering.
The plan is to revisit building a semi-autonomous rover that can be left outside for long periods of time. Now that I have an area to do such a thing, unlike my last, "we'll just leave it on park land indefinitely and hope for the best" solar powered rover.
I am at the point of having something worth posting. We do not need solar power although I am toying with the idea of wireless charging via a solar powered dock. As is, with the right power management this could spend days out in the woods.
The expanded PVC platform and matching acrylic dome are a work in progress. Before I get to that I would like to see how much space I need. The Propeller Project board will likely be replaced with a Prop Mini or Flip. The camera needs a pan/tilt mount. The antennas need better mounting.
I have driven the robot into the woods and covered a 3 acre area exploring during the day, and once at night during a thunderstorm. All from the comfort of my alternate home office. I find it highly entertaining and much better than anything on TV.
More to come, it took me over a week just to write this… I know my priorities are out of whack!
Here's my DIY antenna. If you're wondering why the soldering is so bad, I did this with a TS80!!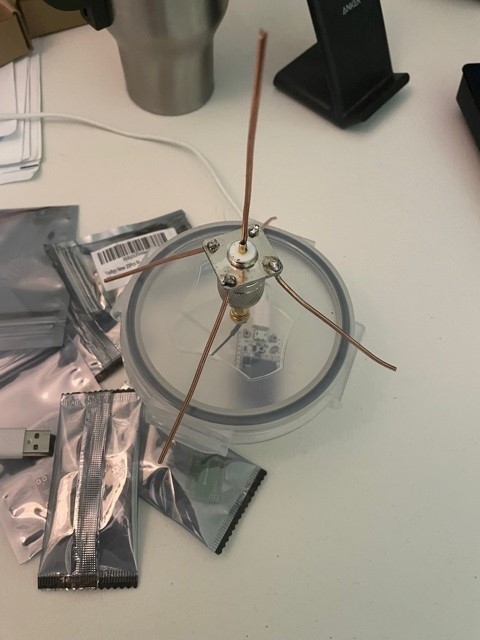 This is how the ePVC attaches to the chassis. This is just a prototype so yeah, it's a little sloppy.

Here we have the Heltec board mounted to a Propeller Project board. There's a small perfboard holding a 5V supply for the LEDs, and a FET to control power to the video transmitter. A tiny little Foxeer low lux camera, and the 5.8ghz video transmitter, with built-in microphone.

It is starting to look like a robot.