Halloween Hex

Duane Degn
Posts: 10,574
So what does one do when they have too many unfinished projects? That's right, start another project.
As a break from programming my
mini hexapod
, I started working on a larger hexapod.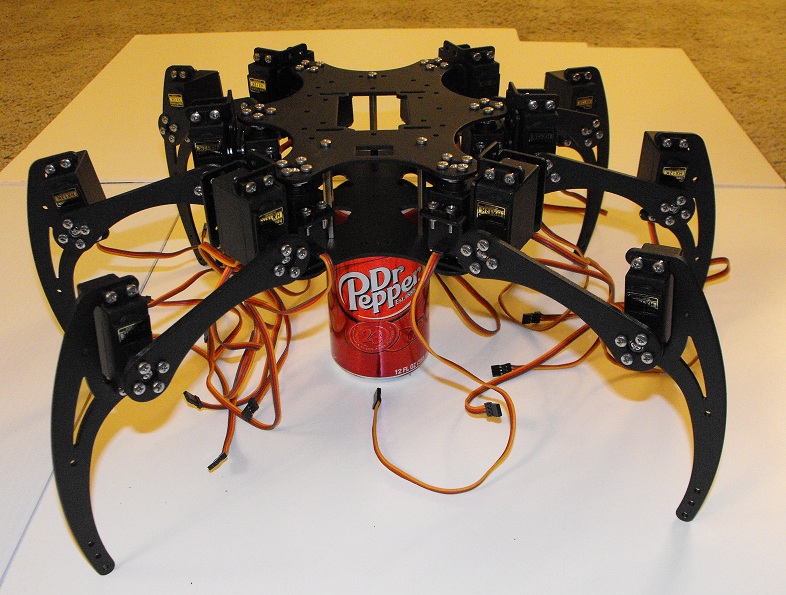 I blame Bill Henning for this one. A while ago he started
building a hexapod
from a kit he purchased on ebay. I had previously purchased enough HXT12K servos to rebuild my
Popsicle Stick Hexapod
with stronger servos. Seeing Bill's hexapod made me think maybe a kit from ebay wasn't such a bad idea.
The ebay kit arrived about a month ago but I didn't start putting the kit together until a couple of days ago. It was a pretty quick build once I found
some instructions
and gave up on trying to use the nuts and bolts which came with the kit. Fortunately I had a bunch of M3 hardware I had purchased from
Micro Fasteners
. I listed the various machine screws, nuts and washers I used to complete the kit in
this blog on Let's Make Robots
.
I'm hoping to have this up and running by Halloween. My wife suggested using it to bring the candy bowl up to the Trick O' Treaters when they come knocking on the door.
One of the big challenges with a hexapod this size is providing enough power to all 18 servos. I've ordered serveral different voltage regulators off ebay hoping they will be able to meet the current demands of the hexapod.
So far, I've only had one leg move at a time using a servo tester. I'll try to find a way to provide enough power to move all the legs even if it needs to be tethered for now.
I'm going to keep a table of contents to this thread here. I'll reserve a few of the first few posts so I can keep important information easy to find near the top of the thread.
Post #1 Intro, table of contents.
Post #2 Reserved for videos.
Post #3 Reserved for software.