Propeller OSD Drone
Perry
Posts: 253
GPS On Screen Drone
General Description
Heads up navigational display for model airplane enthusiasts.
Terry Hitt's video overlay driver combined with the propellers graphic engine allows the dynamic display of indicators, dials, and gauges for heads up presentation of GPS and accelerometer data.
The system updates a double buffered display 10 times per second. To further smooth the presentation an 8 pole moving average is kept of accelermoters, latitude, longitude, and elevation data.
A flashing spot indicates the position of the craft relative to start position.
When distance to home is greater than 49 meters a flashing line on the compass indicates heading to take to return to start position
When distince to home is greater than 499 meters the relative position is zoomed out 10x
The system consists of the following major parts
Parallax propeller proto board
LM1881 for controlling the video overlay as per Terry Hitts Propeller OSD
Hitachi H48C Tri-Axis Accelerometer Module Parallax #28026
accelerometers use the MCP3208 8 channel A/D driver MCP3208.
spin code: 'ok := accel.start(5,4,3,7)"
TTl GPS module like Parallax #28146
GPS is on the mouse port
serXmit = 25 ' Serial Transmit on mouse
serRecv = 24 ' Serial Receive on mouse
spin code: "ok := uart.start(serRecv,serXmit,0,4800)"
NTSC Video Camera
900MHz video TX / RX
Screen Display
from upper left you see
speedometer
number of satellites
Horizontal Dilution Of Position
artificial horizon
from upper right you see
altimeter
compass
at center is the airplane attitude display and flashing position spot
below is distance to home in meters
then latitude and longitude are displayed
at bottom line we find the date, GMT time, and elapsed time
Operational Timing
There are two jumpers to modify display parameters.
Jumper on I/O port 0 sets kpm/mph speedometer display
Jumper on I/O port 1 sets high/low speedometer display
After reset, durining the initial 11 seconds of operation the unit displays the jumper settings for km/mph and high/low speed settings, calculated values for meters per latitude and longitude.are shown below.
at the end of this time averages of the first 100 values of accelerometers, altitude, latitude and longitude are saved and the unit is ready for operation
you need at least 4 satellites in view for best operation, the more the better. I use a reset push button switch on a two wire cable plugged into the prop boards programing port and keep reseting the system until satisfied with the inital conditions.
Camera Aiming Decisions
Some notes on camera orientation
the view of the camera may be positioned in several ways,
for operation in a land vehical place airplane attitude display just below the true horizon, or place the true horizon on the artificial horizon gauge.
for best use in the air , place the true horizon near the top of the display,
use artificial horizon to maintain pitch and roll of craft when true horizon is invisible
I have uploaded a video to Youtube called "From Sparrows Park to Eagles Nest" taken from the front window of my car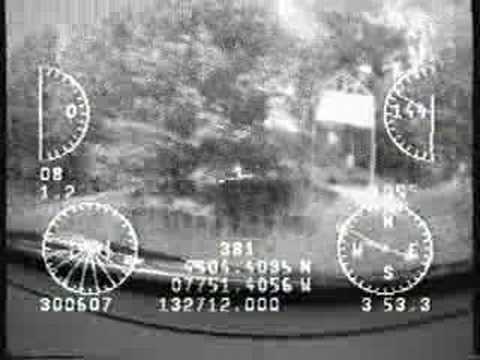 I am not ready to release the full source yet, I am fishing for some one who wants to collarabate and produce this as a commercial product
The eeprom file is attached, if any one would like some modifications e-mail me at pjm@ridge-communications.ca and I will attempt to accomodate your request
Perry