I have been using the Stingray on an increasing basis for a variety of activities in our University over the last two years. It is the standard platform for our "Design of Autonomous Robotic Systems" course, as well as a platform we have used for several man-machine interface experiments. All in all, a tremendous amount of effort has gone into building upon the basic chassis with the addition of sensor, electronics, alternative control boards, simulations etc. Most recently, we used it in our summer robotics camp, after adding a ping-pong ball launcher on it, which consisted of a variety of parts we designed and printed in our 3D printer. The launcher itself has two degree of freedom (azimuth/pitch) and an automatic ball feeder.
I have attached some photos of the activities below, but I am really disappointed to find out Parallax has end-lifed the Stingray. I understand the original controller card had quirks and the motor gearing is not perfect but why discontinue the chassis itself? I am really stuck at this point, and dread having to re-work all of this on a different platform. Definitely not a happy camper - no pun intended. By the way, I am using the Boe-Bot for the introductory robotics camp, is it safe or is it going to disappear as well?
Is there any chance Parallax would consider bringing back the chassis alone as it was sold before its demise? Even the chassis without the motors would be useful, although including the wheels and the old motors would be a welcomed addition. Given the CAD drawings, we could probably just print it in plastic, but again, without some help from Parallax, I am stuck.
Photos of the various Stingray incarnations are below.
This is the configuration used in my Robotics class - it uses the old controller, a second propeller board (mounted inside) to handle the sensors and a third PIC board to run the student's code. This one is loaded with sensors, 3 front looking IR, the 8-IR down looking sensor for line following, 2 fixed pings and a servo mounted ping, an IMU inside the chassis, a remote control receiver and a roving networks wifi module for telemetry and multi-robot interaction projects. It is powered with the Parallax Li-Ion module. The second photo is a screen shot of the simulation environment; it contains a high-fidelity simulation of the stingray in which you can run the same code as you run on the PIC processor; the rest of the robot and its sensors are simulated in the environment.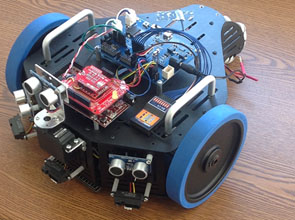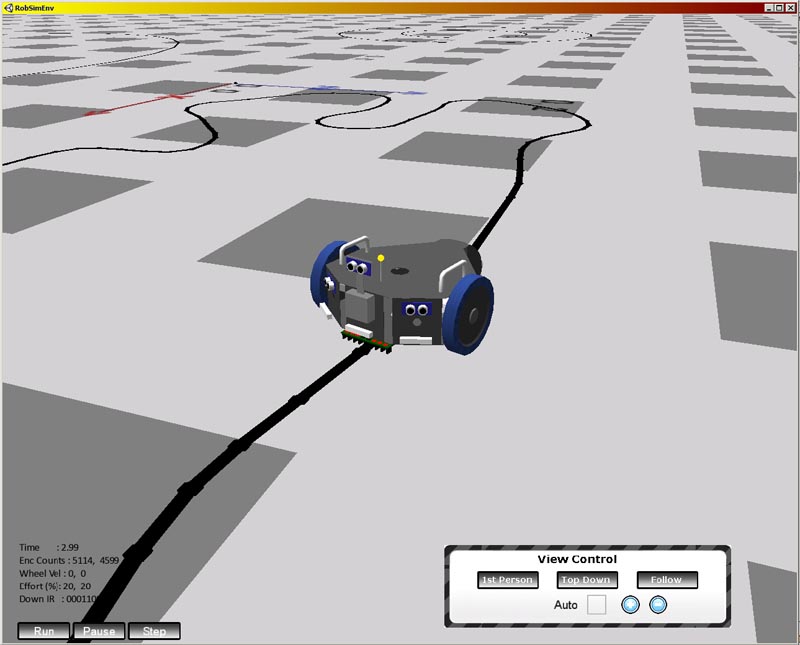 This is the version used in the STEM robotics camp from this summer - great success by the way! We used the $30 MC33926 dual driver and a propeller USB project board, along with some basic electronics for controlling the launcher DC motors. We now have a group of young men and women who consider parallel micro-controller programming in C a normal activity!