Right-angle drive for the Parallax Servo360

Phil Pilgrim (PhiPi)
Posts: 23,297
I'm working on an instrument that involves a large dial with a pointer. I cannibalized a wall clock for its bezel, but the bezel has limited depth in which to mount components. I wanted to use the Servo360, due to its accuracy and repeatability, but it's too tall to fit in the bezel and drive the pointer directly. What I needed was a right-angle drive for it to lower its profile. I considered bevel gears, but didn't want to spend the time waiting for them to build on my 3D printer. So I came up with a 2D design that I could make with my laser cutter.
For the moving parts, I'm using 1/16" black acetal copolymer (similar to Delrin). For the supports, I'm using 1/8" MDF. Here's a photo of the completed prototype assembly: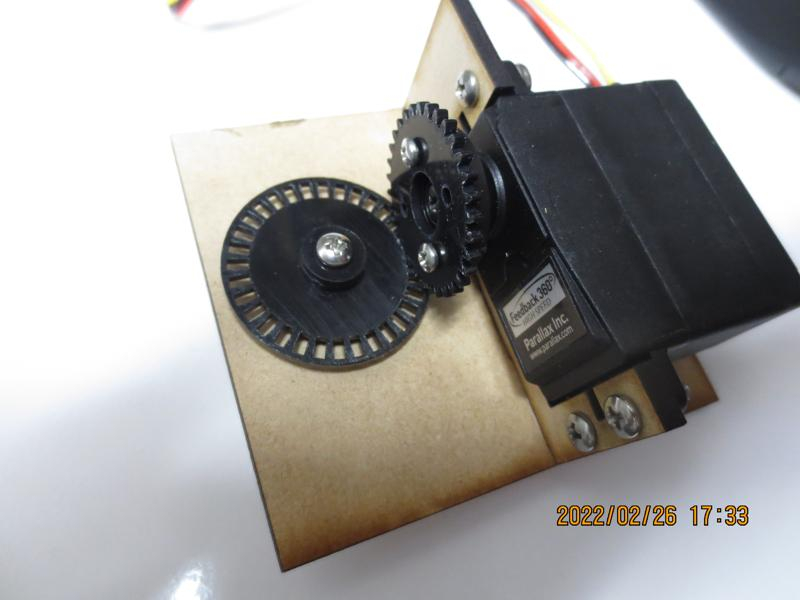 The drive gear is just a normal 32-tooth involute gear with a 1" pitch diameter. It's completely captured by the slotted disk that drives the pointer through a bulkhead. That way it can't become uncoupled and slip. The shaft is a 3/16" x 7/16" x 4-40 hex threaded standoff. The hexagonal shape prevents the pointer from spinning relative to the disk. The thru-hull bearing is a round acetal disk with a hexagonal hole that rides in a hexagonal acetal disk with a round hole. The hexagonal disk is mounted in a hexagonal hole in the MDF.
Thankfully, the parts mesh smoothly with no noticeable backlash. Soon I hope to post here about the instrument I'm building.
-Phil