Getting Started With the Nextion HMI

JonnyMac
Posts: 7,823
Life has been very busy lately, but I was happy when Ken reached out and asked if I would jump back to do P2 presentations. You've probably seen the announcements, but we're going to do this over a 3-week period in December. This will be a review of P2 programming in Spin, and we'll work with the some specific hardware.
Information and registration link can be found here:
-- https://www.parallax.com/touch-screen-holiday-lighting-control-project-with-jonnymac-live-coding-and-building/
Q: What if I'm new to the P2?
A: No worries! We'll move slowly and make sure that nobody is left behind.
Week 1: The Nextion HMI -- Programming the 9th Cog
Week 2: Reviewing protocols: Async Serial, I2C, "Smart" LEDs
Week 3: Bringing it all together with a simple touch-screen lighting controller
Ken is creating kits to simplify ordering. It would be useful to have essential prototyping parts, too -- things like pots, resistors, buttons, LEDs, etc.
My goal for the first session is to save you hours of watching videos on YouTube (unless you want to). There are a few folks out there providing reasonable information about using the Nextion, but most online tutorials are for the Schmarschmino, not the Propeller. That said, by big ego thinks that once you've sat through my session, you'll understand how to lift good ideas from projects using other processors for your own.
The Nextion requires a bit of programming, but it's not difficult. Like any other coding, though, planning is really important. The scripting language used looks a bit like C, but doesn't follow all of C's rules nor syntax. It's a simplification, which means for some things we have to do a bit of work. By working through some examples together, you'll get the hang of it.
There are two ways to get code into the Nextion: though a serial link, or with a microSD card. You probably have a USB-to-Serial adapter that provides 5v that you can use to run the Nextion directly from your computer while working on HMI development. This is the one I use.
https://www.amazon.com/gp/product/B07FCGS8TN
This has a jumper to set Vcc to 5V (needed for the Nextion) or 3.3V, and male headers that connect directly to the Nextion's cable.
When connecting to the P2 (or P1), remember to put a resistor in the TX line from the Nextion because this has a resting state of 5V (3.3K to 10K is fine). If you're using "the JonnyMac" connect the blue TX line from the Nextion to one of the 3-pin headers (signal line). You'll need a M-M cable to go from the downstream side of the resistor to the P2 RX pin. The P2 TX pin can be connected directly to the display.
I really like creating nice displays, and for the "art" side of things I use Inkscape. It's free, easy-to-use, and will create PNG files that are used by the display. For the projects I present you'll get the PNG files, and I'll give you the SVGs that you can modify if you want to do that.
Attached to this message is a connection diagram and a couple of preview graphics for projects that will be part of the presentation.
Happy Thanksgiving!, and I'm looking forward to seeing everyone in the sessions.
Update: I just came across this post in the Nextion forum:


This suggests a resistor in the Nextion TX line is only required for the Intelligent displays. I did a bit of poking around on their web site for a standard data sheet (which they don't seem to have), but they do have this posted (this from the basic series module).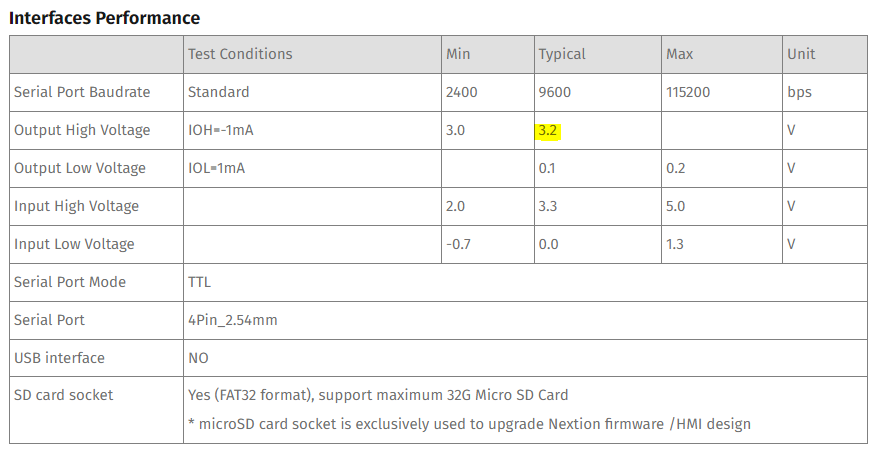 The resistor in the TX line from the Nextion will never cause harm, and if you're using the intelligent display (orange PCB), it will protect the Propeller.
Another Update: I have verified that you can use a Prop-Plug to download a TFT file to the Nextion display. The connections diagram has been updated. Note that using the Prop-Plug only applies to the Basic and Enhanced displays; the Intelligent series uses 5V IO.
p2_code.zip
-- unzip this to a P2 project folder
0_get_started.zip, 1_waveform.zip
-- unzip these to your Nextion folder