Feedback on Out-Of-Box Experience when Just Getting Started

whicker
Posts: 684
I bought a new Windows 10 laptop. I decided to "play dumb and innocent" as I tried to get the P2 EVAL board working as if I purchased it today.
I started at the shop page https://www.parallax.com/product/propeller-2-evaluation-board-rev-c/
Things went awry when I plugged in the USB cable without having the parallax FTDI drivers installed. I was working with a set of "fresh eyes". Detached and intentionally forgetting what I already knew, I documented my path in detail into the weeds. But I'll spare all the screenshots and writeup. I'll just cut to the chase.
I am suggesting that on the Downloads & Resources tab, underneath resource links, that a link is given to the Parallax drivers:
https://www.parallax.com/package/parallax-ftdi-usb-drivers-for-windows/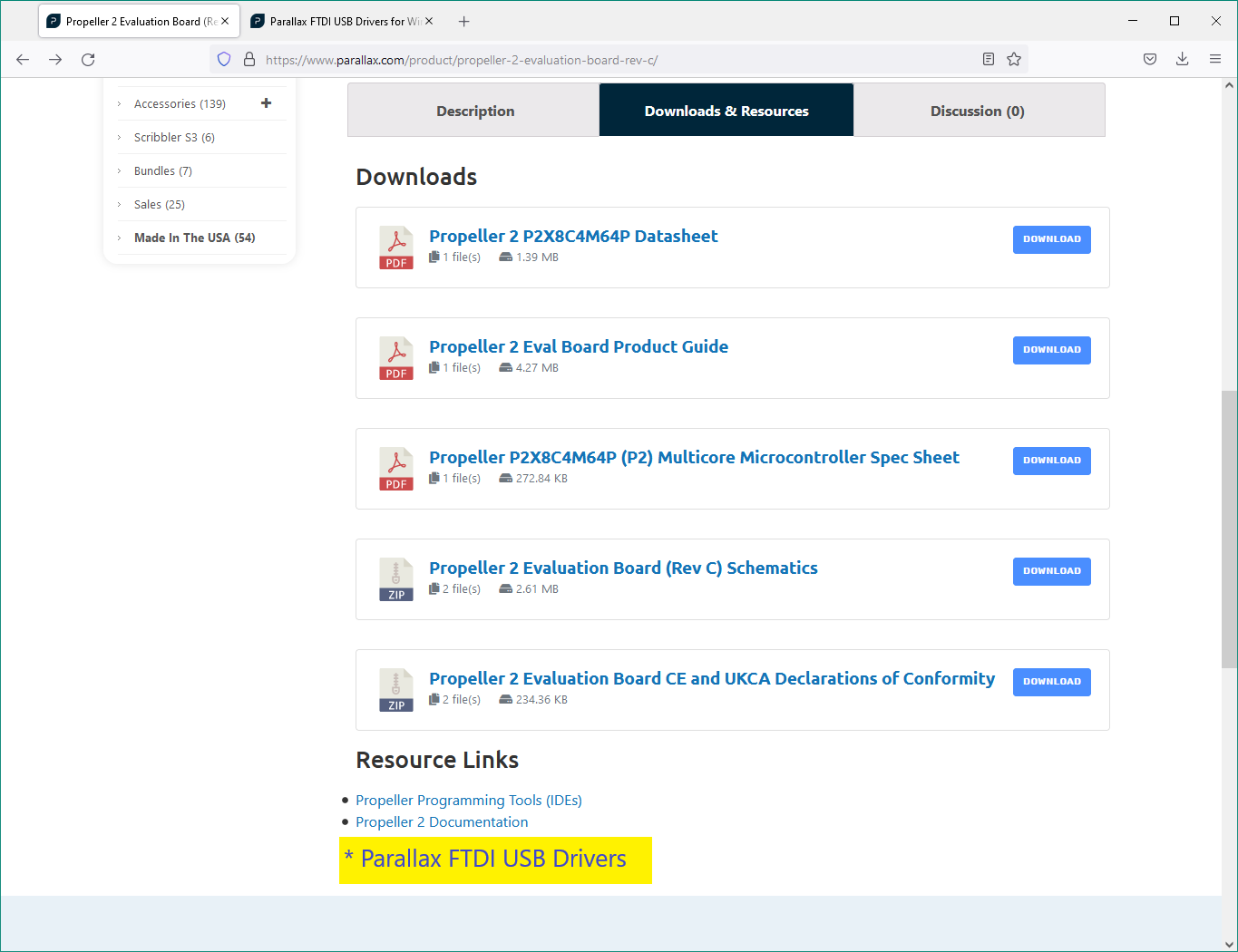 This is so that the new purchaser understands that they need to install custom Parallax drivers, and that plugging in the board will not "just work". Windows Update will lead you quite a ways down a bad path, but not ultimately find the correct drivers.
P2 Edge:
Similarly, I performed another thought experiment with the P2 Edge Breadboard and Mini Breakout Board.
Underneath the Resource Links for both of these products, there should be a link to Parallax Prop Plug (#32201). It is not okay to mention it in passing in the Specifications section, as it is easily missed and forgotten.
In the PDF documentation as well, there is no mention of drivers. It's just made to seem like 'plug it in'. Again, I know this seems obvious, but no it really isn't. Getting things connected and communicating is like 80% of the work.
Perhaps in-between the two paragraphs below, add...
If this is your first time using the Prop Plug, you will need to install the necessary Windows or Mac USB driver on your computer. Download links are available on the Prop Plug Download page. Please note, installing the Propeller Tool Software for Windows also installs the necessary USB drivers for the Prop Plug.
3. Prop Plug Programming Header 

The P2 Edge Module is programmed by the Parallax Prop Plug programming tool (#32201). To                             
accommodate the Prop Plug, there is a dedicated 4-pin programming and debugging header.                         
The pins are ​marked ​▽ △ RES VSS, and correspond to the pin labelling on the Prop Plug                                   
adapter. 

Connect the Prop Plug to your computer with a suitable USB cable. Then, insert the Prop Plug                                 
onto the header pins with the Prop Plug components facing upward. The upward orientation                           
allows you to see the RX and TX activity LEDs on the Prop Plug while programming or debugging                                   
data is being transmitted.