Prop1 Reset Circuitry
Wingineer19
Posts: 209
I've been looking over the reset circuitry for the FLiP and wondering if it can be simplified. This question has no doubt been asked before on this forum, but I can't seem to find an answer.
The BOEn signal is tied low, which enables a weak pull-up on the RESn input so an external resistor isn't necessary. Pulling RESn low of course will trigger a reset.
The schematic shows a high-pass resistor-capacitor (RC) circuit feeding an NPN transistor. The RC circuit produces positive and negative spikes depending upon the transitions of the DTR input signal. Here's a snippet from the schematic:
It appears that the positive spike turns on the transistor for about 155 microsecs or so which in turn pulls RESn LO triggering a reset. The transistor then turns off, RESn is pulled HI again, and the Prop enters its bootup sequence. (I'm assuming the negative spike has no adverse effect on the transistor or any other circuitry).
Why can't the resistor, capacitor, and transistor be replaced by a schottky diode? Tie the anode to RESn and the cathode to DTR. If DTR is HI the diode is reverse biased and RESn remains HI. If DTR is LO the diode is forward biased and RESn is pulled to ground triggering a reset. Something like this: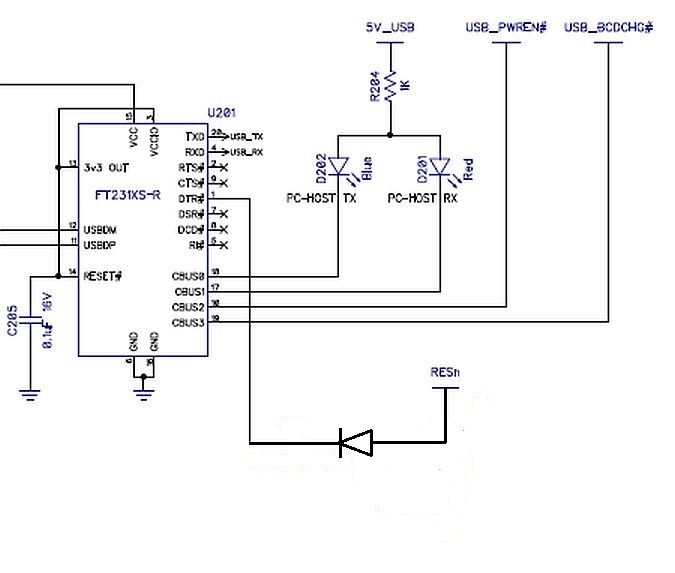 Seems to me it should work provided that DTR can actually swing to GND and can sink the current from the weak pull-up resistor contained within RESn.
I realize there might be some DTR timing tweaks needed to my application code on the PC to reset the Prop so I can then program it, but again it seems like this circuit should work. Thoughts?