Reset circuit woes

Wuerfel_21
Posts: 1,786
This seemingly simple circuit has been the source of my woes for a long time.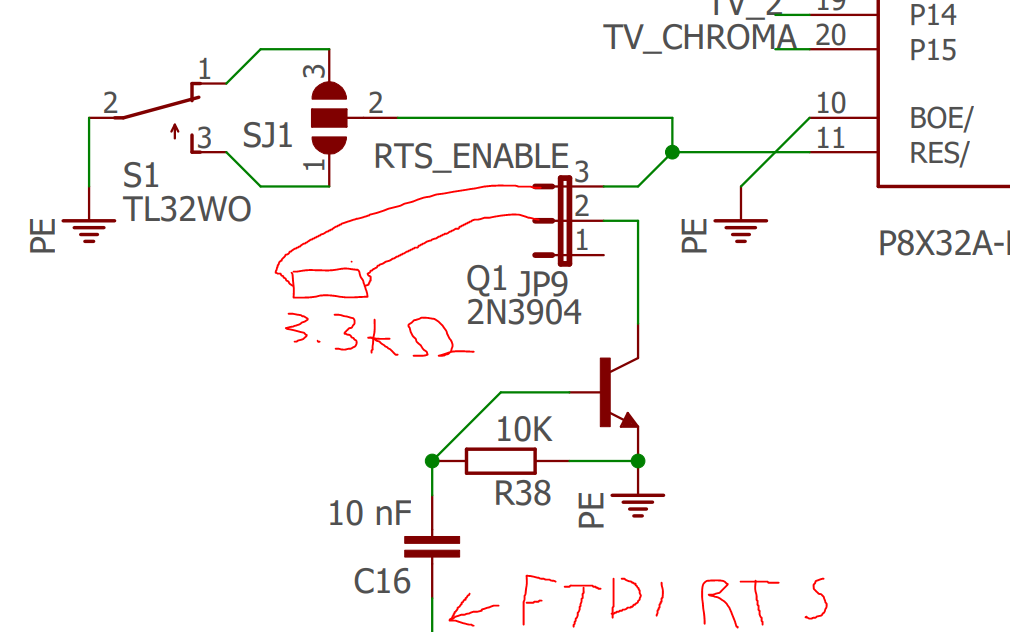 This is the reset conditioning circuit in my Ventilator board. It is literally copied from the one Parallax uses in many designs. Yet it is the number 1 pain point of the design.
Problems I have experienced include:
Garbled serial (somehow fixed by a 3.3k bodge resistor in series with the jumper, as crudely drawn into the schematic)
Random resets
Intermittent download failure
Resets relating to software activity (mostly to do with SD access) This also depends on the power supply. On my phone charger, it resets just trying to boot Projekt Menetekel, haha.
All of this goes away when I remove the jumper on JP9, so I'm certain that this is the issue. In particular, I think that since I am using a cable that has the FTDI chip in the plug, power/ground noise couples into RTS on the long cable run and is enough to disturb the transistor into conducting enough to trigger a reset.
Or, since the sample size is really just 1, it may not be a design issue. I had weird shorts develop on this board before (due to a combination of crappy soldering skill and low groundplane-to-pad distance). If I measure between the collector and emitter of the transistor (while powered off, of course), I get ~ 30k ohm. Is that a normal value? seems a bit low.
The new prop plug has a slightly different circuit, with a smaller capacitor and a 10K series resistor. Does anyone know the reason for this change? Would replicating this solve the noise issues?