The Quby Game Console for Four Players

JRetSapDoog
Posts: 954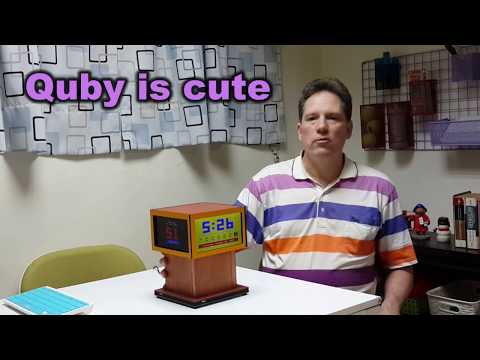 In this completed project, I'm announcing the Quby game console from
WordFire
(which is basically me). That's Quby, pronounced similar to the name Ruby (and like the letters "QB" for quarterback). Quby is a quad-screen clock and game console, which was primarily designed for word games. Games are stored on SD cards, and a few sample games are included on the provided SD card (though some polishing is needed).
If Quby seems familiar, it's likely because it's a revamped version of the
Game-Time console
that had a large food bowl for snacks. Quby gives up the snackbowl, but gains a cute form factor. Whereas the Game-Time console was somewhat bulky, Quby is comparatively svelte. The main reasons for the new version are that the old one was a complicated and costly build that was unsustainable at the discounted price I offered. So, I went back to the drawing board.
Quby is functionally identical to its "mother" (who retired after giving birth), running the same programs without change. In an improved design, Quby adds a power switch, as requested by forum members, and speaker mounts.
Since Quby's circuitry is essentially the same as the retired console's, if you have comments about how to add functionality and so on, perhaps you could post them on
the other thread
, as I'd like to keep this thread more focused on the design as it is. But other comments and feedback are welcome.
Also, per the guidelines for the rules about sales on this forum, if you'd like to purchase Quby, please indicate your interest here by a personal message (PM) or send me an email via the
WordFire website
, rather than doing so in a post on this thread.
For more information about Quby, please visit
wordfire.net
. The pages there, along with the videos for the retired console, describe Quby and its games. I haven't made a console overview video for Quby yet, but the brief intro at the top of this post lets you see the form factor. In the video, my main goal was just to announce the console and get the name out there, not provide a detailed treatment.
Regarding the website, see the
Quby page
for an overview of Quby, the
Build/Soldering page
for the soldering steps, the
Assembly page
for details about the housing, and, of course, the
Buy page
for ordering information. And for convenience, attached below is a screen capture of the pricing table from the Buy page, along with a couple shots of Quby.
Unlike last time, I haven't built a "fleet" of housings in advance nor ordered all the parts yet. So if you do order--and I hope that you do--please allow me a few weeks to order parts, build the units and ship them out. Payment would be through PayPal.
Meanwhile, thanks for reading. I have a flight on Monday, and I wanted to create this thread beforehand. As such, I may need a couple days to get back with you. But thanks in advance for any comments or feedback you provide. --Jim