Article: Parallax Propeller on DEF CON 20 Badge Start Here!

Ken Gracey
Posts: 7,322
Welcome DEFCON 20 Attendees!


The DEFCON 20 Badge was designed and manufactured for the largest continuously running hacker and computer security convention in the world
www.defcon.org
. This year's DEFCON is a four-day technical session held at the Rio Hotel in Las Vegas, founded and run by Jeff Moss (DarkTangent). Ryan Clarke (LostboY) designed this year's badge as a core part of the hacking contest. Jon Williams authored the core code objects. Parallax manufactured 16,500 units in our Rocklin, California facility through June and July.
The badge is based around the Propeller P8X32A 32-bit multicore processor. The badge features an infrared LED and receiver for badge-to-badge communication, a bank of eight LEDs for visual feedback and a USB circuit for data access and programming. Each attendee receives two PS2 adapters and a VGA connector so they can stop by DEFCON's Hardware Hacking Village to turn their badge into a small computer system. Three AAA batteries can power the badge for the entire convention.

The badge types were produced in eight color schemes for different types of attendees: ARTIST, CONTEST, GOON, HUMAN, PRESS, VENDOR, UBER, and SPEAKER. The HUMAN badge was produced in 21 different shapes, for 21 unique badge styles. Yes, it was a complex design process.
At the DEFCON opening ceremony attendees will receive key information about how the badge is used to solve the challenge. We really don't know much about the Badge Challenge, but it's really clear that people need to mingle to unlock some cryptology clues. Take a walk around, connect your badge to Parallax Serial Terminal at 57,600 BPS to see who've you encountered. Everybody has access to the Propeller objects used in the top-level firmware. They're available for download below.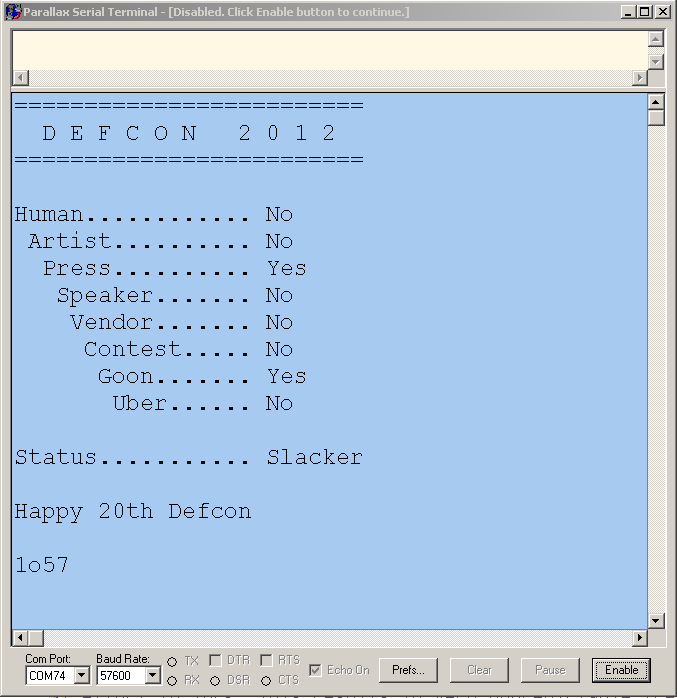 Getting Started with the DEF CON 20 Badge

(Specific links to resources to follow today and tomorrow)
So you've picked up a DEF CON 20 Badge and you'd like to start programming it for another purpose. These forums are among the most valuable of all of our resources. Take a look and download some of these before you get started.
Propeller Tool (Windows) – includes many example codes
Learn.parallax.com and the Propeller BOE – two useful tools to get you started
Simple IDE - Open-source Alternative Propeller Tool (Windows, Linux, Mac) - our future programming interface for Propellers
Badge Schematic (download below)
DEF CON 20 Badge Code Objects (download below)
DEF CON 20 Badge Firmware (download below)
DEF CON 20 Badge LED Example (download below)
DEF CON 20 Badge VGA and PS2 Example (download below)

Interview with Ryan Clarke, DEF CON 20 Badge Designer

Parallax was sworn to secrecy about everything we knew about the DEFCON 20 Badge. The DEFCON organizers are a classy group of people and they needn't share more than they must. Imagine what it's like working with a customer who seems to have no address or name, who makes a quick verbal agreement over a steak in Washington D.C., and where trust is your only insurance policy. Parallax had invested a portion of our company in Ryan Clarke's vision so it seemed appropriate to interview him about the badge design. I called Ryan via Skype a few days before DEF CON to get an interview.
Ryan on Skype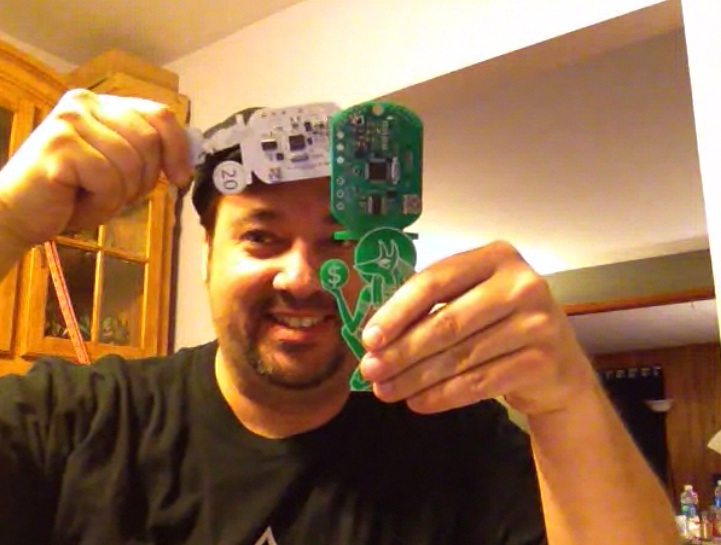 Ken
: Where does the DEFCON 20 Badge fit in the conference?
Ryan
: First I've got to tell you a bit about hacking and the goals of the contest around the badge. Today so much fun is taken out of solving a mystery – younger people expect to find answers on Google but when it comes to the DEFCON badge contest almost everybody wonders, "what's the goal?" Attendees will never know what they're up against. It's all about having intellectual curiosity – identifying what's normal, abnormal, and what the little hooks of information mean. There's social engineering, hardware hacking, programming, and several paths to the solution. The kinds of skills teams need to win the badge challenge include electronic engineering, linguistics, mathematics, pop culture, physical security, and a mindset that drives them to get answers. What is the implied meaning of what you've seen and what is it leading me to? This kind of challenge brings magic back into the world – you can't get the answers off of Google. The kinds of people who solve a badge challenge fit the MIT definition of a hacker. Take a look at it.
Ken
: What do you expect from a participation standpoint?
Ryan
: Lots of it. You can't win the badge contest unless you participate. We're all a bit nerdy so this will force us to interact with one another.
Ken
: How do the badges interact with one another? What will people do with the badges?
Ryan:
You've made over 20 variants of the Human badge and more than seven other versions (Press, Uber, Goon, Vendor, Speaker, Artist, Contest). These badges communicate over infrared – connect your badge to a serial terminal and it'll tell you who you've encountered. Cryptology can be unlocked along the way. The ancient hieroglyphic shapes, binary codes and firmware provide key bits of information - notice how the vendor and speaker badges face one another as one provides knowledge and the other one takes your money. People will start out dumping EEPROM contents and seeing strings in memory, compare them to running strings to extract themes, and some will even fuzz the board. The badges have unique firmware. People who want to reprogram them could experiment by loading RAM only since the Propeller code resides in EEPROM, or they can reload EEPROM. Reprogramming the badge could still allow somebody to win the contest with a hacked badge. They can go to the Hardware Hacking Village and add the VGA/PS2 ports and turn it into a small computer. Badge contest tips can propagate in a matter of minutes. Check my Twitter feed – as clues are unlocked we'll help people along.
Ken
: And if somebody wins the badge contest?
Ryan
: They receive an Uber badge which gives them free DEFCON admission the rest of their life. If a team wins only one person gets the Uber badge. Free admission is only a side benefit – being recognized as a "black badge holder" provides big status in this community.
Ken
: How much time have you put into the badge planning?
Ryan
: At least 500 to 1,000 hours, starting last year, but it's hard to differentiate it from all of my DEF CON tasks. I'm also running the Mystery Challenge as a follow-up to last year's contest. I really love working with the DEF CON crowd and it's a true passion of mine.
Ken
: Wow! I'd really like to see what's in your refrigerator so I can understand how you have so much energy – can you show me?
Ryan
: Sure, it's right here. I have 5-Hour Energy, pizza and soft drinks.
Ryan scans badges after his DEF CON 20 presentation