This one has taken me several days to design and it'll be a minor miracle if it actually works:
Update: It actually works!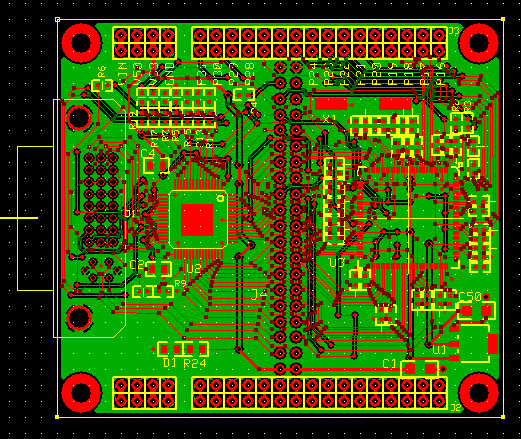 There are only 2 chips and voltage regulator on this Propeller Platform compatible shield.
The chip on the left (Texas Instruments TFP410) drives the DVI connector on the left edge of the board.
The chip on the right (Solomon SSD1963) delivers 640x480 (essentially VGA) with true color, 24 bits per pixel.
Not even Prop2 will be able to do this without external chips.
Here's a new demo video:
Here's what it looks like on the Prop Platform USB:
Update: Just finished up testing the 4.3" touchscreen plugin module and it works too (see post #77 for photos).
So, there will soon be both analog VGA and 4.3" TFT plugin modules for this board available soon.
Another Update: 4.3" touchscreen plugin also works with Newhaven 5" touchscreens with 800x480 resolution.
The capacitive touch version can also work by using a small adapter board to connect the touch connector the DVI shield.
Product Page:
http://www.rayslogic.com/Propeller/Products/DviGraphics/DVI.htm