Ever since I did the half stepping object for a stepper motor, I've wanted to make a microstepping object as well. I knew that the counters could do PWM and so I played with that last night and got a PWM sine wave.
Today I've been trying to turn the sin/cos phase outputs of the CTRA and CTRB into a 4 pin drive for the L293 on my PPDB.
My first idea was to use the counters in differential mode, but that quickly was proven an incorrect notion.
Next I setup an LM339 quad comparator to take a 0-3.3v signal and convert it into a discrete signal, but I fear that I've only succeeded in doing the same thing as a differential output of the counter.
I'm trying to take a phase waveform, 0-3.3v that should be a crossover at 1/2 VDD and turn it into a phase drive signal that gates the second pin of the phase drive so that when the waveform is above 1/2 VDD the companion drive pin is at ground, and when the waveform is below 1/2 VDD the opposite pin is grounded.
Here is a phase waveform for a microstepping drive: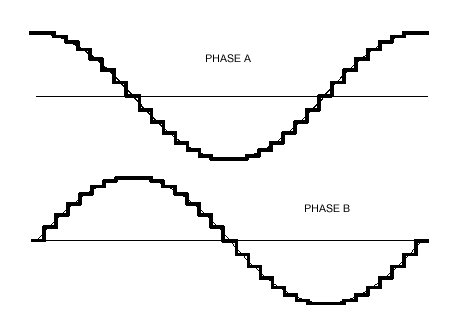 I suspect that I've got a couple of problems:
The sin/cos lookup may be inappropriate values and/or the period length of the counter is wrong
The LM339 is generating differential outputs from 1 input instead of splitting the signal at 1/2 VDD
I really have 2 issues to counter, understanding of how the PWM really works, and how to decode a single ended signal into a full H bridge drive.
LM339 Schematic: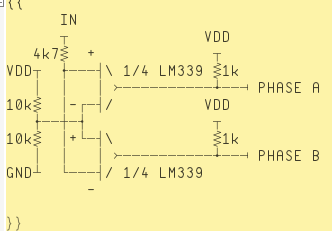 I have included the code here:
[FONT=courier new]''Demonstration of PWM version of NCO/PWM counter mode
CON

_clkmode = xtal1 + pll16x
_xinfreq = 5_000_000

VAR

long parameter

PUB go | x
  cognew(@entry, @parameter)
  repeat
    repeat x from 0 to 90 'linearly advance parameter from 0 to 100
      parameter := cos(x,90) << 16 + sin(x,90)          'a constant here locks to value x percent high
      waitcnt(1_000_000 + cnt)   'wait a little while before next update
    repeat x from 90 to 0 'linearly advance parameter from 0 to 100
      parameter := cos(x,90) << 16 + sin(x,90)          'a constant here locks to value x percent high
      waitcnt(1_000_000 + cnt)   'wait a little while before next update

PUB sin(degree, range) : s | c,z,angle
  angle := (degree*91)~>2  ' *22.75
  c := angle & $800
  z := angle & $1000
  if c
    angle := -angle
  angle |= $E000>>1
  angle <<= 1
  s := word[angle]
  if z
    s := -s
  return (s*range)~>16     ' return sin = -range..+range

PUB cos(degree,range)
  return sin(degree+90,range)

DAT
'assembly cog which updates the PWM cycle on APIN
'for audio PWM, fundamental freq which must be out of auditory range (period < 50?S)
        org

entry   mov dira, diraval              'set APIN to output
        mov ctra, ctraval              'establish counter A mode and APIN
        mov ctrb, ctrbval              'establish counter A mode and APIN
        mov frqa, #1                   'set counter to increment 1 each cycle
        mov frqb, #1                   'set counter to increment 1 each cycle

        mov time, cnt                  'record current time
        add time, period               'establish next period

:loop   rdlong value, par              'get an up to date pulse width
        mov a, value
        shl a, #16
        shr a, #16
        mov b, value
        shr b, #16

        waitcnt time, period           'wait until next period
        neg phsa, a                'back up phsa so that it
        neg phsb, b                'back up phsa so that it
        jmp #:loop                     'loop for next cycle

diraval long 11                      'APIN=0
ctraval long 101 << 26 + 1 << 9 + 0          'NCO/PWM APIN=0
ctrbval long 101 << 26 + 3 << 9 + 2          'NCO/PWM APIN=0
period  long 90                       '888kHz (1.25?S period) (_clkfreq / period)
time    res 1
value   res 1
a       res 1
b       res 1
[/FONT]