RamBlade: Prop+SRAM+microSD addon to run ZiCog/CPM/PropDos/Catalina, etc

Cluso99
Posts: 18,066
RamBlade is a tiny pcb (1.9"x1.2" (48x30.5mm) - fits in a matchbox) and runs CPM2.2 via a soft Z80 emulation.
Programs such as Wordstar, MBasic work (Cobol does not???). It approximates a 4MHz Z80 with 64KB of SRAM, with a small portion dedicated to the EPROM which is loaded from the SD card at runtime.
Two pins provide either a serial connection (eg A USB-seriall TTL pcb or PropPlug - not provided) or Monochrome Video and a PS2 Keyboard connection.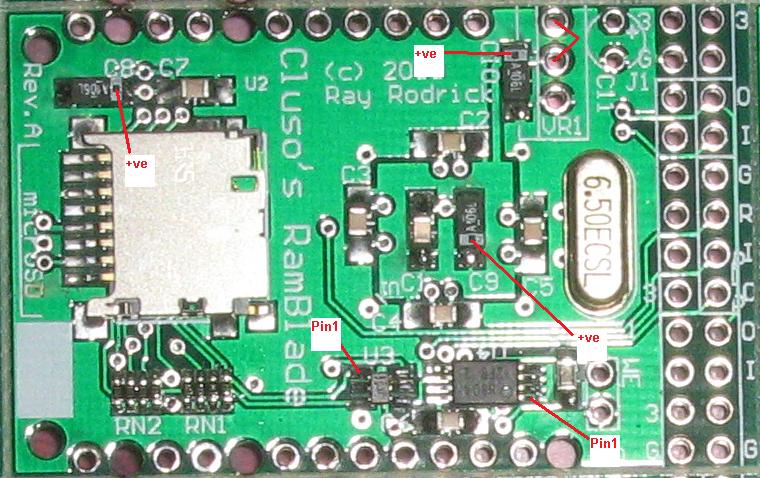 18 Nov 2022 update:
Some links are broken due to forum updates. However there are pics on my (outdated) website here...
clusos.com/home/ramblade/


I have plenty of bare pcbs, although I would need to order some parts in order to make more. (18 Nov 2022)
Anyone interested should email me cluso -at- clusos.com

RamBlade US$30.00 (subject to change)
Shipping: Check with me as local post no longer provides a cheap method
microSD card: I email the files and code for you to copy to a FAT32 formatted card.
RamBlade is a double sided SMT pcb designed to run my OS and ZiCog/CPM/PropDos/Catalina/SphinxOS programs using the on-board 512Kx8 SRAM.
(Guess I should state it is essentially the best bits of the TriBlade Prop#2 which we are using for ZiCog)
RamBlade Specifications

·

(Rev.A)
PCB is 1.9"x1.2" (48x30.5mm) SMT (surface mount)
Propeller

·

-

·

designed for overclocking (104MHz/108MHz/114MHz/120MHz???)
SRAM 512Kx8 55nS (optimised for speed - no latches)
microSD socket (optional 1GB/2GB/8GB microSD card with ZiCog/CPM2.2 loaded)
AT24C512 (64Kx8) EEPROM is fitted which is disabled after boot plus seperate write enable link
Designed to run

ZiCog & CPM (Z80 emulation)
MoCog (6809 emulation)
My Prop OS
PropDos
Catalina C
SphinxOS
Sphinx compiler (on the RamBlade)
other Propeller hosted operating systems requiring external RAM

Multipurpose 2x12 0.1" interface connections

Designed to plug into

·

Uses

·

4

·

pins

·

for the interface 3V3,GND,SO,SI

2 to communicate serially to the RamBlade (no resistor protection)
1 each for 3V3 and GND
optional onboard 3V3 voltage regulator

Uses 4

·

pins

·

for optional PropPlug connection for re-programming

Alternately can be connected to the

·

ProtoBoard

·

to allow

·

re-programming and/or resetting from the

·

ProtoBoard

Available assembled
General Info (refer to picture above)

U1 (prop) and U2 (sram) are on the underside
U3

·

prevents unwanted access to the Eeprom when accessing the sram (shared bus)
U4 is AT24C512 Eeprom preloaded with microSD boot code

You don't need a PropPlug

The xtal pads will take pin sockets for pluggable xtals

I am sourcing the pins now (thanks for the supplier info Bill)
I am

·

supplying a 6.5MHz xtal as standard for 104MHz overclocking operation
I am hoping to also supply a higher value xtal

·

for even faster (overclocking) operation

The dual row of headers on the RHS are for external connections

This connector is NOT fitted as the user will need to identify what connection is required (1x40 pin stakes supplied)
3 = 3V3 (or Vin if using the onboard regulator)
G = Gnd (0V)
R

··

= reset to prop

·

\\ for external PropPlug connection
pI

·

= program SI

···

||
pO = program SO

·

·

//
I

·

= SI

·

serial in (two pads)
O = SO serial out (two pads)
other pads have no connections
see diagram below

·

for

·

connection details to various boards

The microSD card is inserted from the left and is protected by the pcb
The WE link is to enable writing to the Eeprom (default unconnected with pullup)
The full blue pads are 2mm mounting holes
The pads along the top and bottom are uncommitted pads in case you want to add something like a LED/resistor or extra mounting
Green dots are just vias like the others (due to my pcb layout program options)
VR1 (LM1117T-3.3) and C11 are not supplied/fitted (optional 3V3 regulator)
Connector options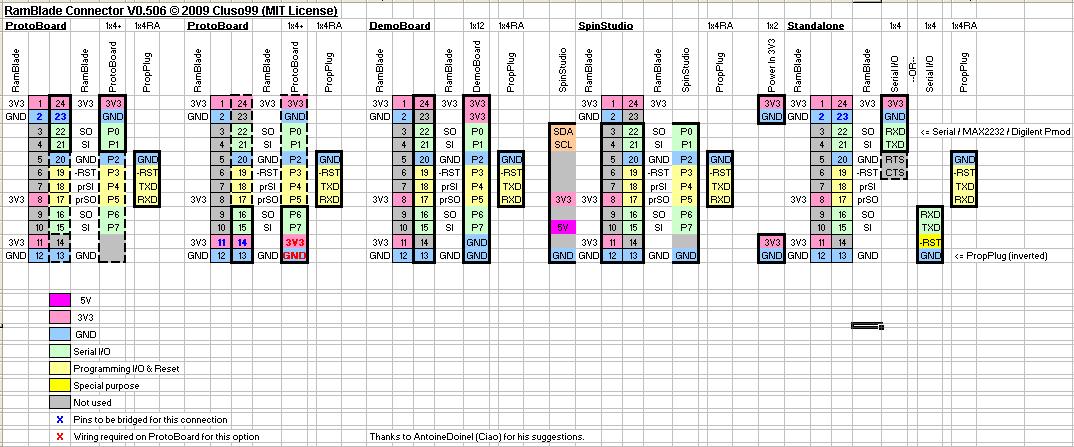 Block Diagram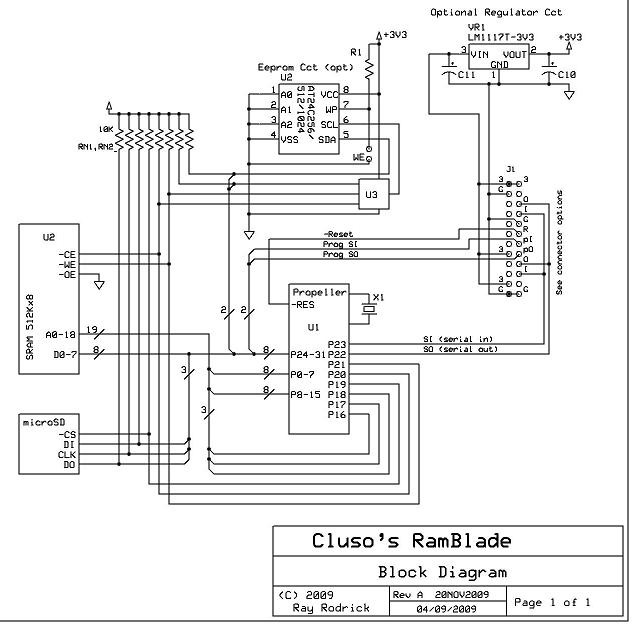 ▔▔▔▔▔▔▔▔▔▔▔▔▔▔▔▔▔▔▔▔▔▔▔▔
See this link for my newer RetroBlade2 single chip computer using the Parallax P2 micro
https://forums.parallax.com/discussion/172262/clusos-p2-retroblade2-single-chip-computer-small-stock-and-build-to-order/p1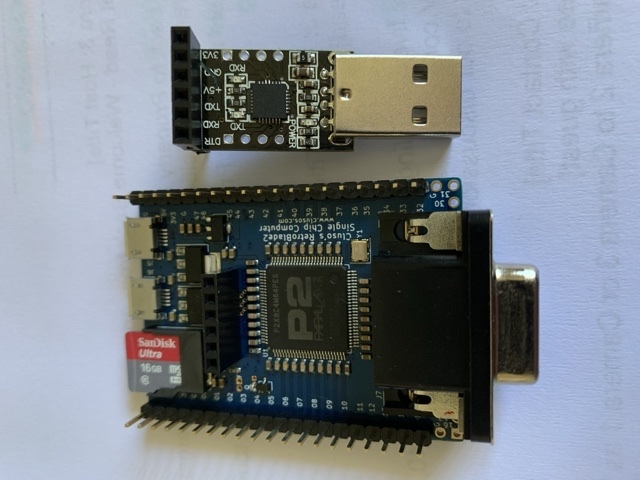 ▔▔▔▔▔▔▔▔▔▔▔▔▔▔▔▔▔▔▔▔▔▔▔▔
Links to other interesting threads: (mostly broken - try searching for the title)
·
Home of the MultiBladeProps: TriBlade
,
·
RamBlade
,
·
SixBlade
,
website
·
Single Board Computer:

·

3 Propeller ICs

·

and a

·

TriBladeProp board (ZiCog Z80 Emulator)
·
Prop Tools under Development or Completed (Index)
·

Emulators: CPUs Z80 etc; Micros Altair etc;

·

Terminals

·

VT100 etc; (Index) ZiCog (Z80) , MoCog (6809)

·
·

Prop OS: SphinxOS

·

, PropDos , PropCmd

··
·
Search the Propeller forums
·
(uses advanced Google search)
My cruising website is:
·
www.bluemagic.biz
··
MultiBlade Props:
www.cluso.bluemagic.biz
Post Edited (Cluso99) : 2/10/2010 8:06:19 AM GMT