P2 Multi-port Serial and Smart Pins
lab_ges
Posts: 36
Hi All,
I am currently designing a PCB using the P2 processor. I have used the P1 for a previous project which has worked very well, but I have not used the P2 before.
I would like to use smart pins for several serial ports (RS232, 9600 or 19200 or a few other slow rates only).
The serial Devices can run in 2 different modes, the first is asynchronous and the second polled and I need to support either.
Asynchronous mode is easy to handle, I could possibly just use the "Multiple Serial Port (8 UART – 16 Tx/Rx) Object" for the comms as it looks ideal.
The Polled mode requires the devices to receive a specific byte and the devices I will respond with their sensor reading.
To Enable Polled mode, I was originally thinking of using a circuit to break the normal TX paths and switch all the TX lines to a common TX output to simultaneously send the "TRIGGER" byte to each attached serial device. That way, a single poll byte can trigger each device to simultaneously send the sensor data.
Something like this (only Tx path shown here, P2 ports on Left):-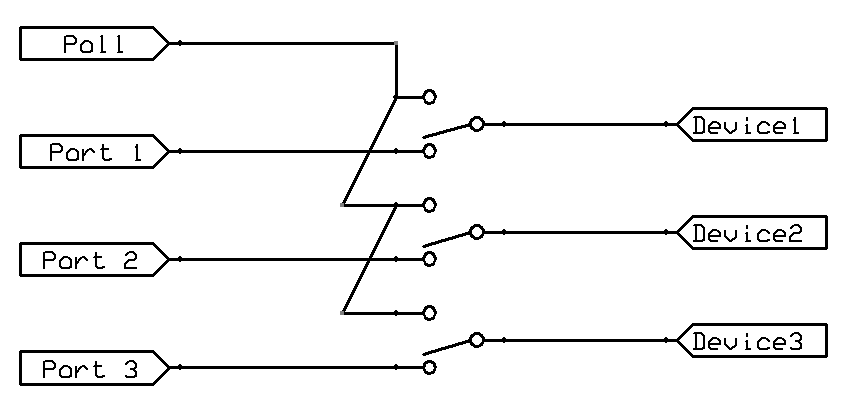 While I am sure the above would work OK, I have been reading up on Smart Pins (and getting rather confused by it all) I was wondering if it is possible to simultaneously send the same byte to each attached serial device from within the P2 smart pins, eliminating the need to the external switching?
I saw some videos on YouTube that seemed to show Smart pins being used to send the same data to a range of pins and the CRO traces showed synchronous outputs. I think that was using SPI but my question is, is that possible with a serial byte?
Any assistance would be greatly appreciated, I think perhaps this MAY be posible but I can't quite work it out so far. Thanks all.