FlexProp: a complete programming system for P2 (and P1)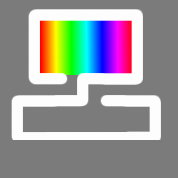 ersmith
Posts: 5,877
Summary: FlexProp is a GUI and compiler that lets you develop programs in Spin 1, Spin 2, BASIC, and C for the Prop 1 and Prop 2. You can mix objects written in the different languages, and it produces fast assembly code as output. Any combination of languages and processors is OK, e.g. you can compile Spin 1 code for P2 (as long as any assembly in DAT sections is P2 compatible) and Spin 2 code for P1 (again, any user provided assembly language has to be P1 compatible in this case).
The latest version may be found at my patreon page (
https://patreon.com/totalspectrum
) or from github (
https://github.com/totalspectrum/flexprop/releases
). Binaries are provided for both Windows and Mac -- the zip file has both. The program runs on Linux too, but you'll have to build it from source there.
Update May 2023:
The most recent release is 6.1.x, which has P1 and P2 bytecode output, improved Spin2 compatibility, support for project files, and support for creating .zip files of the source code.
Update September 2021:
FlexProp is now in the 5.9.x series, which is in some sense a "preview" for version 6.0 which will have support for P1 bytecode and a new P2 bytecode output. That is, you can now compile Spin, C, and BASIC programs to bytecode as well as to assembly. The bytecode binaries will be smaller, but slower, than the default assembly language. Bytecode support isn't complete in 5.9.x, but there are a lot of other new features (such as Spin2 floating point support, and support for P2 BRK debugging) which make it worth upgrading. Many thanks to @Wuerfel_21 for her contributions of BRK debugging and P1 bytecode support!
Update May 2021:
The latest version is 5.5.0, which has a lot of bug fixes and improvements.
Update October 2020:
FlexGUI has been renamed to FlexProp to avoid conflict with another product. The functionality is still the same: it is a simple GUI for programming the P1 and P2 in Spin1, Spin2, PASM, BASIC, and C. The languages may be mixed together, so for example you can call a Spin driver from a C program. Output is fast PASM code.
The latest release is available from
https://github.com/totalspectrum/flexprop/releases
: download the "flexprop.zip", unzip it in some convenient location (e.g. your desktop), and run the "flexprop.exe" program.
Older information
There is a new release of flexgui, a GUI providing a complete programming system for P2 including PASM, Spin, BASIC, and C, and now including a version of micropython and a simple terminal interface for the P2 ROM. It may be downloaded from
https://github.com/totalspectrum/flexgui/releases/latest
; look for the "flexgui.zip" file for the Windows binary release.
New in this release are menu options for the ROM monitor and TAQOZ, improved C support, and many bug fixes.
If you haven't used FlexGUI yet, or haven't tried it in a while, here are some of its features:
General
* Both Propeller1 and Propeller2 are supported
* Supports PASM, Spin 1, Spin 2, BASIC, and C
* View output PASM code
* Built in terminal emulator
* GUI checks files for external changes, so you may use any editor and compile in FlexGUI
* Options for interacting directly with P2 ROM monitor and ROM TAQOZ
* Micropython for P2 sample included
PASM Support
* Both P1 and P2 assembly language supported
* Preprocessor supporting `#define`, `#ifdef`, and `#include`
* Absolute address operator `@ @ @`
* Warnings for common mistakes like forgetting `#` in a jump
* Can compile assembly-only files (no Spin methods required)
Spin support
Both the original Spin 1 and new Spin 2 languages are supported. The Spin 1 support has a number of enhancements:
* Generates optimized PASM instead of bytecode
* `case_fast` to force `case` to produce a jump table
* Conditional expressions like `(x < y) ? x : y`
* Inline assembly inside PUB and PRI functions
* Object pointers
* `pub file` and `pri file` to include functions from other languages (C, BASIC)
* Multiple return values and assignments, e.g. `x,y := y,x`
* Default parameter values for functions
* Optional type specifiers for function parameters and return values
* Automatic passing of strings as pointers in some cases
* Unsigned operators `+/`, `+//`, `+<`, `+=<`, `+>`, `+=>`
* Spin2 operators `\`, `<=>`
BASIC Support
fastspin supports a fairly complete version of BASIC, based on traditional Microsoft BASICs. Please see `doc/basic.md` for details. Notable features are:
* Structured programming features
* Line numbers are optional
* Garbage collected memory allocation
* Support for classes, and importing Spin objects as classes
* Function closures and immediate functions
* `try` / `catch`
* Inline assembly
* Generic functions and templates
C Language Support
fastspin supports a C dialect called FlexC, which is intended to be C99 compatible with some C++ extensions. It is not yet complete. Notable enhancements are:
* Inline assembly (similar to MSVC)
* Simple classes, including using Spin and BASIC objects as C classes
* Reference parameters using `&`
* GCC style statement expressions
* Header files may specify linking information for libraries
* Several useful builtin functions