I've mentioned in another thread that I have a few boxes of 20x4 serial LCDs surplus from supplying an OEM for many years. The displays are high quality (expensive) Winstar high-contrast FSTN amber backlit LCDs with my own surface mount backpack, so the whole display depth is less than 15mm from the front of the bezel. It is actually lower than the bezel's metal tab height on the rear but the low profile pushbutton that adjusts the contrast digitally just pokes 1mm above this. Here is
a link to the datasheet
which I will also attach and the command set is as compatible with standard ASCII devices as possible with extra commands for changing the contrast and dimming the backlight etc.
Currently the firmware supports big 4 digit mode over 4 lines but I may update these to allow 6 digit mode over 3 lines. Each display includes a small piezo buzzer and originally these were mounted on the rear since depth didn't matter but I will include them separately so the user can solder them on directly or via a lead. There are no DIP switches, one, because I detest bulky switches (and trimpots too), and two, because we can do it much better storing configurations in EEPROM. By default the displays are 9600 baud but can be set up to 115200 baud and polarity is programmable but I will default them to logic level although they can take full voltage RS-232. A single 5-pin right-angle pin header will be supplied (normally 10-pin vertical) so that it is easy to plug in a 3 or 4 pin header although a 5-pin plug would be reversible (VCC,GND,RXD,GND,VCC). BTW, these LCD modules do require 5V and with the initial dimmed backlight it consumes 70ma but you can turn the backlight on and off or even adjust the brightness up or down.
Here is a shot of the backpack (older version) on the LCD minus a connector and piezo.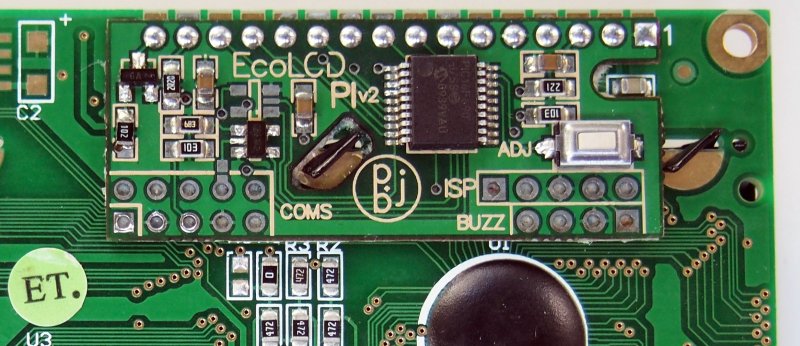 EDIT - found a newer backpack (a reject)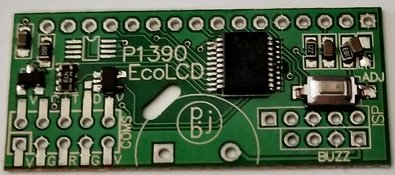 The trouble is though that I'm not setup to handle little orders mainly because the shipping costs are ridiculous for small items and it is fiddly I find unless I setup shop to do it properly. What I will do though for forum members is offer a box of 10 serial LCDs for $180 USD including shipping 6 day economy air, that's less than $18 each and what I believe is the best of all the serial displays out there. I was doing serial LCDs long before well known brands started doing them. I haven't checked to see how many I have in stock but it is definitely over 100, maybe 150 units. Each display is individually boxed so they can be easily individually reshipped if anyone wants to recoup some costs.
ALSO
I also have a box load of P1144 MultiLCD modules which use the same Winstar LCD but have a pcb backpack the same size as the display with the Propeller, a much larger and louder 30mm piezo transducer (for melodies), a full size SD card with access from the bottom, connector for keypad scanning up to 8x4, a 3.5mm audio socket for audio out, and a USB socket that is designed to take PS/2 enabled USB keypads. Also includes RS485 and provision for a SMPS module so that it can be powered from any DC source up to 50V. Sure, you can drive these serially or run them standalone which I also did for some custom song boxes where you punch a song/track number and it would play the wave files. Using Tachyon you can communicate with a network of these over many hundreds of meters and deploy new firmware etc. I don't have a datasheet for this one yet but I have used quite a few of these in various projects so I will post more information about these later. I will do a similar plus cost deal on these for a box of 10 for $250 USD inc shipping.