Prop2 Layout Viewer - Try it out!!!

cgracey
Posts: 13,627
This is something really neat...
I got the GDSII layout file from Treehouse the other day and loaded into our Tanner EDA tool, which is a 2-dimensional layout editor. After examining it for a bit, I was thinking it would be great if I could see the layout in three dimensions. It turns out that a Dutch university made a 3-D GDSII viewer, and it's free! It really is snappy and very simple to use. It even has a trace function, where you can click on a wire and it greys out everything but the conductive path. And get a load if this: It's only 1.2MB - and that includes Windows, Linux, and Mac versions!!! I think it just takes the database and builds a world that your graphic chip renders from whatever perspective you select. It's 'live', like a video game, so you can fly through the layout at a 60Hz frame-update rate.
Download the viewer here:
https://sourceforge.net/projects/gds3d/?source=typ_redirect
Then, get this file that contains our GDSII layout and a setup file for the viewer:
https://drive.google.com/file/d/0B9NbgkdrupkHNGwyWS1WZFZCaWc/view?usp=sharing
Unzip that file into the same base directory that the GDS3D program resides in. Then type this, if you're in Windows, to run it:
win32\gds3d -p onc18.txt -i Prop2_v1.gds
Hit F1 to get a keystroke menu.
You can see every cell in the padframe, and even select them, individually, and view them in isolation. This program doesn't show text labels, just polygons. For anyone who's interested in what a layout looks like, this is a goldmine. This is all full-custom, from schematic, so it is quite sensible to look at.
Here is the THICK_DAC_SLOW, an 8-bit R-2R DAC that is in each PAD_IO and feeds into a comparator for I/O pin level sensing. It uses common-centroid resistor layout for precision. Those red lines are poly resistors that are about 1k-ohm/square. Being ~50um x 0.75um, they are about 67k-ohm each: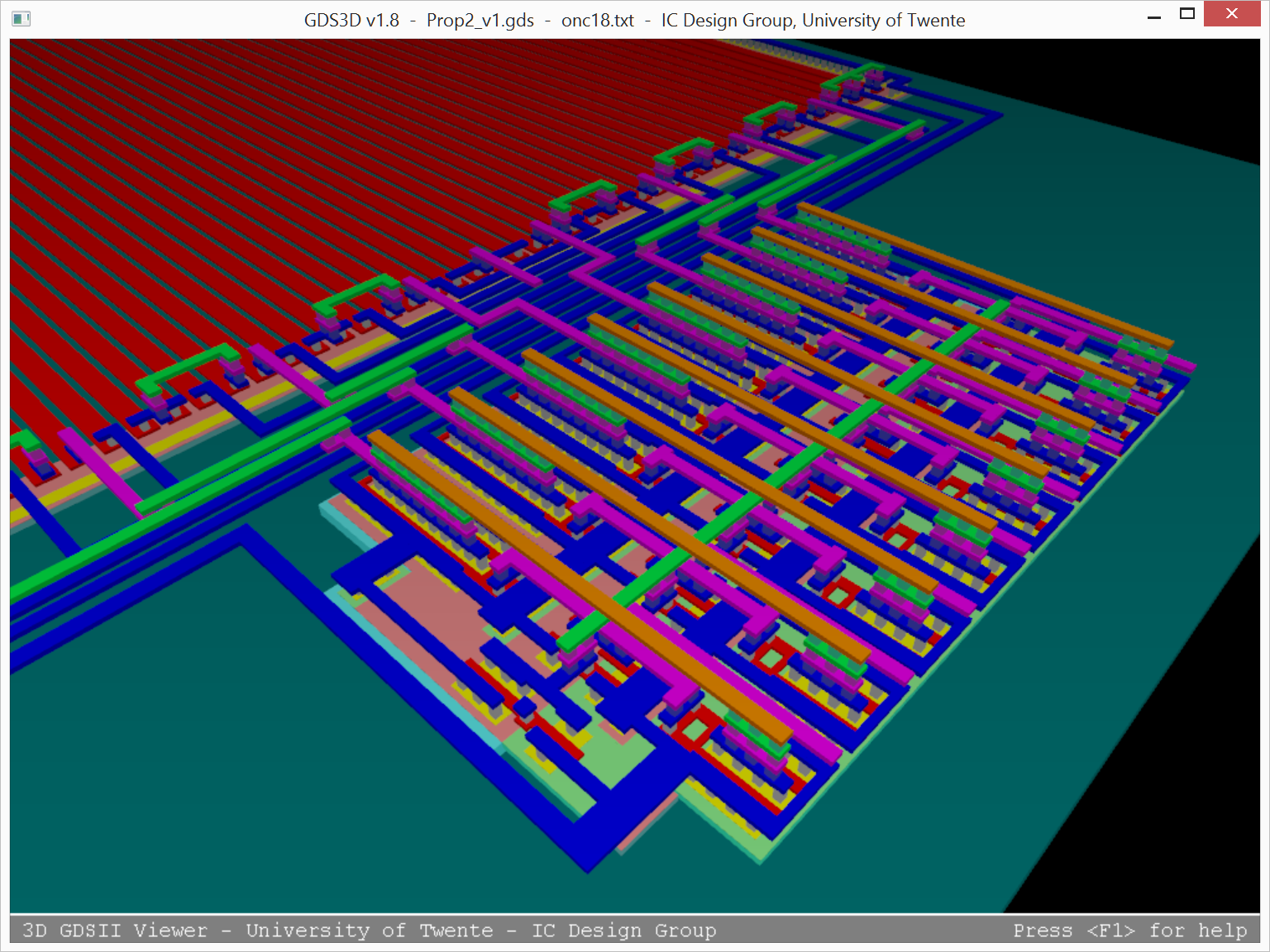 Here is a view showing N-well, P and N implants, active, poly, and contact layers. Can you spot the NAND gates?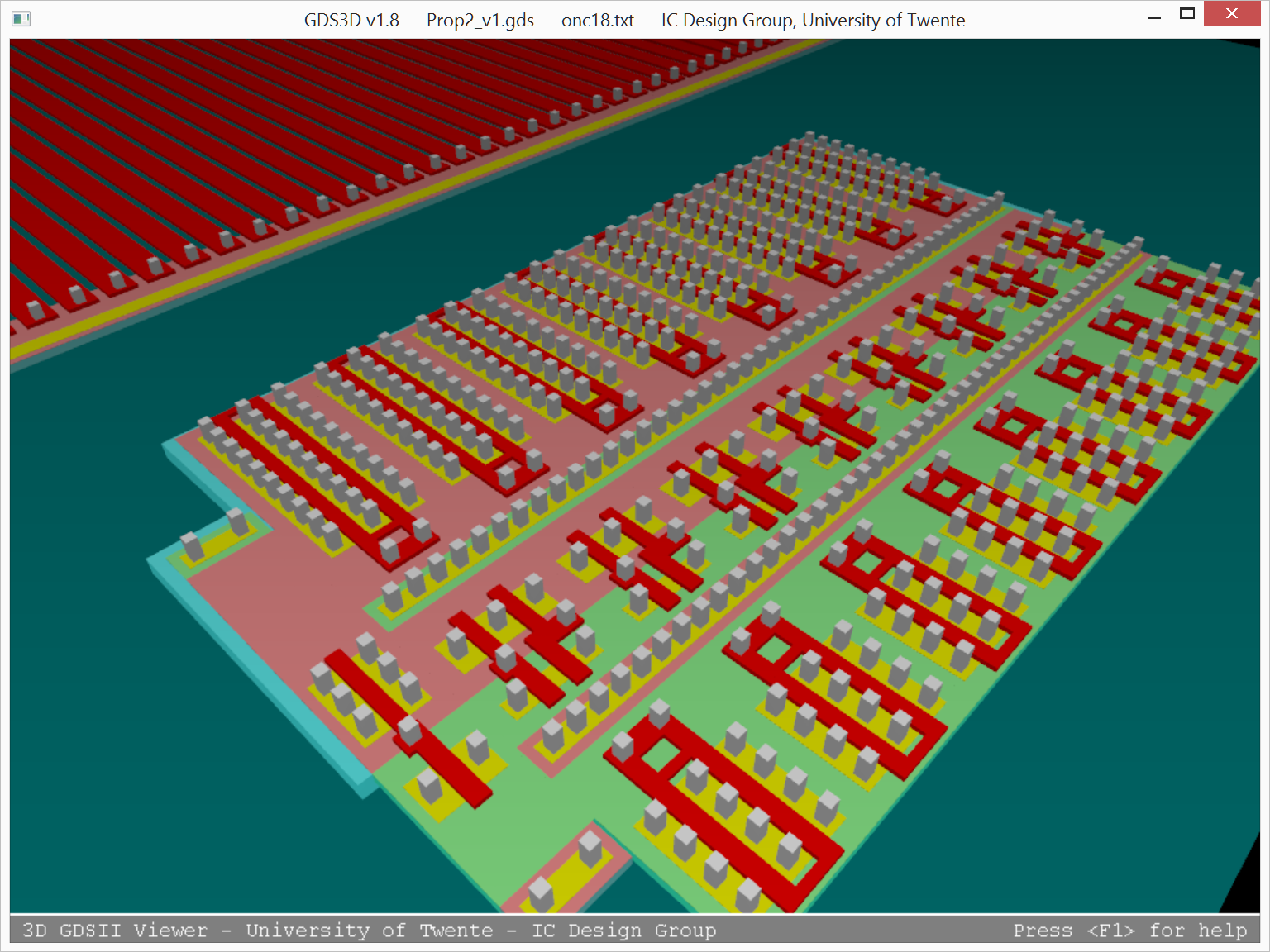 And here is a trace of one of the split inverters' outputs that drives a resistor in the R-2R network. That's a lot of jumping around. Who's going to drill all those vias?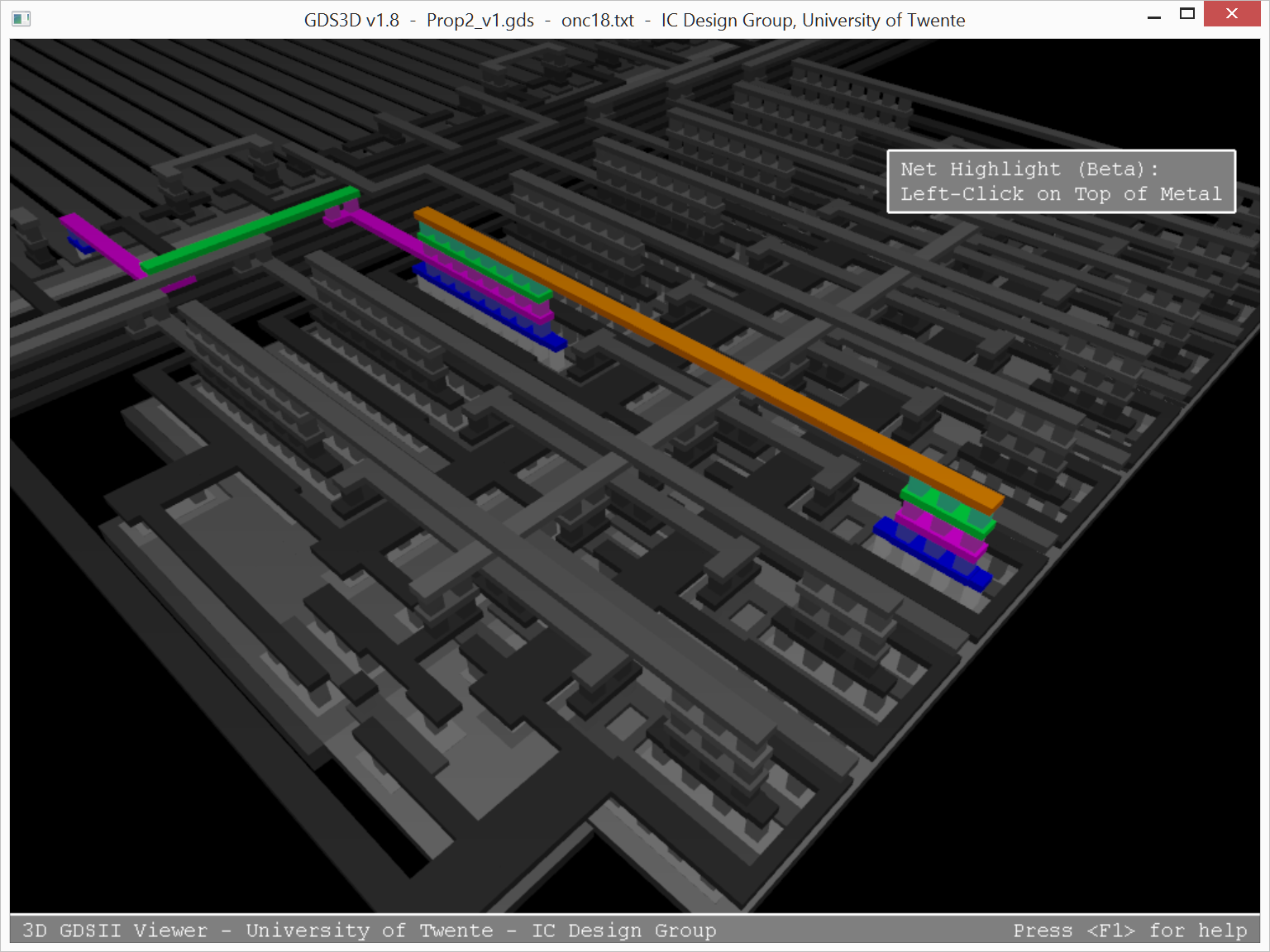 It's nice inside these ADC's. Does it ever get hot in here?