MicroMite Companion: A new Propeller board in production..

Oldbitcollector (Jeff)
Posts: 8,091
Karl and I have been working on another Propeller project, which will soon become hardware reality.

The MicroMite Companion MMC
The board uses both the Propeller and the Micromite in concert providing a self-contained, MMBASIC enviroment. Full support has been maintained for the Propeller side, allowing reprogramming, and access to it's open I/O pins. In addition the Micromite's I/O is open as well. The software combines the strenghts of the two chips is a way to provide a stand-alone user experience that is exicting for the retro computer enthusist, the Propellerhead, or a beginner to intermediate microcontroller user.
You might say I'm pretty excited to see this move from prototype to production soon.
(Expected in stock mid-August)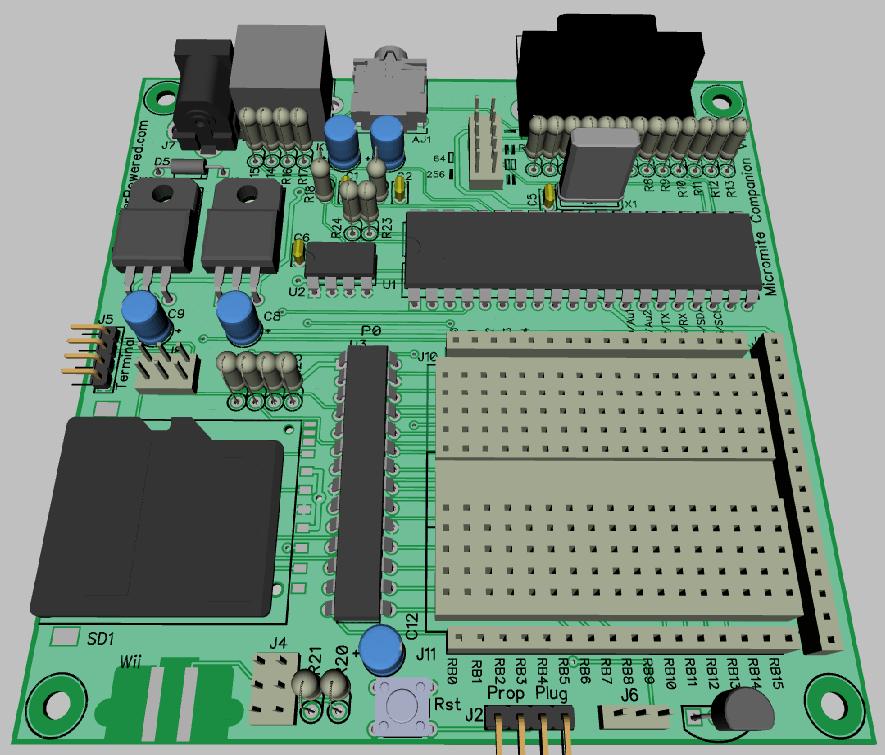 Edit: Added from an additional post to explain the MicroMite Companion;
The hardware for this board is configured as follows:
* The Propeller handles Keyboard input, audio output, SD, and VGA (64/256 color selectable) output.
* The remaining, open Propeller I/O is accessable from connection points near the breadboard.
* The Wii and IR interfaces have default connections to the Micromite, but can be hardware selected to the Propeller using shunt jumpers.
* The remaining, open Micromite I/O is accessable from connection points near the breadboard.
* Propplug compatible connections are provided for direct connection to both the Micromite and the Propeller.
The software is configured as follows:
* Initially, the Propeller acts as a VT100 terminal for the Micromite on from it's console pins.
* Additionally, there are two more interconnections between the Micromite's I2C pins and the Propeller, with the Propeller acting as an I2C slave.
* The Micromite contains an onboard programming EDITOR and 22K of MMBASIC programming space.
* Files can be saved and loaded between the onboard EDITOR and SD using built-in Xmodem communication which happens between the Propeller and the Micromite.
* Because the Propeller has the ability to kickstart new binaries from the SD, we can launch additional video/audio modes, and/or start other Propeller programs.
* MMBASIC provides support for older BASIC programs as well as digital I/O support including SPI, I2C, Onewire, and two additional serial connections.
* MMBASIC also provides support for SERVOS, ADC, LCD, and RTC.