Open Propeller Project #5: BlocklyProp
Michel L
Posts: 141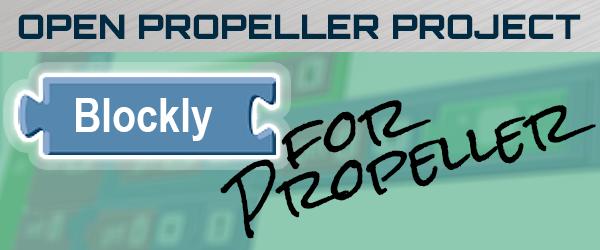 Recently I saw a post mentioning Blockly. A web based, graphical programming editor.
I liked this project and using the Arduino version of Blockly, BlocklyDuino, I created a Propeller version: BlocklyProp.
https://github.com/parallaxinc/BlocklyProp
It's in it's very early stages and doesn't contain a lot yet but I'm working on it every evening.
While Blockly is only javascript that runs in the browser, I added a server component to interact with your Propeller using
Propellent
Propeller-load from the PropGcc toolchain and compile using OpenSpin.
If anyone has advice, feature propositions, criticisms or want to participate. Please let me know.
Current stage:
I can find the COM port on which the propeller is connected, and you are able to compile. (Loading into ram or eeprom is my next task.)
Blocks currently available:
read pin value
write pin value
wait for x-milliseconds
repeat forever
repeat x-times
conditions (if, elseif, else)
variables
methods
numeric compare
boolean operations
numeric operations
bitwise operations
cognew
servo
Ping)))
Debug LCD
I will update this as I go along.
My last build can be downloaded from:
http://owncloud.creatingfuture.eu/public.php?service=files&t=0eae565db031cd3ca3f1163de91c5984
You can see the application on
http://blocklyprop.creatingfuture.eu/index.html
.