I'm not sure any project is ever truly complete. So many more things to think about, such as cameras, two-way-radio-communications and perhaps even game-playing such as GPS racing or battle-boats! Some hobbyist actually use real gas-powered BB-shooters to sink each other! Or how about being the first solar powered autonomous toy-boat around the world? (That is if something doesn't eat-it, shoot-it, or steal it?) The list is endless.
Satellite communication and inexpensive electronic gadgets makes this all possible.
Anyway, this is my first attempt at using a programmable controller. I'm aware that I'm not the first person to make a GPS guided boat and I thank those who emailed me to clarify that. It took me a while, but I settled on the Parallax stuff as I could read about it before I purchased anything. I was very much impressed with the downloadable manuals and free software. I soon purchased a starter kit, and I was hooked! I now own at least one of every 24 pin BS2 module sold. However, I was adamant on making this project work on a plain ole' BS2, and all I can say is, "I can't believe it ate the whole thing!"
The platform is a cheapo' Toys 'R' Us special that was 50% off because the steering wheel was broken off. (I simply glued it back on.) It was the biggest thing I could find that didn't cost an arm and a leg or take a year to build. (30" inches long is pretty good.) It came with a very nice Mabuchi motor, runs on 9.6V rechargeable batteries, and is rather well built. mechanically. The original radio and servo system was shabby. The control was either full-throttle forward or reverse, also the rudder was either full-left or full-right. It behaved poorly, as far as R/C control was concerned. I will say it did work right out of the box and is beautifully detailed.
But now she is not only sexy, she is smart too! And very well behaved....
First automatic waypoint turn video:
s145.photobucket.com/albums/r211/jhoyoza/?action=view&current=Firstwaypointmov.flv?t=1166404748
Switch to manual control video:
s145.photobucket.com/albums/r211/jhoyoza/?action=view&current=SwitchtoManualmov.flv
The radio problem was solved by a company named Cold-Fusion 4 channel 300+ meter wireless transmitter and receiver that uses only 5 volts and is perfect for the basic stamp! And for less than $20 on EBay. (You don't know how many times I plugged Basic Stamp into the EBay search engine and simply ignored it.) It was right in front of me the whole time, and if I have an opportunity to recommend something, this would be it. And of course, Parallax components all the way!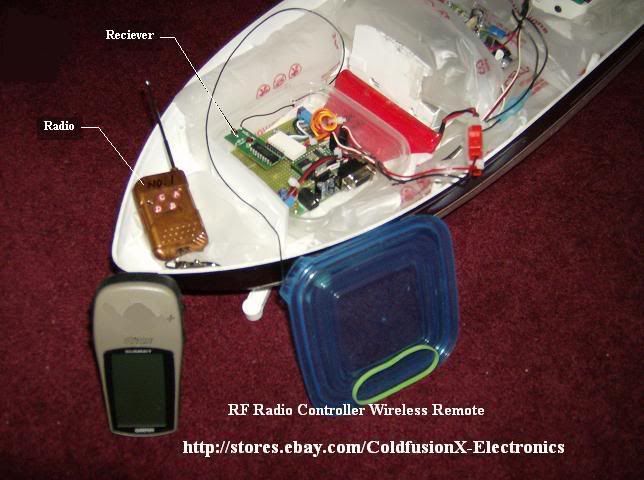 Just about everything has GPS in it today. Not just automobile navigation and hikers, but in just about all industries, cell-phones, bicyclist, aviation, marine, you name it. I had the GPS unit in the closet for about 10 years now. I would use it with TOPO software when I mountain-hiked. Unfortunately, due to health reasons, I no longer climb. So when I was deciding what to do with my old unit, I figured why not me? I always knew it had output potential and was very powerful as it had waypoint capabilities.- I use the GPRMB and GPRMC NEMA strings to get the current heading, and the heading to waypoint. This unit will allow 500 waypoints, and as each one is reached, it automatically switches to the next! Cool eh? So, you can simply find out which way your actually pointing, and then steer toward the next waypoint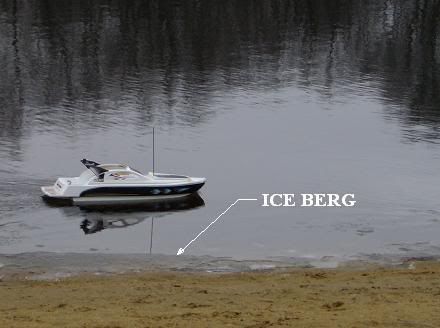 Simple right? Right! Ok, just a few little bumps in the road…..Like it only works when your moving. (Good for a week's worth of wasted time and frustration.) The NEMA string is ASCII code so it takes a bit of manipulation to turn it into something you can calculate with. Not to mention nearly burning the house down a few times and the lady who called 911 saying I was stuck on an ice-berg in a canoe. (She actually did call them.) Thankfully the cops were cool. Canoeing on a river in the 3rd week of December. can you imagine that! But it has been warm here in the North-East this year. No real ice yet.
However, I have indeed reached the end of the boating season and its time to hit Toy store for a new platform.
I originally planned to have a radio-over-ride system in case of emergency. I wanted the boat to go 'GPS' on command, and back to 'Manual' again. The stamp can recognize when two buttons are pressed at the same time. So technically it is 16 channel radio if you look at it from a binary point of view. Agreed, not the best way to go, but it does work! I also wanted it to be as unsinkable as possible snd who would ever think there is a use for those new fangled Cello-cushions you get as packing material? Motor control was also a consideration and the forum advice was also invaluable there also. (At the time, I wasn't adding a load factor.) Most importantly, I wanted to prove to myself that it could be done on a BS2.
Switch to manual over ride video:
s145.photobucket.com/albums/r211/jhoyoza/?action=view&current=CometoPAPAmov.flv?t=1166405904
Yikes! Video:
s145.photobucket.com/albums/r211/jhoyoza/?action=view&current=Yikesmov.flv?t=1166405754
Well thanks everyone, enjoy the pics and the videos! I had a blast leisurely driving the boat manually up the river, and then switching to GPS mode when I reached the open pond. Today I traveled by van to a larger lake, and all went great! I can't wait to try again tomorrow. I knew there was a good reason to keep the old-van. I told the wife we would need it to get stuff at the lumber store to fix up the house….wink
Up the River video:
s145.photobucket.com/albums/r211/jhoyoza/?action=view&current=UpRivershortmov.flv
All I can say is I learned a boat-load!
-Thanks
Servo motor control video:
s145.photobucket.com/albums/r211/jhoyoza/?action=view&current=QuickandDirtymov.flv?t=1166405259
Longer version of servo motor control
s145.photobucket.com/albums/r211/jhoyoza/?action=view&current=3HourTourmov.flv?t=1166407187
Post Edited (jhoyoza) : 2/5/2007 1:12:32 PM GMT