P2 Controls Circular Knitting Machine for 2 Color Jacquard Pattern
Christof Eb.
Posts: 1,038
Hi,
this is a fun project using a P2 Kiss Bord to control a modified "Addi Express Kingsize" circular knitting machine.
Normally the "Addi Express" is operated with a hand crank and only one yarn is used. This video shows, how a beanie hat can be made:
https://youtube.com/watch?v=NjIPEoDu-OI
The "Addi Express Kingsize" is suitable for relatively thick yarns for needles 3.5...8mm. It has 46 needles. 46 is not very ideal for repeating patterns, so you have to cheat a little bit....
Updates:
02.11.22
To improve reliability:
The possible pull back length for the threads was enlarged. In addition I program stops, when a thread has not been used lately and shall now be used.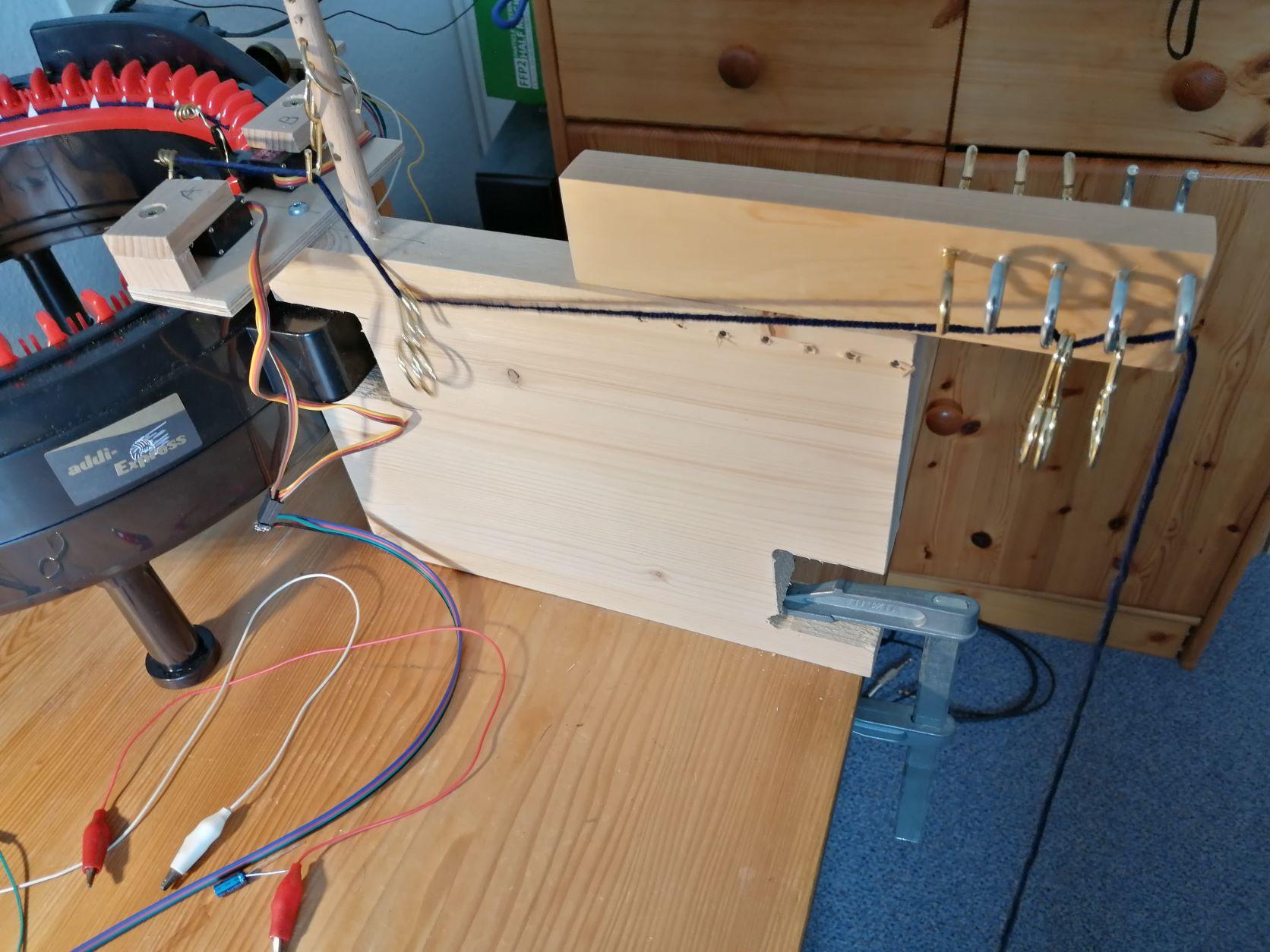 To improve reliability of the stitch-counter, modulated light (40kHz) is now used together with a hacked infrared reflection sensor module. The original sensor did not work, when there was sun light shining onto the machine. For this application I even now use a 1k resistor between the receiver collector and 3.3V. https://forums.parallax.com/discussion/174955/p2-taqoz-2-8-dac-comparator-and-goertzel-touch-sense-and-reflex-sensor-with-modulated-light#latest
The modulated light sensor with "Goertzel Mode" uses an own cog in addition to Main-cog and Vga-cog.
All in all I was now able to make a beanie hat without a single issue.
As there was some interest in the software, I post it as is. It uses value type variables and local variables because for me they improve readability very much. Their code is included in AutoJ.fth. Explanation is here: https://forums.parallax.com/discussion/174531/taqoz-reloaded-2-8-better-readability-named-local-variables#latest
If there are questions, feel free to ask.
#
Original Text:
Modifications of the machine:
The mechanic row counter was removed, because it interferes with smooth drive. You can dismantle this machine easily, because it is held together with screws.
Motor for main drive. I used a Polulu 1206A stepper motor with a A4988 stepper motor driver module. The motor is just strong enough with 12V supply. Actually the steps are not used for positioning. The motor is just used to control speed and start/stop. Using the steps is not so easy because the gear drive has an odd ratio. Something like 20/255.
To get the position of the needle-drum an infrared reflection sensor based on tcrt5000 and a LM393 comparator is used. It detects the teeth of the needle drum on the top of the machine. (Unfortunately this sensor fails, if the room is lit by direct sun light.)
To generate the Jacquard Pattern, two feeding systems for two yarns have to be used. This is achieved with two micro servo motors. The thread, which is not active at this moment, will run along at the inner side of the circle. So the original yarn "nozzle" is removed and two moving nozzles are installed.
The tension of the yarn is very important. It has to be kept constant. So a kind of yarn friction break is needed together with a means to pull back the thread. I was very happy, when I found the "RT6-12AL" type break. https://textilmaschinenzubehoer.de/produkte/fadenbremse/ It's function can be achieved relative simply. Pulling back is achieved with weight too.
The photo shows the thread tension control and on the left hand side the thread feeding. Both servo arms are upright in inactive position. The servo motors are clamped down. This enables fine adjustment of the position of the "yarn nozzle".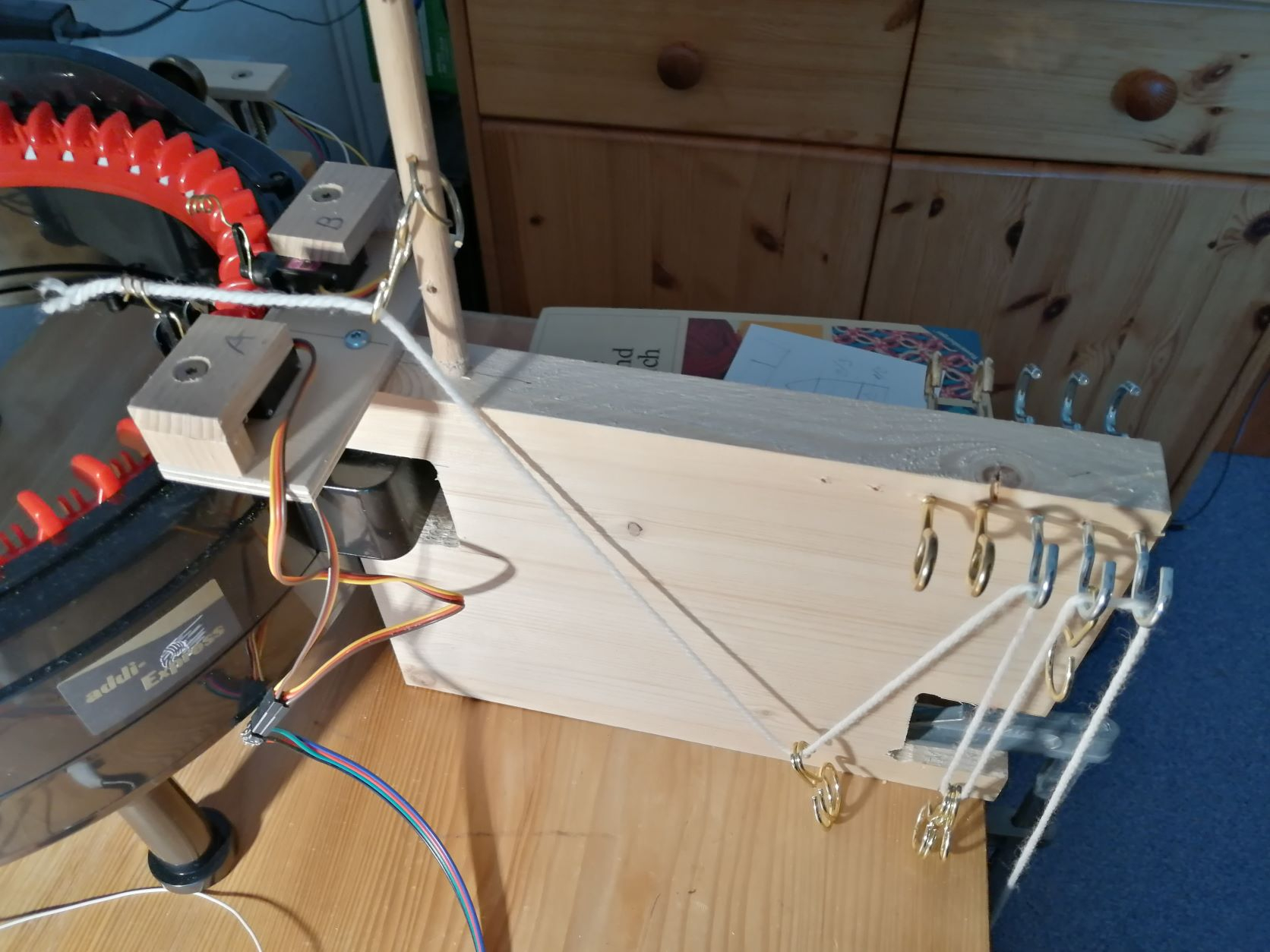 This shows the thread feeds. In this very moment the black yarn had just been used and it's arm is already moving upward. The pattern is hidden on the outside of the knitted hose. Instead you can see the inactive threads.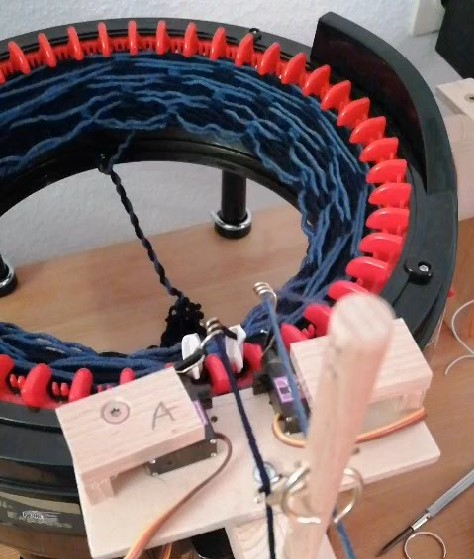 P2 Kiss board and a little board with the stepper controller module: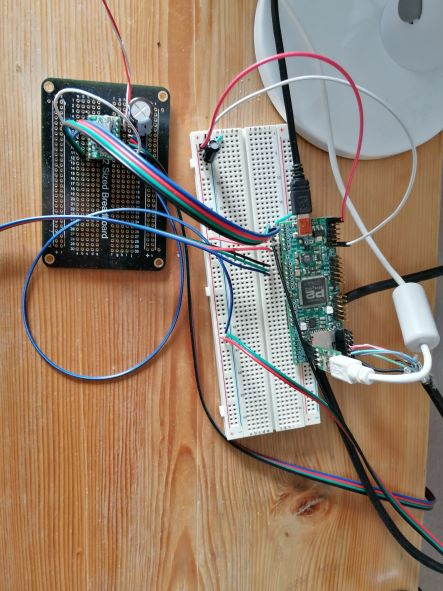 VGA Output is used to check the pattern: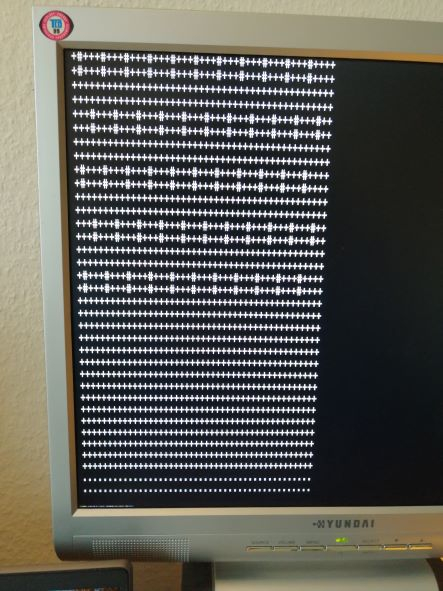 Motor Mount and coupling: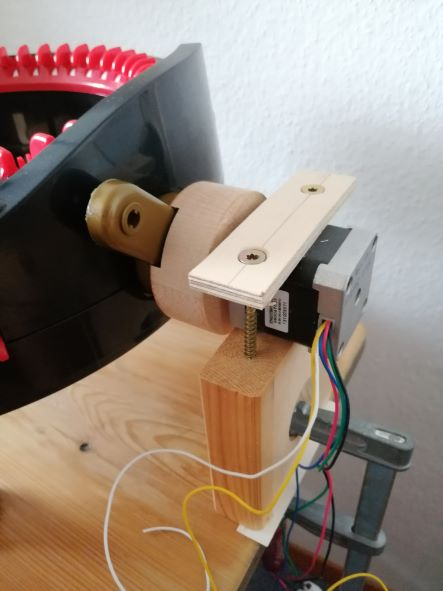 Infrared Reflection Sensor Mount:

All the alterations to the machine have been done in a way that the original mechanical function can be completely restored.
A fist "product" is this :


As the beanie has got two layers, the inactive threads are hidden between these layers. The third color is achieved by manual substitution of one of the 2 threads.
The code is written in Taqoz Forth for P2. Actually the control is just using one cog at this moment, because the process is so slow, that you can poll the sensor. PWM for the two servo motors is generated via smart pin pwm. VGA output is used to check the pattern and to show progress.
If someone is interested in this project, I could share my Taqoz Forth code as is.
Comments, ideas,... ?
Christof