BadgeWX LEDs blink?
KerryH
Posts: 2
All,
I've been tinkering with my BadgeWX to prep for an upcoming conference this weekend, and while I'm pretty sure I have most of this figured out, I can't quite figure out how to make the LEDs blink using BlocklySolo. Any ideas on how to do this?
EDIT 1: This is what I have so far.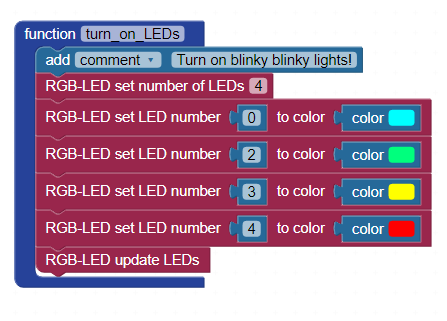 EDIT 2: I'm attaching a picture of what the badge does after the script loads. I know it may sound confusing that LED 0 is blue, then it skips over to LED 2 (green), then LED 3 (yellow) and LED 4 (red)...maybe that's a firmware issue with the badge itself?