Brain-dead Bluetooth on the P1

Phil Pilgrim (PhiPi)
Posts: 23,514
Let me start by saying two things:
My customer wants me to incorporate Bluetooth into a Propeller device I make for him, so his customers can see sensor data on their cellphones.
I don't know anything about Bluetooth.
How even to get started? Well, I lucked out. I ordered one of these from DigiKey, hoping for the best:
https://www.digikey.com/en/products/detail/microchip-technology/rn42xvp-i-rm/3873051
I liked it because, theoretically, I could just plug it into a Propeller Activity Board and use it with a Spin program to talk to my phone.
But I knew that was too easy to be true.
I was wrong.
By just powering it up, my phone was able to pair with it. Okay, how about sending and receiving data?
I installed this app on my Android phone:
https://play.google.com/store/apps/details?id=de.kai_morich.serial_bluetooth_terminal&hl=en_US&gl=US
It connected to the device plugged into the Activity Board. So I connected TX and RX to see if I got an echo. I did.
Next I wrote a little program in Spin:
CON

  _clkmode      = xtal1 + pll16x
  _xinfreq      = 5_000_000

OBJ

  ser  : "Parallax Serial Terminal"

PUB start | x

  ser.startrxtx(1, 0, 0, 115200)
  ser.str(string("Enter numbers to square:", 13, 10))
  repeat
    x := ser.decin
    ser.dec(x)
    ser.str(string(" squared = "))
    ser.dec(x * x)
    ser.str(string(13, 10))

Here's a photo of the transaction: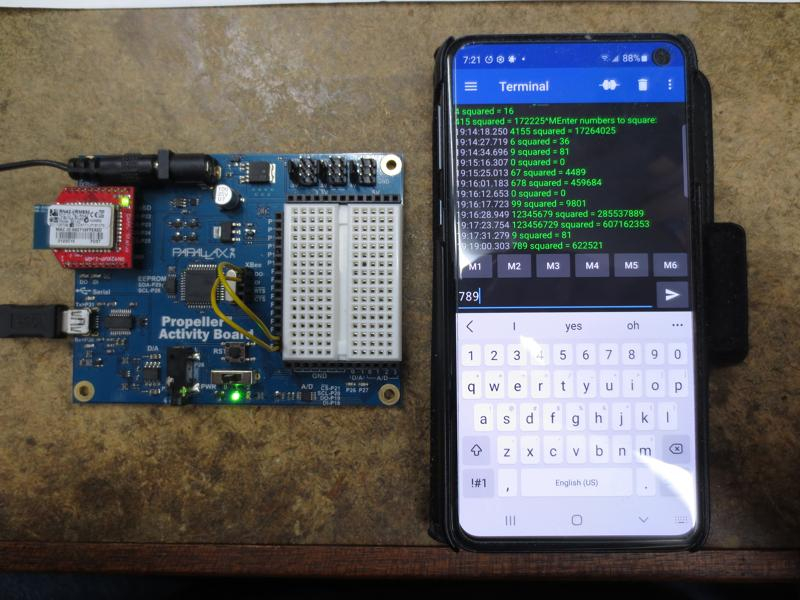 What could be easier?
Well, okay. I need an app for the phone to do nice graphs, etc. I'm sure they're out there. I just need to find one and deal with the communication protocol.
-Phil