P2 Quick Bytes: Seeking Input on Concept

Ken Gracey
Posts: 7,043
Hello,
At Parallax, I receive many messages from our customers about getting started with the P2. Reading praise, congratulations on the completion of the P2 is really rewarding, but some messages show where we need to improve and might yield the greatest return on our efforts. At this moment in time (January 2021) getting started is quite a challenge for those who are jumping in. Code and examples are available on forums, inside 200 hours of P2 Live Forum YouTube videos, on product pages, etc. Engineers and experienced programmers seem to have no problem, but many of them have been using the P2 before it was born (since the FPGA images and P2-Hot).
For the newcomer, it's a challenge.
We're considering consolidating examples into single pages called Quick Bytes. A Quick Byte would contain an explanation, the code (a zip, if an archive), pictures, video links, etc. A Quick Byte would have one topic (show a single driver, a smart pin features, or a programming tool tip like using PST or ANSI terminals). Quick Bytes could be sequential and build upon themselves. Looking forward the idea could be scaled down or up (a Quick Bit may show how to blink an LED, whereas a Quick Word may show a full project). Imagine hundreds of Quick Bytes.
Two examples I quickly assembled from content others shared:
https://www.parallax.com/category/quick-byte/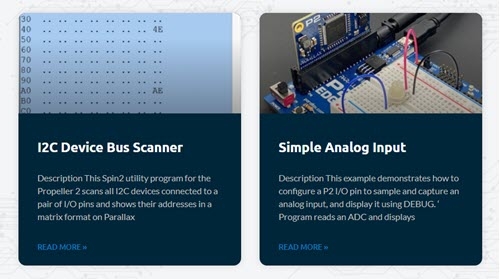 Content could come from the community or Parallax. You could request topics, too.
Could our community envision this system growing into a useful, indexed set of resources that aid those looking for examples?

Would like your true thoughts on the subject.
Ken Gracey