Monopedal Jumping Robot "Salto"
OK,
this
is one I'd be hard pressed to duplicate with a BS1, relays, and plywood.
Published on Jun 29, 2017
Salto is a small jumping robot from UC Berkeley's Biomimetic Millisystems Lab. With the addition of aerodynamic thrusters for out-of-plane orientation control, the upgraded Salto-1P demonstrates repeated free hopping in a Vicon motion capture environment. This work will be presented at the 2017 IEEE/RSJ International Conference on Intelligent Robots and Systems.
More at
http://spectrum.ieee.org/automaton/robotics/robotics-hardware/salto1p-is-the-most-amazing-jumping-robot-weve-ever-seen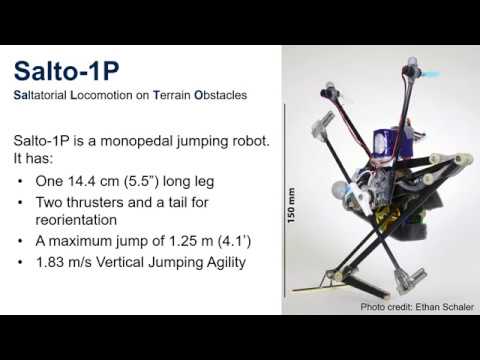 "When you make a thing, a thing that is new, it is so complicated making it that it is bound to be ugly. But those that make it after you, they don't have to worry about making it. And they can make it pretty, and so everybody can like it when others make it after you."

- Pablo Picasso