Mom, erco's spending my lunch money again!
Geeky tech educational fun. 9V battery powers an electromagnet in the base to keep the PM top spinning. The only component is a switching transistor, very simple. Electromagnetic coil is slightly off-center in the case. Coil is center-tapped, actually way off center. The electromagnet is ~67 ohms, the sense coil is ~15K IIRC, connected directly to the transistor base lead.
I added an LED & 1.5K resistor across the electromagnet coil to indicate when the power is on. LED polarity doesn't matter since the pulsing DC signal generates a reverse voltage across the coil as the field collapses.
http://www.ebay.com/itm/162112717652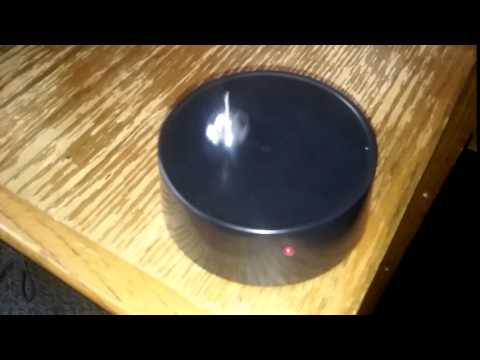 "When you make a thing, a thing that is new, it is so complicated making it that it is bound to be ugly. But those that make it after you, they don't have to worry about making it. And they can make it pretty, and so everybody can like it when others make it after you."

- Pablo Picasso