Inductive Spark Plug Wire Tachometer - Signal Transformation Help
sirhannick
Posts: 4
I am working on a new project that is going to be a universal tachometer for small engines. It will use a wire wrapped several time around the spark plug wire. The signal needs to be converted to a cleaner digital signal that I can use to be picked up by the Basic Stamp. I'm not having issues with the coding, but rather the circuitry necessary to clean up the signal I'm getting from the spark plug wire.
I have a digital scope so I have no problem trying out different designs and then posting the results they provide. I have attached two images of what the signal is that I'm getting right now.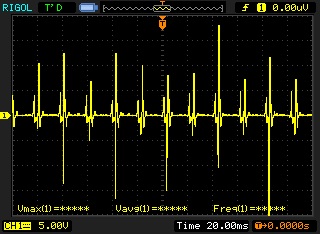 I've tried various combinations of diodes, capacitors, & resistors, but none has given me a signal I can really work with. Does anyone have experience with this? Any ideas?
There was a lot of discussion here:
http://www.eng-tips.com/viewthread.cfm?qid=320604
However, I don't think they ever 100% figure it out. I'm not sure if isolated power or an opto-isolator are necessary as discussed in that thread.
If I get this part figured out I have plans to turn this into an hour meter with LCD screen, maintenance monitor, and option to add more sensors.