Hello Everyone,
I have noticed something with the FTDI Drivers and Windows 7 64-bit that became more prevalent at the Propeller Expo. I haven't noticed this with other versions of Windows, however it may be a problem with newer drivers. So if you have had any issues with your Propeller not being detected when using the USB interface please read below.
When installing the FTDI Driver, either via the included driver in the Propeller Tool or BASIC Stamp IDE, or when running the CDM Installer from FTDI you should see the following command (DOS-like) box pop-up during the driver installation. If you do not, then the drivers were not installed.
(CLICK FOR LARGER VIEW)
I have seen where the driver setup had to be run at least twice to get this to appear and most assume that if they've run the driver and accepted the box asking for permission to make changes to the system that everything is good. That is not necessarily the case. If you did not see this box then download the latest driver from the ftdi website at the following link:
http://www.ftdichip.com/Drivers/VCP.htm
In the row for Windows in the comments column are the words setup executable, which is a link to download the setup installer. This is the preferred method for installing this driver. When running the driver, if you do not see the command window above re-run it. If after three tries you still have not seen it you may have another issue such as insufficient permissions, anti-virus software or even malware preventing the install.
If you need to clean a previous install of the FTDI driver from your system and/or clear any COM Ports aded to the registry then you should obtain the CDM Uninstaller from the following link:
http://www.ftdichip.com/Support/Utilities/CDMUninstaller_v1.4.zip
Extract the contents of this ZIP file into a folder on your desktop or elsewhere and run the CDMuninstallerGUI.exe file.
You should see the following dialogue box which already has the FT232R Product/Vendor IDs in the box.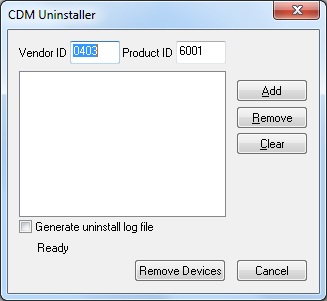 Click the "Add" button to add this Product/Vendor ID to the list of devices to remove. Optionally you can check the "Generate log file" checkbox for a record of what operations were performed and which COM Port entries were removed. Now press the "Remove Devices" button. Once completed you should restart your computer so that the O/S can clean things up. You should then be ready to re-install your drivers as listed above.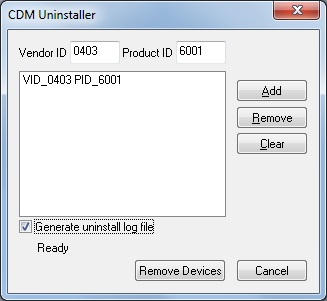 I hope this helps. Sometimes driver installations don't go as planned and the reasons may not be anything we can diagnose and/or help with. However this guide covers those we can help with. Take care!