Anyone interested in a new SPIN IDE?
Mid last year I purchased an s2 robot for myself and my child from a shop in Chicago. I must say it was a wonderful experience and soon I was fully entranced in programming new things for the little red guy to do. Addicted I purchased various other parts from the Parallax store as well as a Quick Start board and the Gadget Gangster board. While I found the Propeller Tool nice, I have certain features I wanted while programming so I made my own IDE interfacing through the Propellent DLL. That is one of the great things about Parallax, they let you do things the way you want. Anyway, about six weeks ago, I decided others might want the tool too, so I polished it up for distribution. The IDE should be ready for beta next week.
Screen Shot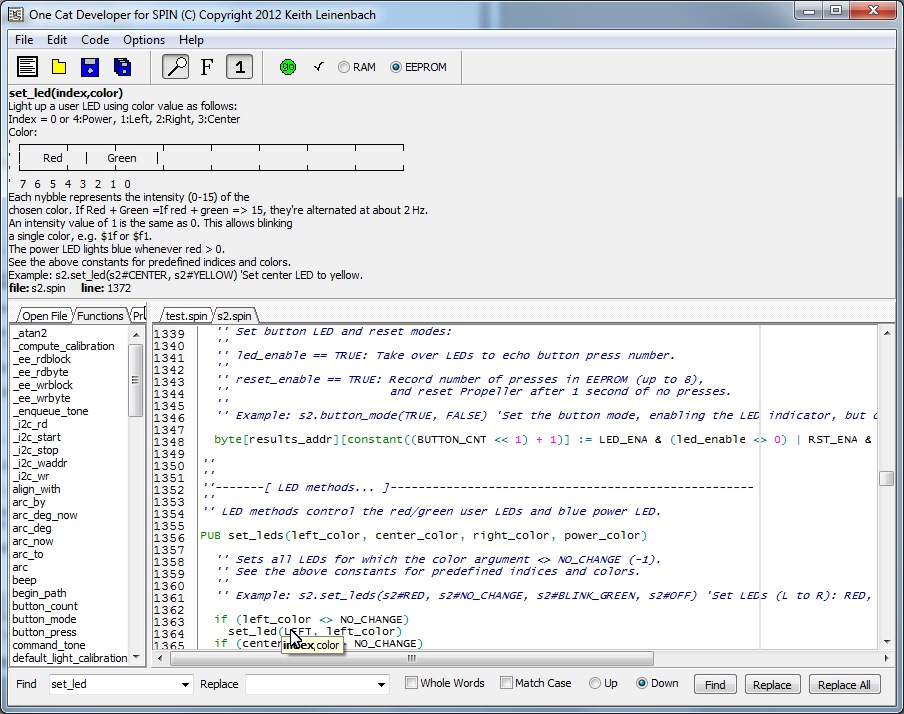 Features
- Parameter Hints for functions as you type (for both your files and those you link to as objects)
- Long descriptions of functions pulled from the source code and updated as you work
- Function lists, with the ability to click on them and advance to them in the source
- Help for built in functions
- all those other IDE sort of things like code multi-file editing, highlighting, search, undo, etc.
The Question
I have more ideas for the tool too and I'd love to support it and add to it. So here is the question. Would there be an interest in paying say $30 for such a tool so that I can support it and move forward? Or am I dreaming and free is the only way people like tools.
Thanks,
Keith Leinenbach