I've been working on
a project
to help elderly people summon help.
I initially considered adding a connection to the phone-line so the panic buttons could make outside calls.
After a bit of research I learned (
mostly from Cluso99
) phone line hacking is a bad idea.
I know there are
modules
for connecting a cell phone to a microcontroller but I didn't want to spend that much money.
I had an extra cheap cell phone. I opened it up to see if I could hack it.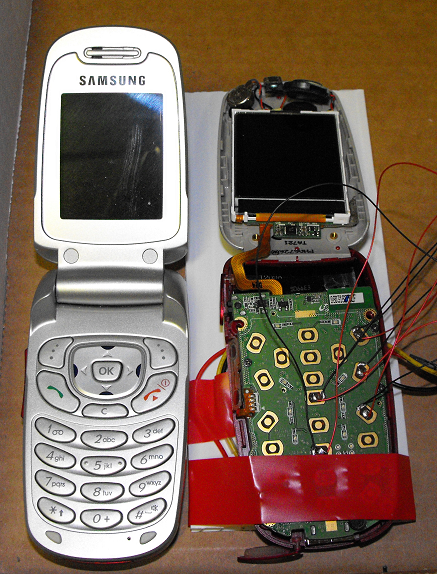 The keypad uses some sort of matrix to scan the buttons. They weren't laid out in columns and rows but I was able to find eight independent traces. By shorting two of the eight traces together a button-press was register. The power button had its own trace that needed to be shorted to ground to activate.
As you can see in the above photo, I soldered wires to these traces.
I used one relay for the power button. An additional eight relays let the Propeller simulate any key-press on the keypad.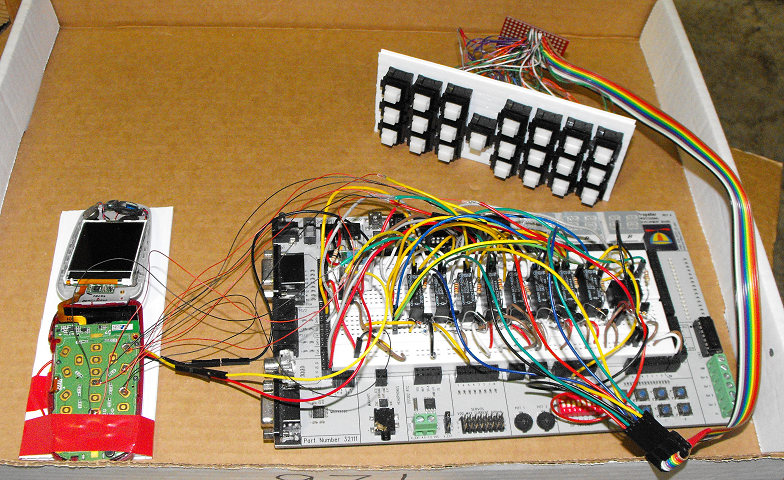 I decided I wanted to be able to still press the buttons on the cell phone so I rigged up an alternate keypad. The alternate keypad is in the upper right of the photo above.
So far the Prop is able to send text messages that are stored in the DAT section of the program.
I've added keyboard and TV support so I will be able to (soon) type text messages with a computer keyboard or in a terminal window from the computer.
It's pretty cool to listen to the relays clicking away at 10 clicks per second as it enters the text message. I tried increasing the rate of button-presses but I found 10 Hz was the phones limit.
I was going to wait until I had everything working before posting this project. I decided to post it now because there have been
several references
to
cell phone use
on the forum lately. Hopefully this will make it easier to use a cell phone with the Prop without having to buy an expensive module.
A big draw back with this method is it is send only. I don't have a way of transferring data from the cell phone to the Propeller.
I'll post the code once I finish adding (working) keyboard support.
Duane