Cluso's miniature stackable and pluggable/boxable propeller boards (1"x1", etc)

Cluso99
Posts: 18,066
Announcing the imminent availability of a new set of miniature and modular propeller boards...
Stackable 1"x1" (~25x25mm) Propeller Boards
This is a series of stackable (vertically) miniature boards that can provide various flexible and cheap solutions for the hobbyist or professional. Multiple propeller solutions can be achieved quite simply. The building blocks are there for adding a RamBlade II equivalent.
Modular 30x45mm (~1.2x1.8") and 45x45 (~1.8x1.8") Pluggable (Boxable) Propeller Boards
This is a series of pluggable (horizontally) pcbs designed to fit into cheap Hammond 1551 F/G and R/S series boxes. These boxes are also available in translucent blue and red. The central propeller board (initially BaseBlade1 only) can either have the propeller circuitry on the pcb, or utilise the stackable 1"x1" pcbs, or both. These BaseBlade1 pcbs are designed to be able to be daisy chained together, so multiple propeller solutions can be achieved quite simply. RamBlade II is being designed at present for use both in the final daisy chain and internally mounted above BaseBlade1.
CpuBlade
PCB 1"x1" (25x25mm) SMT design

Propeller P8X32A QFP44

Socketed Xtal

Designed for overclocking (anticipate 6.5MHz=104MHz, probably 13.5MHz=108MHz)

EEPROM 64KB AT24C512B TSSOP8 (0.65mm pitch with longer pads for hand soldering)

EEPROM Write Enable / Write Protect solderable link

Optional Transistor reset circuit selectable by solderable link

Onboard 3V3 LDO regulator

Requires user supplied 5V DC power

Pads (36) for pin headers on 0.1" grid around the edge

P0-P31

/RESET

5V & Gnd input

Additional Gnd (makes Gnd, /RST, P31, P30 connection for external PropPlug)

Stackable using female straight headers, extended pins (I can supply these)

Suggested mounting pins on top, header underneath (socket acts as feet on lowest pcb)

Also available in unbroken v-grooved panel format (4"x7") of 28 pcbs
MemBlade
Stacks onto CpuBlade

1"x1" pcb

SRAM 512KB 55nS

microSD socket

3V3 regulator

LED indicating microSD access
ClockBlade
Stacks onto CpuBlade

1"x1" pcb

DS1340C RTC with inbuilt xtal

Battery socket for CR1225 (battery not supplied)

3V3 regulator

Will stack with MemBlade too!
A RamBlade II can be formed by stacking...
1x CpuBlade

1x ClockBlade

1x MemBlade
These can in turn be stacked onto another CpuBlade to provide the I/O for the RamBlade II.
More pcbs are being detailed further posts down this thread.
Anticipated availability (as of 18 July 2011)...
Note: My initial pcb order is for a small quantity only and they are not panelised.
Bare pcbs 2-3 weeks (CpuBlade, ClockBlade, MemBlade)
Parts and assembled pcbs 3-4 weeks
Female header 1x9 pins

socket section 8.5/11.0mm (one 2.5mm section can be carefully removed)
pin section 7.35/8.10mm (discrepancy between data and datasheet) (+2.5mm if socket section removed)
Not due for 4-6 weeks, so I can provide alternate 1x6 8.511.0mm+12.2mm

The following will be available

Bare PCBs
Bare PCBs plus female connectors & xtal socket pins
Bare PCBs in unbroken v-grooved panel form (28 per panel tbc)
Assembled & tested pcbs (female connectors provided unsoldered due to postal costs)
Anyone interested in panels, please let me know urgently as I am only intending to make a short run.
Shipping will normally be via Unregistered Airmail, with any import duty/taxes to the purchaser.
This is the header I will be using...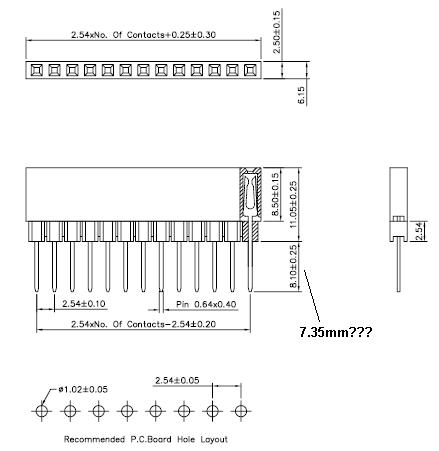 More pcbs have been announced in later posts.