Resistor values for 64 GreyScale VGA output from the Propeller

Tubular
Posts: 4,414
The Propeller's VGA output typically outputs 6 bits of colour (RrGgBb) plus two sync signals on an 8 bit "port". Using two resistors per colour, the Red, Green, Blue video signals can each have one of four levels, giving 64 possible colours, but only 4 true grey scales (Black, Dark Grey, Light Grey, White).
For some applications (photographic, video processing) it is more desirable to use the 6 bits available purely for intensity. The result is a smooth 64 levels of grey.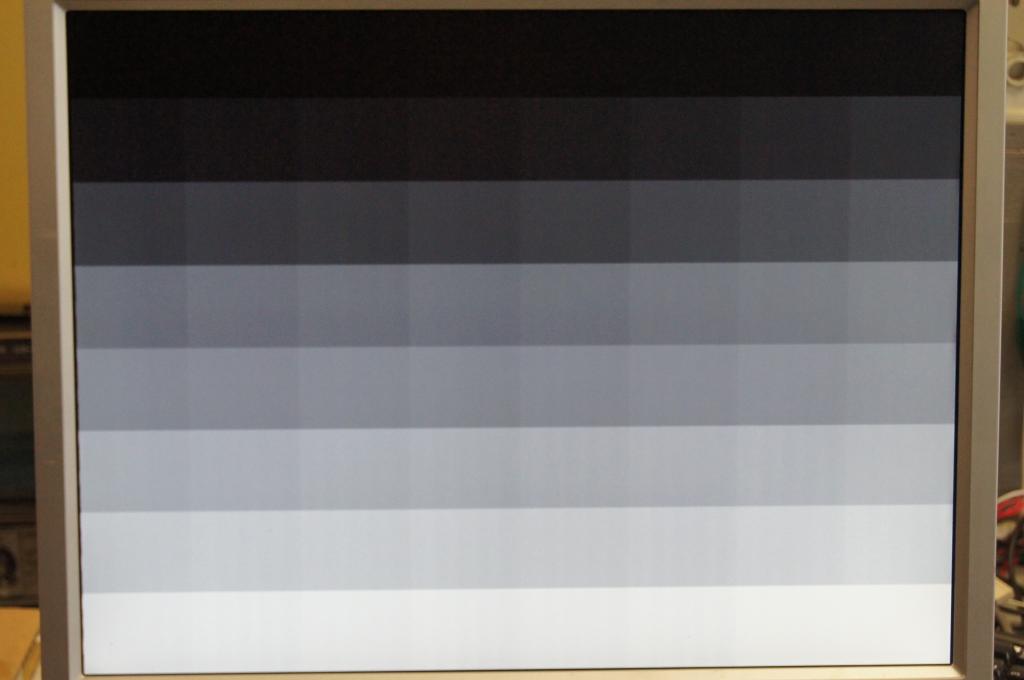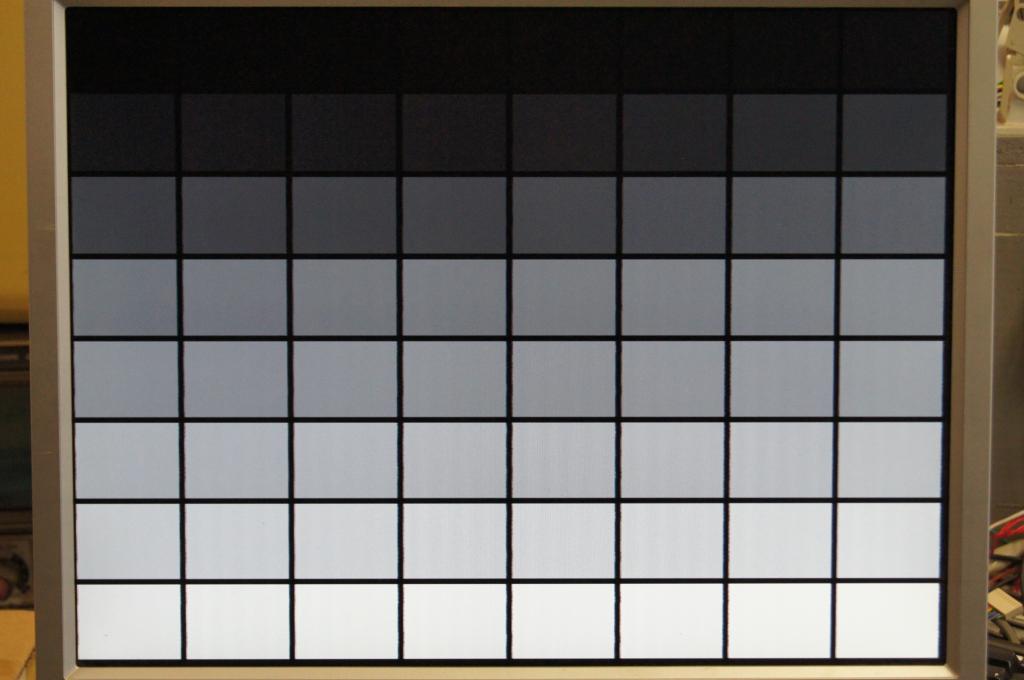 GREYSCALE RESISTOR LADDER
The resistor ladder connected to the 6 output pins is a sequence of doubling resistors - R, 2R, 4R, 8R, 16R and 32R.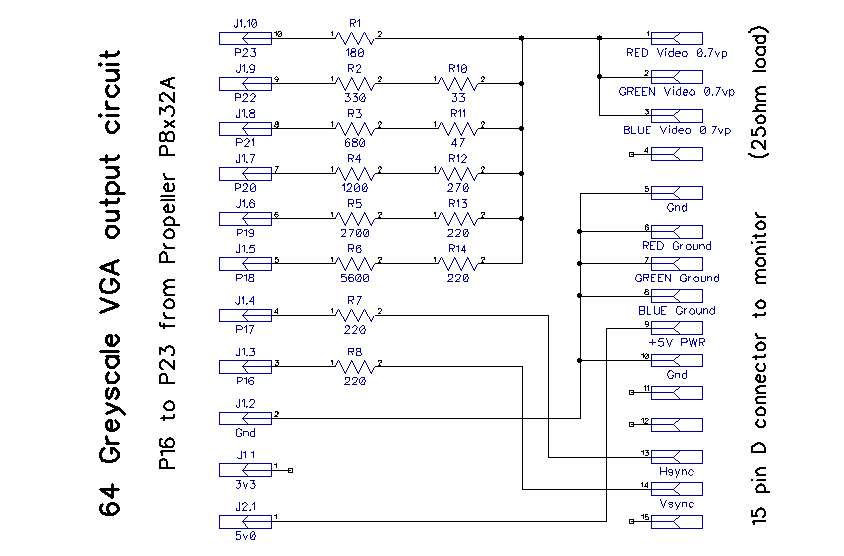 Since the Red, Green and Blue signals are tied together to always make 'grey', the 'loading' impedance is 25 ohms, rather than the usual 75 ohms for separate signals.
CALCULATING THE EQUIVALENT RESISTANCE REQUIRED TO GET THE CORRECT VIDEO LEVEL

VGA standard expects a 0.7 volt peak signal for "full on" (white). Since the r,g and b are tied together to make 'grey' the 'loading' impedance is 25ohms, rather than 75 ohms.
Prop with all 6 pins on (3.3v) ---/\/\Requiv\/\/---x---/\/\25\/\/----GND
We want 0.7 volts at node 'x' when all 6 bits are on (3.3v)
0.7=3.3*(25/(25+Requiv))
117.86 = 25 + Requiv
Requiv = 92.86 ohms
CALCULATING THE ELEMENTS OF THE LADDER ("R")
Requiv is the equivalent resistance of the overall 6 pin network, using the formula for resistors in parallel:-
Requiv = 1/(1/R + 1/2R + 1/4R + 1/8R + 1/16R + 1/32R)
Requiv = 32R/63
R = 182.81 ohms
PRACTICAL E12 RESISTOR VALUES
We know the equivalent resistance required, but what about the individual values that make up the R~32R ladder? What resistors can we use to achieve a close to ideal result? Incorporating the ~ 27 ohm internal Propeller FET resistance,
P23: R = 182.8125 ohms - less 27 ohms internal - use 154 ohms
P22: 2R = 365.63 - use 340 ohms
P21: 4R = 731.25 - use 698 ohms
P20: 8R = 1462.5 - use 1430 ohms
P19: 16R = 2925 - use 2870 ohms
P18: 32R = 5850 - use 5760 ohms
P17: use 220ohms as usual (sync)
P16: use 220ohms as usual (sync)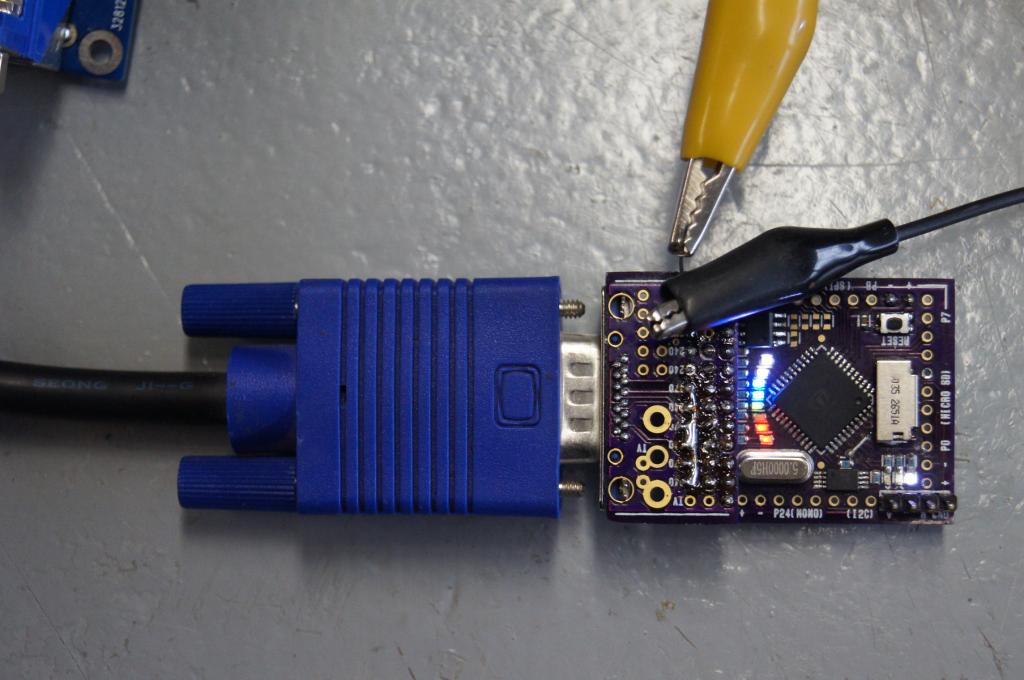 CHECKING THE PROPOSED RESISTOR VALUES
Using the above "practical" values, the resultant equivalent resistance is 91.9 ohms. The peak voltage level would therefore be 3.3*(25/(25+91.9)) = 0.706 volts peak.
TEST CODE
The following code is based on
Kye's 160x120 6 bit per pixel VGA driver
. The engine stays the same, the intensity of each byte is (greyscale) Ggggggxx instead of RrGgBbxx.