Ken Gracey let me (and the world) know that these were up today!
S3 robot users - something really big, low-cost and well-documented was released for you today! A bunch of infrared remote control projects with your robot
http://learn.parallax.com/…/scribbler-…/ir-remote-control-s3
.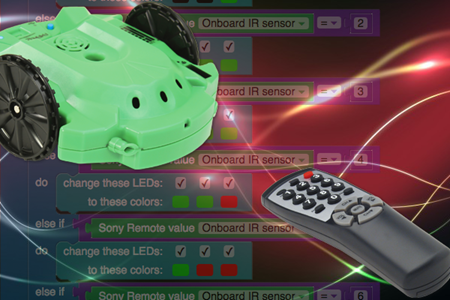 Love Courtney's graphics!
Now that this info is published - Check out this monster piece of BlocklyProp Code - It is not written nearly as elegantly (simply) as it could be - but instead tries to make obvious how the code functions - works by pressing a button and releasing (stops on a button press) and ramps speeds up and down - Let me know how it works on your S3!
http://blockly.parallax.com/blockly/editor/blocklyc.jsp?project=11277
One more fun piece of code for use with the Sony Remote - The S3 Digital Jukebox with Sony Remote - press number to play the tune.
1. Slane - "Be Thou My Vision"
2. The Eight Tune - "O gracious Light"
3. Dona nobis pacem -"Dona nobis pacem,"
4. Seek Ye First - "Seek ye first..."
Sort of silly, but demonstrates an idea! Make it your own! I look forward to playing your tunes. If you can do this, what else might you do via remote control with your S3?

http://blockly.parallax.com/blockly/my/projects.jsp#8325