Objectives:
Measure the following items:
1) Wind Direction
2) Wind Speed
3) Temperature
4) Humidity
5) Air Pressure
6) Rain Amount
Connect wirelessly to home network
Battery Operated
Construction items:
3D Printer
Glue Gun
Soldiering Iron
Propeller Mini
Prop Plug
AS5048A 360 Degree Indicator (Wind Direction)
Hall Sensors Digital Switch (Tipping Bucket, Wind Speed)
Magnets (Hall Sensors)
HIH8120 Humidity Sensor (Humidity, Temperature)
MS5607 Altimeter (Air Pressure)
Xbee Wi-Fi S6B Module (Wireless Communications)
Xbee Adapter Board
3.3 Volt Regulator (Power Sensors)
Knowledge Required:
3D Printer Operation
123D Design Software
Cura Slicing Software
SimpleIDE Software
C Programming (Collect Sensor Data, Transmit Results)
C# Programming (Receive Sensor Data)
JSON Data (Format of Transmitted Data)
Xbee Wi-Fi Configuration
The following items have been designed and printed:
Box, Wind Vane, top and bottom mounts, anemometer.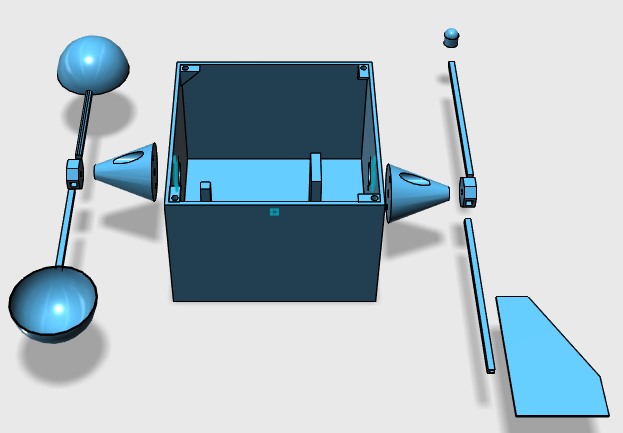 Since it's winter here I will hold off on the Tipping Bucket for now.
Next time I will preset each of the sensors as a library and show the master code used to transmit the data.
I will also show the C# code needed to receive the data and display it on the screen.
I will also present some design issues.
Mike