For reasons that may never become clear, I needed a fast approximation to the hypot function, calculating the length of the hypotenuse given the length of the other two sides of a right triangle. Here were my requirements:
works with integers larger than 16-bit
doable in Propeller Assembly
FAST
reasonably accurate
I had heard of an ingenious function a long time ago: sort the lengths of the sides a and b such that:
hi = max( a, b )
lo = min( a, b )
hypot ~= hi + lo/2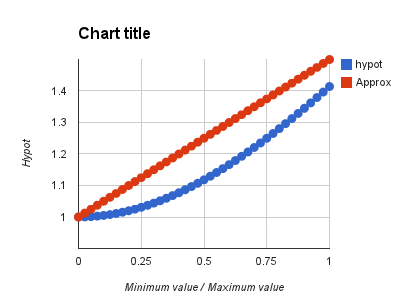 (Note that I am using 'max' and 'min' in the C sense, not the Propeller sense.) This is extremely fast, and not too horrible. To test this out, I made a spreadsheet with a graph, a RMSE calculation, and a worst error calculation. I normalized the maximum value to 1.0, and ran the minimum value from 0 up to 1. I'm attaching the spreadsheet.
I found that the simple hi+lo/2 approximation had a worst case error of ~11.8%, and the estimate was always high. By changing the multiplier on the lo term to 0.33 you could minimize the RMSE of the approximation. If your processor has integer division, hi + lo/3 is your best bet for this (max error ~5.7%). Since I am doing this in PASM, I found 3/8 to be the best approximation for me (3 adds and a shift @ ~6.8% max error). Note that you can reduce the RMSE further by allowing the gain of the hi term to be < 1.0 (hypot ~= 0.936*hi + 0.426*lo), but I have some reasons for not doing that and the worst error is still 6.4%.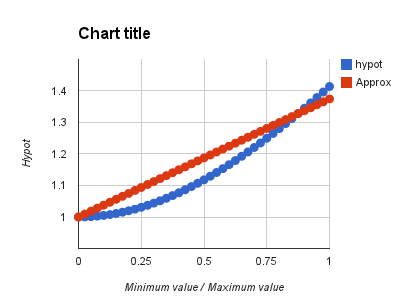 I was thinking given the shape of the curve, a piece-wise linear function would do a better job than the straight linear function...something with a dog-leg in it (bent somewhere in the middle). It occurred to me that the function max( 0, N*lo - hi) should work. E.g., if N==2, when lo < hi/2, the term will be clamped to z, and when above hi/2 it will be linear. So the form of the new equation is:
hypot ~= hi + Gain_lo * lo + Gain_dogleg * max( 0, N * lo - hi )
For N = 2, the best (integer operation) gains turned out to be = 1/5. So if you have integer division you could say:
hypot ~= hi + (lo + max( 0, lo+lo-hi ) ) / 5
(max error is ~2.0%)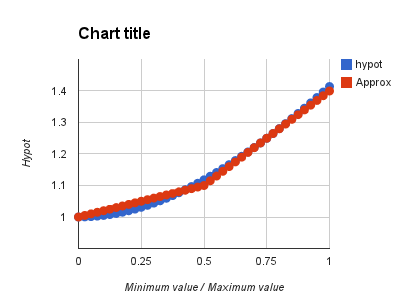 However, the best solution I found with just shifts and adds was this:
hypot ~= hi + (lo + max( 0, lo+lo+lo-hi ) ) / 8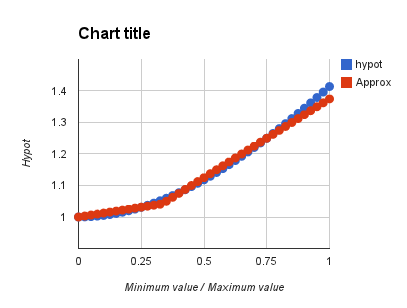 The max error is ~2.8%, and it only takes 11 PASM instructions, including the 3 to sort into hi and lo.
hypot         ' fast hypotenuse approximation
              ' first sort into max and min
              mov       vRes, v1
              min       v1, v2
              max       v2, vRes
              ' now that v1 = max, and v2 = min
              ' Dog-Leg approximation N=3, 2.8% error
              ' do the dog-leg term (1/3 of the way in)
              mov       vRes, v2
              add       vRes, v2
              add       vRes, v2
              sub       vRes, v1
              mins      vRes, #0               ' clamp the dog-leg term
              add       vRes, v2                ' add in the linear term
              shr       vRes, #3                ' scale by 1/8th
              add       vRes, v1                ' add in the max term

hypot_ret     ret

I welcome any optimizations or comments, and hopefully this is useful to someone.
thanks,
Jonathan