Project :- TriWowbot
Resources :- unwanted Wowwee TriBot - one careful owner (ebay £15 bargain)
Passion :- Three wheels have always been for me a challenge to program, so the bull was taken by the horns.
Video 1 Omni Locomotion :-
The Build Process :-
What did i start out with....
My son had control over the screwdriver .....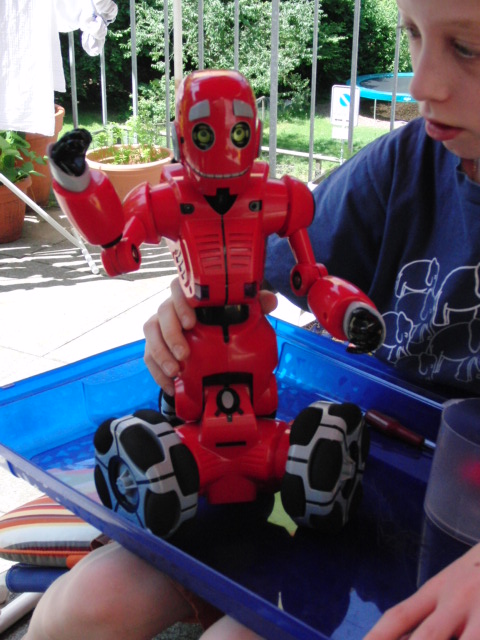 Its a really cool design and easy to Disassemble
(hats off to Wowwee, lots of sensors,a servo thingy, IR leds/ IR decoders, sockets, power transistors,battery box, etcetcetc)
This was the base drive unit i was eager to strip out.....(this in its_self is worth the £15)
Three geared motor units with encoders..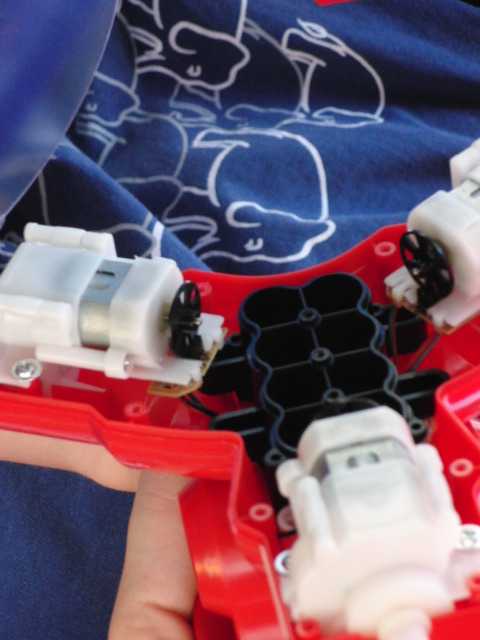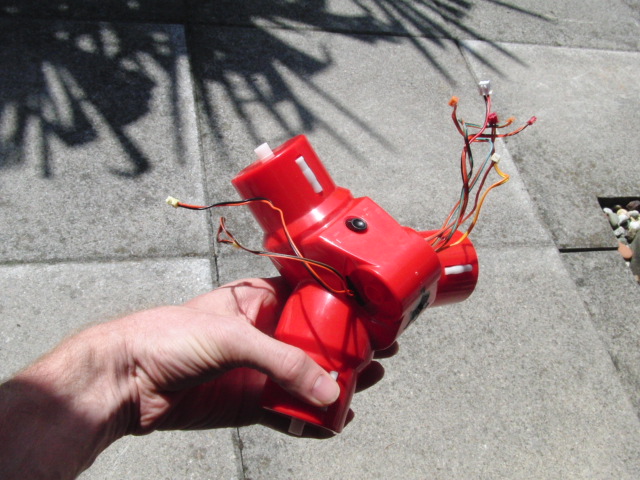 3 OmniWheels - with hard foam bogey bits......grippy on all surfaces..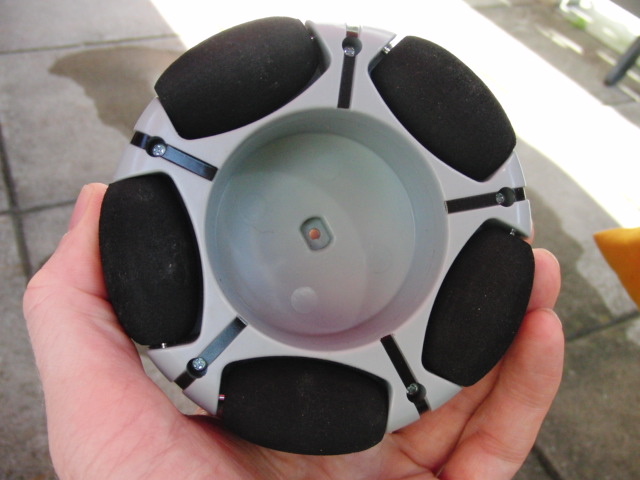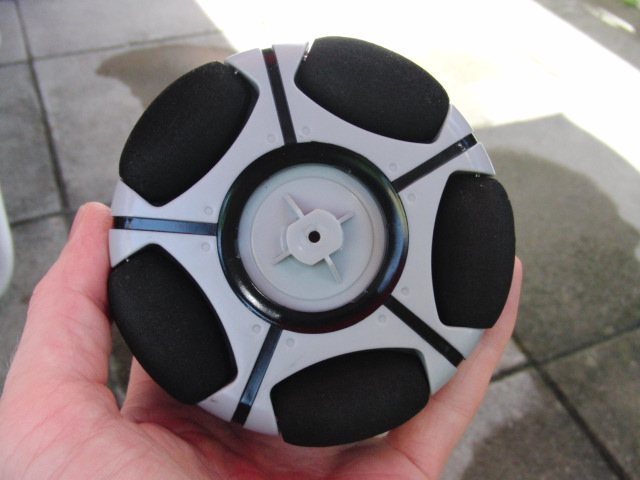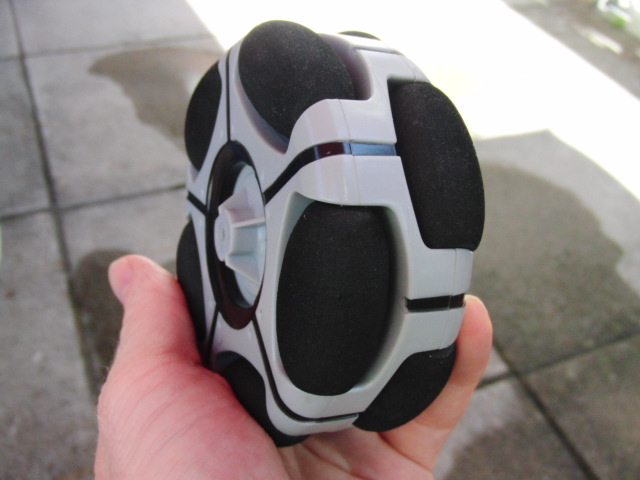 Out with the spray can and 2 coats of R2D2 "off white" colour was applied .
The top tube is a plastic tube carrying the Propeller mcu and new motor driver board.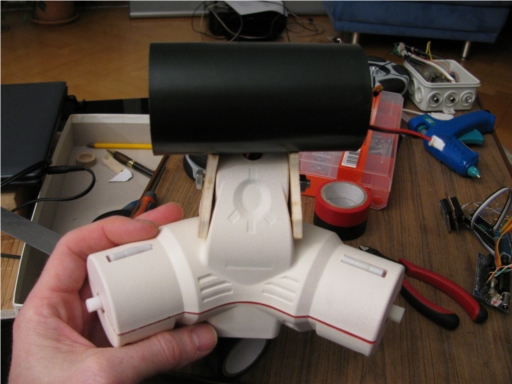 One end reveals the heatsink attached to the motordriver board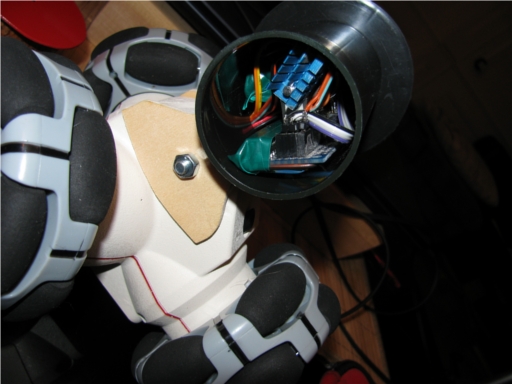 Other end reveals the XBee Pro transceiver and tucked behind the Propeller mcu.
I am using one of my favorite
MBA consultings
propeller
M44D40+
boards , which fits like a dream.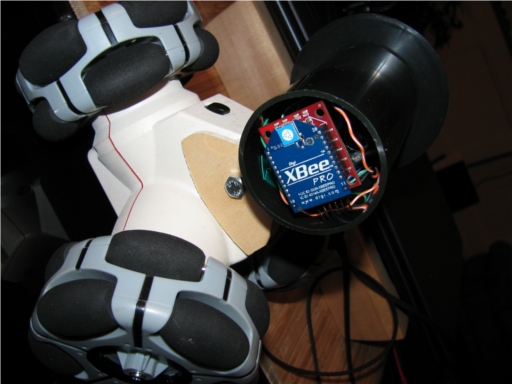 Getting a grip on things ...... its always a good idea to place a handle for quick pick up.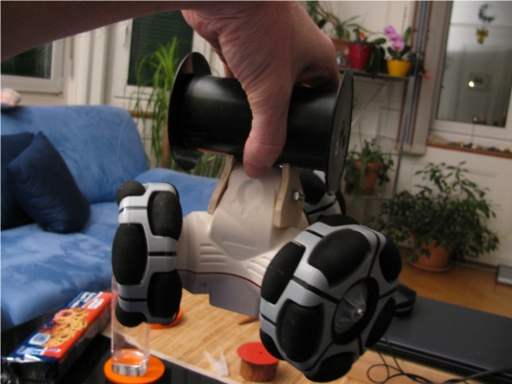 Conclusion :-
Tri-omniwheeled robot bases are awesome and fun/mind blowing to watch.
As you can see in the video with this form of control algorithm you can circumnavigate objects tracking one plane (ie as camera dolly fixing to central object ) easily.
Omni wheel design loves carpets.
Code ....First Hash :-
{{ ┌───────────────────────────────────────────┐          
   │ TriWowbot basic locomotion Demo program   │ 
   │ Using a XBee Pro and three motors via PWM │         
   │                                           │         
   │ Demo Code : Gareth                        │        
   │              www.parallax.com             │                                  
   │        aka Youtube :- Chiprobot           │
   └───────────────────────────────────────────┘   }}
CON
  _clkmode = xtal1 + pll16x
  _xinfreq = 5_000_000

  _leftFW = 8
  _leftBW = 9
  _rightFW = 10
  _rightBW = 11

  _BleftFW = 12
  _BleftBW = 13
  _BrightFW = 14
  _BrightBW = 15

  _timeStepInMilliseconds = 20
  _updateFrequencyInHertz = 8_000

  _BtimeStepInMilliseconds = 20
  _BupdateFrequencyInHertz = 8_000
 
OBJ
  ser1   :"Parallax Serial Terminal"
  AFront : "PWM2C_HBDEngine.spin"
  BBack  : "PWM2C_HBDEngineB.spin"  
 
Var
 long XbeeStack[10]
 long   Value1
 long   Value2   
 long   Value3     
 long   Value4       
 long   Value5         
 long   Value6          
 long   Value7            
 long   Value8            
   
PUB demo | Speed,JoyBlr,JoyBud,JoyAlr,JoyAud, frequencyCounter1,frequencyCounter2 ,frequencyCounter3,frequencyCounter4
 
 ser1.StartRxTx(16,30, 0,57600)
 
 cognew(XbeeRx, @XbeeStack)

  ifnot(AFront.HBDEngineStart(_leftFW,   _leftBW,   _rightFW,   _rightBW,   _updateFrequencyInHertz))
      reboot
  ifnot(BBack.HBDEngineStart(_BleftFW, _BleftBW, _BrightFW, _BrightBW, _BupdateFrequencyInHertz))
      reboot
 
 Speed:=12
  
 repeat
      JoyAlr:=Value4 
      JoyAud:=Value5
      joyBlr:=Value2
      joyBud:=Value3  

     if JoyBlr < 117
           frequencyCounter1 :=(127-JoyBlr)*Speed
           AFront.leftDuty(frequencyCounter1)
           frequencyCounter2 :=(127-JoyBlr) *Speed
           BBack.LeftDuty(frequencyCounter2)          
     
     if JoyBlr > 145
           frequencyCounter1 :=-(JoyBlr-127)*Speed
           AFront.leftDuty(frequencyCounter1)
           frequencyCounter2 :=-(JoyBlr-127)*Speed
           BBack.LeftDuty(frequencyCounter2)          
   
     if JoyBud < 117
           frequencyCounter2 :=-(JoyBud-127)*Speed
           BBack.leftDuty(frequencyCounter2)
           frequencyCounter3 :=-(JoyBud-127)*Speed
           BBack.RightDuty(frequencyCounter3)          
     
     if JoyBud > 145
          frequencyCounter2 :=(127-JoyBud)*Speed
           BBack.leftDuty(frequencyCounter2)
           frequencyCounter3 :=(127-JoyBud)*Speed
           BBack.RightDuty(frequencyCounter3)          
  
     if JoyAlr < 117
           frequencyCounter1 :=(127-JoyAlr)*Speed
           AFront.leftDuty(frequencyCounter1)
           frequencyCounter2 :=-(127-JoyAlr)*Speed
           BBack.leftDuty(frequencyCounter2)     
           frequencyCounter3 :=(127-JoyAlr)*Speed
           BBack.RightDuty(frequencyCounter3) 

     if JoyAlr > 145
           frequencyCounter1 :=-(JoyAlr-127)*Speed
           AFront.leftDuty(frequencyCounter1)
           frequencyCounter2 :=(JoyAlr-127)*Speed
           BBack.leftDuty(frequencyCounter2)     
           frequencyCounter3 :=-(JoyAlr-127)*Speed
           BBack.RightDuty(frequencyCounter3) 

PUB XBeeRx
  repeat until (ser1.CharIn) == 13
  repeat
     Value1 := ser1.CharIn  '  0A,10, Start Handshake
     Value2 := ser1.CharIn  '  RightJoy Left 00<>FF Right
     Value3 := ser1.CharIn  '  RightJoy Down 00<>FF UP
     Value4 := ser1.CharIn  '  LeftJoy  Left 00<>FF Right
     Value5 := ser1.CharIn  '  LeftJoy  Down 00<>FF UP
     Value6 := ser1.CharIn  '  Both   Down = 110000
     Value7 := ser1.CharIn  '  0D,13, End Handshake

Future :- Autonomous mode using the left over Tribot sensors :-