I know video is pretty beaten to death on the propeller, but I'm just feeling really satisfied by what I've been able to accomplish with the P8X basically from scratch: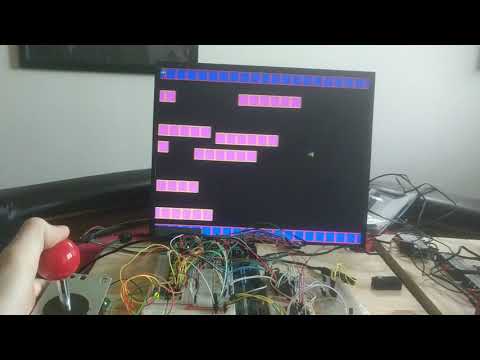 My system is a dual-Propeller setup: a CPU and GPU. I'm using the classic tile-sprite paradigm for my graphics. The CPU contains the game code as well as the tile map, color palettes, sprite attribute table, and other variables which are sent via a high-speed serial link (thanks Marko Lukat!) to the GPU. The GPU uses one cog for reception of the data, 6 cogs for rendering each of every 6 scanlines, and one cog to fetch the rendered data from Hub RAM and display it in full 8-bit color at 640x480, upscaled from 320x240.
Though the render and display code for the graphics driver is all 100% from scratch, it draws on a lot of inspiration and guidance from this community for which I am extremely grateful.
With smooth scrolling enabled, I can now make side-scrolling games which is a huge milestone for my project. And with wrapping, I can eventually implement real-time loading of levels outside the visible area from external RAM.
Next I am implementing vertical scrolling, as well as some sprite sizing.