Cluso's RetroBlade2 - Your board(s) have arrived, so what to do next

Cluso99
Posts: 18,064
This thread is for discussion about how to use your RetroBlade2.
For specs, features, or ordering, please see/use this thread
forums.parallax.com/discussion/172262/clusos-retroblade2-single-chip-computer-first-orders-paid-and-shipped-taking-new-orders-payment/p1
Currently there are two build variants of my board - one has a Flash chip fitted/soldered and the other doesn't. They both use the same pcb. You choose whether or not to fit the VGA connector.
Power Supply
You will need to provide 5V regulated (and GND) to the board. The board has regulators fitted to reduce this to the 3V3 and 1V8 supplies required. This is limited to somewhere over 500mA. Do not expect to be able to highly overclock or push the P2 to its' absolute limits with this board design. Expected normal use should be fine. The regulators and the P2 chip can get quite hot so ensure adequate ventilation around the board.
The board can be powered from one of the following connections, but be careful to only provide one source as they are all wired in parallel - USB header J4, header J1 (with P00-15), header J3 (with P32-47), microUSB J5, and microUSB J6. I power my board from my PC over USB header J4 without problems. You can use a phone power supply as long as it can provide 500mA or more, depending on you use.
microSD
You can boot directly from the microSD card. It (preferably) requires a later SDHC or SDXC microSD card formatted with FAT32. Just copy a P2 binary file to the microSD and name it "_BOOT_P2.BIX" (upper case matters). Then when powering up your board it will load and run this file. Older SD or SDHC cards 4GB and smaller typically use the old byte addressing mode and generally will not be compatible with software drivers for the P2. Newer SDXC cards are often formatted with XFAT and again generally are not compatible with software drivers for the P2, so you will need to reformat these to FAT32.
Flash
You can boot directly from Flash (if fitted). To do so will require a pullup on the CS line. A pullup is provided on the board, together with a link. You will need to solder the provided 1x2 0.050" header pins to the board, and use the provided 0.050" jumper to enable the pullup resistor to boot from Flash.
USB-Serial
The 1x6 pin header (J4) is arranged to be compatible with the cheap fleabay USB-TTL 6pin CP2102 board. See the post below for how I connect my board. (see post #47 for max 921_600 baud)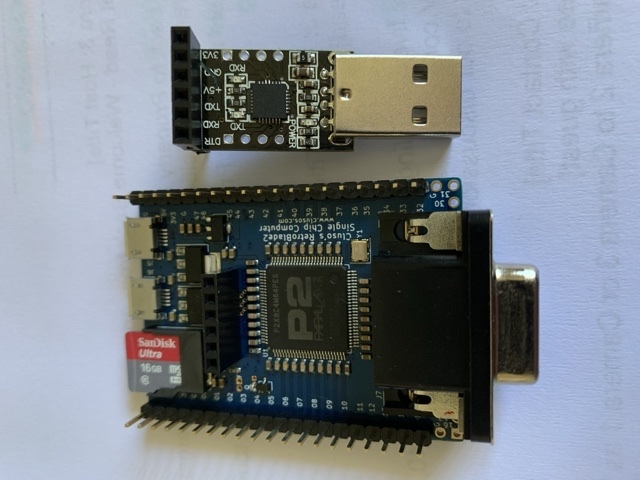 VGA
The VGA connection is optional. If the optional VGA is supplied mounted to your board, it is not soldered. You can remove it easily by slightly squeezing the mounting lugs with slight pressure removing the VGA connector and it will pop off without damage. Dry fitting the VGA connector makes it for safer posting.
Under the VGA connector is provision for mounting a 1x16 0.1" header for access to P16-31.