FlexGUI 4.3.1: Program your P2 in Spin, BASIC, or C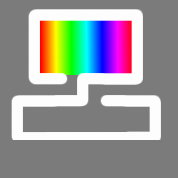 ersmith
Posts: 5,874
The latest version of FlexGUI is available at:
https://github.com/totalspectrum/flexgui/releases/
.
Get the "flexgui.zip" file from the latest release, and unpack it anywhere convenient (it should be a location that you have read/write access to, e.g. your desktop, rather than a system folder like "Program Files"). Both Windows and Macintosh binaries are included with this release.
NOTE: FlexGUI is not in any way affiliated with Parallax, and please do not direct any questions about it to Parallax support.
FlexGUI supports programming both the P1 and the P2, in BASIC, Spin, and C, and also comes with interfaces for Python, Forth, and Lisp programming (those last 3 languages rely on an interpreter to run on the P2, rather than compiling the code directly). The Spin support comes in two flavors: Spin 1 with extensions (if the file has a .spin suffix) and Spin 2 with extensions (if it has a .spin2 suffix). Either one can be compiled for either P1 or P2. There's not a lot of difference between them, mostly it's in the operators, e.g. to use the keyword operators like FRAC you'll have to use .spin2.
It's very easy to get started with FlexGUI. Just run flexgui.exe (or flexgui.tcl for the Mac). You'll see a window open. Type something like:
print "hello from the P2"

into the window, then press the "Compile & Run on P2" button. It'll prompt you for a name to save the file as (it needs to save the file before compiling); enter something like "hello.bas", since this is a BASIC program. You'll then get a terminal window popping open with the "hello from the P2" message. If you prefer C or Spin, you can also enter those languages instead; just name the file appropriately with a ".c" or ".spin" extension.
This release has a lot of improvements compared to earlier versions of FlexGUI. The BASIC language has many more operators and built-in functions (thanks in part to contributions by @JRoark ) and now supports multiple assignment and functions which return multiple values. The Spin language supports more of Chip's proposed Spin2 syntax, including method pointers. There have been many bug fixes, especially in the C compiler.
In the GUI, the Help menu has been expanded to allow easy access to language references. It's now possible to set the command output font in the "Editor Options..." menu, and there's also an option there to automatically reload files if they are changed in an external editor (e.g. if you're using the PropTool to edit Spin files but want to program them to your P2). The "Special" menu has options for downloading MicroPython, FORTH, or Lisp programs. The "Serial" menu now has an option for setting the baud rate. Under "Commands" are options for programming the flash; the "Flash program" can also be changed to an SD card loader to allow programming of binaries to SD cards.
Have fun, and please report any problems you run into either here or on the github issues page.