flexspin compiler for P2: Assembly, Spin, BASIC, and C in one compiler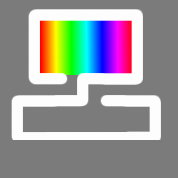 ersmith
Posts: 5,832
Update October 2020: "fastspin" has been renamed to "flexspin" to better fit in to the naming scheme of the FlexProp GUI for Propeller development.
Please go to the
spin2cpp release directory
for the latest version of flexspin. There is also a simple GUI for Spin and BASIC development on P2 at
FlexProp
.
Flexspin is a compiler for Spin (and much of Spin2), BASIC, and C which can produce binaries for P1 and P2. FlexProp is a very simple IDE which uses flexspin.
I won't try to keep this post up to date. The links above always have the most recent versions of flexspin and FlexProp. The compiler has beta C language support now. The Spin support is pretty mature, and BASIC is in good shape. Lots of test programs run on the P2 Eval board.
Updated May 18, 2018: Some more bug fixes both to multiple assignment and to PNut compatibility. Now able to build ROM_137PBJ.spin2 correctly (or at least, the same as PNut

).
Updated May 17, 2018: Fixed a couple of problems that were impacting PNut compatibility, and improved the syntax for multiple assignment (so the parentheses are no longer required in most cases).
Updated May 16, 2018: Updated with a new Beta of fastspin that has support for multiple assignment and functions that return multiple values. I'd also like to point to a simple GUI for fastspin + P2:
https://github.com/totalspectrum/spin2gui/releases
. It allows you to edit a .spin or .spin2 file, compile it, and download to the P2 hardware (thanks to Dave Hein for his loadp2 program). It's configurable and could (at least in theory) also be used for P1 development, but I haven't tested that since there are already so many P1 GUIs available

. AFAIK the only competitor for spin2gui on P2 is PNut, and at the moment PNut only supports assembly code.
Updated May 10, 2018: My, how time flies... Anyway, now that hardware seems imminent I've gone back and updated fastspin for the v32b FPGA images. fastspin -2 is able to compile all of the samples from Dave Hein's p2asm, including the boot ROM, so the instruction set coverage is pretty good now (but obviously let me know if anything is missing!). The Spin compiler itself is less tested in P2 mode, but I've used it for some emulators and demos on the FPGA. As always, usage is command line only and is just:
fastspin -2 myfile.spin2

This will produce myfile.pasm2 (which is the converted PASM2) and myfile.binary. You can load myfile.binary with PNut, I think, but I use Dave Hein's excellent loadp2 program, included with his p2gcc package.
Updated March 7, 2017: Updated the compiler for the v16a instruction set. The instruction set coding is not tested very thoroughly, but simple programs do compile and run.
Updated May 18: Fixed several bugs reported in the forums. The new binary is attached as fastspin_beta4.zip. Note that fastspin.exe can produce code for either P1 or P2; to get P2 you need to specify the -2 flag.
Updated May 9: Fixed binary output of jumps in COG mode, and updated the push/pop code in the compiler to use postincrement/predecrement mode. The updated binary is attached. Source code, as always, is at github.com/totalspectrum/spin2cpp.
Updated May 7: Fixed a bug in the >< operator (REV works differently on P2) so that fft_bench works now.
Updated May 6: I've attached the beta version of the compiler. The DAT section parser works better (produces the same result as PNut for the inputs I've tested) but is still incomplete; for example, it doesn't understand the fancy ptra++ syntax for read and write. I've fixed a few bugs in the PASM output
too, and added a fastspin specific readme. Usage is pretty simple:
fastspin -2 fibo.spin

produces fibo.p2asm, which can then be loaded by PNut.
*** Original Message ***
Here's an alpha version of the fastspin compiler for P2. fastspin compiles Spin code to PASM; it otherwise acts very much like openspin, but has a few extensions (such as inline assembly between asm...endasm). This version of fastspin has a -2 option to produce P2 code (the output file will be named with a .p2asm extension).
This is labeled an "alpha" version because assembly code inside DAT sections is not always compiled correctly -- the P2 instruction parser is incomplete and buggy. Inline assembly does (mostly) work, because it's passed through to PNut.
Having said all the caveats, fastspin is able to compile simple programs (like the fibonacci demo), and it may be useful for putting together quick demos and tests of the hardware. I compiled and ran fibo like so:
fastspin -2 fibo.spin
PNut_v7 fibo.p2asm

In PNut I selected compile and run, then opened a terminal window to see the output.
Please let me know of any issues you find. I'm still working on the P2 support for DAT sections and hope to have that functional soon.
Eric