Emacs Propeller mode available

proplem
Posts: 233
Hello every one,
after hours of hacking i may proudly present:
prop-mode.el.7z
my contribution to the propeller and Emacs community.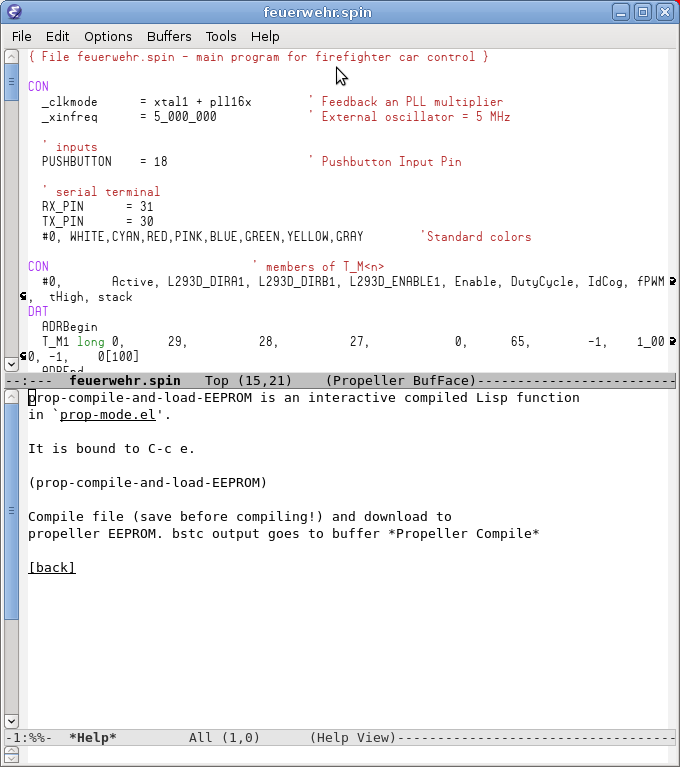 Certainly not ready for sale (it's GPL, and i copied and stole the knowledge in the internet) but already useful. I don't use another IDE as i don't use another microcontroller.
0. preconditions
use Emacs 23 because of the Parallax Truetype font and the newly integrated function serial-term which i'm planning to use in future
the Parallax font should be installed (HOWTO: google for it)
prop-mode depends on BradC's bstc.linux. Without his work this mode wouldn't be useful! Thanks BradC.
I made the following symbolic links in /usr/local/bin
bstc -> bstc.linux
bstl -> bstl.linux (currently not used)
prop-mode.el was developed and tested under Debian Squeeze (6.0)
1. put prop-mode.el in a path so that emacs may find it
C-x C-f prop-mode.el <enter>
M-x emacs-lisp-byte-compile-and-load <enter>

2. Put this in your .emacs:
(load "prop-mode")

3. within emacs
 C-x C-f <any spin file you like>

4. now prop-mode should be activated and you see a relatively poor syntax highlighting
5. useful prop-mode/Emacs commands
C-c c prop-compile
C-c e prop-compile-and-load-EEPROM
C-c r prop-compile-and-load-RAM

With C-h f <command-name> you get a little help

C-h m shows additional help to prop-mode

6. important hints
There is an automatically created buffer "*Propeller Compile*" with compilation output of bstc.
I prefer to open a new frame with C-x 5 2 in which i select (C-x b *Prop<tab>) to permanently view what's happening in that buffer.
one has to save (C-x C-s) before compiling. I didn't automate that yet.
/dev/ttyUSB0 is currently hardcoded in prop-mode.el
i didn't test prop-mode.el on Windows yet.
7. Thanks
Without his knowledge BradC delivered an important contribution to prop-mode.el. I hope he is not angry for this new propeller-IDE offending his cool bst. I love Emacs and i wanted bring together what is belonging together: Propeller and Emacs.
BradC: RESPECT for your work and many, many thanks. I admire your productivity.
Thanks to all the anonymous people in the internet which contributed the foundation for prop-mode.el
Thanks to the Emacs community
Thanks to Ariba for posting PropTerminal_Linux which works fine on Debian squeeze
Thanks to ErNa who led me to propeller, software, electronics and many other things that enriched my life in the last 22 years.