Obsolete
New thread started here...
forums.parallax.com/discussion/172262/clusos-p2retroblade-and-p2maxiblade-interest-please/p1?new=1
Update
I've renamed the thread from "Cluso's P2 OS and CPM board (preview)
The specs have changed from those listed below so please see the latest posts. I'll start a new thread once these boards are ready.
Here is a preview of my P2 PCB capable of running my P2 OS and Z80/CPM

Features
* P2 (P2X8C4M64P) with 20MHz SMT xtal
* Transistor reset circuit (as per P1) - optional by pcb solder link
* LDO regulators for 3V3 and 1V8 (no switching power supplies)
* 1 TTL Serial port connector (can connect to cheap $1.50 CP2102 USB/TTL board) - for downloading code, PC connection, etc
* microSD - Boots from microSD (no Flash chip on pcb)
* VGA female connector
* 2 x microUSB connectors (direct to P2) - can connect to USB/PS2 keyboard and/or mouse, or provide 5V power to pcb
* 20 uncommitted I/O - 2 x 12x0.1" pitch connectors on 1" centres providing 3V3, GND and either P00-P09 or P38-P47 direct connections to P2.
* Size 1.3"x2.1" (VGA over hangs board by ~0.35") which minimises the footprint if the VGA connector is not fitted.
This board will not do everything for everyone! It will meet the low cost and simplicity of design though it does have enough general features for many uses.
Currently I am not certain whether I will produce this pcb because I am unsure of demand.
So I'm interested to hear your thoughts for the board as-is.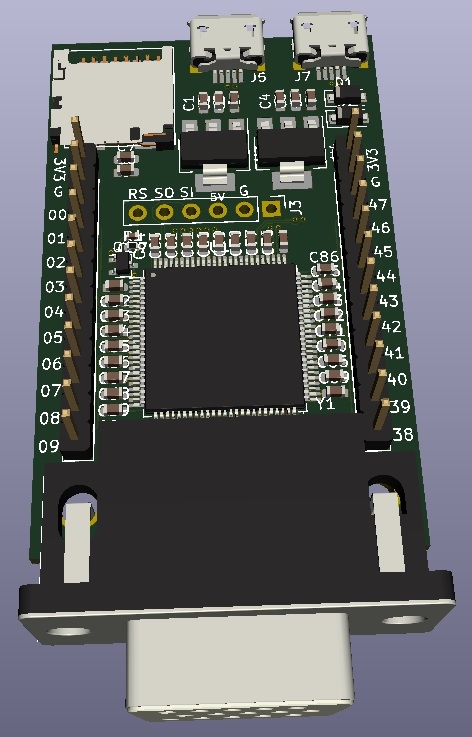 Note: The 3D connectors shown for the microSD and microUSB connectors shown are not the ones used as I don't have the correct 3D part files.