Forum Update
- Announcement about May 10th, 2018 update and your password.
Precharge resistor for High Current 24V system Questions
I am curious to know if a precharge resistor on a 24V 100A constant current relay can have any solder Joints (Green resistor and Metal Can Relay in the photo below lower center), I want to solder the wire to the resistor but the connection to the relay is a crimp ring. Also, do I need to use a thick guage wire, currently 8awg, or can I use a smaller guage for the resistor with a potential of 73A max according to the battery current.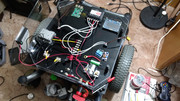 Jorge P.